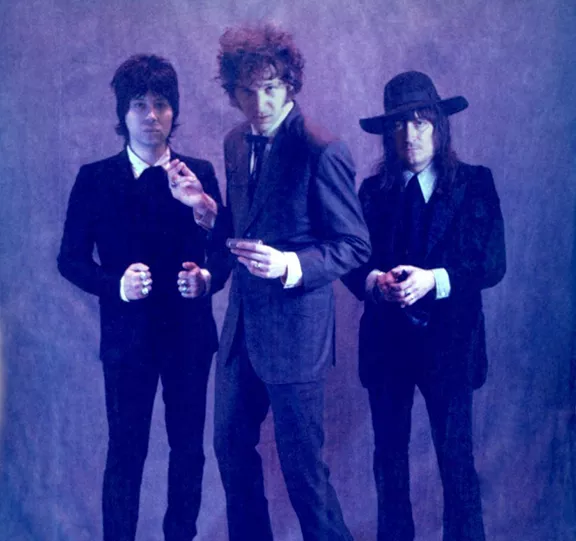 Saturday, Sept. 21
Frontman Brian Hurd describes "Mornin', Noon & Nite" as "a Hoodoo Stomper in the vein of John Lee Hooker. And is about one's pure, savage lust for his or her lover." Maniacally preaching the gospel, New York blues bashers
Daddy Long Legs
display their Lowdown Ways (Yep Roc Records) when they motor the "Death Train Blues" straight towards 191 Toole.
Shooda Shook It
warm up hearts and the audience…
Eight years deep,
The Annual Tucson Hip-Hop Unity BBQ
—with performances by
Da Sleepers Elite, ZCO, Benny Loc, Ill V, Jae Tilt, Yaqui B, Soul Point, Pariah Pete, Mastermind, Rey, Jalopy Bungus, Sinclair The Masked Zombie, DJ smashlames y mas
—goes off at Rudy Garcia Park…
Virtuoso violinist
Beth Daunis
, nylon string master
Mark Wilsey a
nd steel string psychobilly slinger
Phil Lipman
may provide "the link between the Old Pueblo and galaxies far, far away." Reno del Mar fill the evening air with something other. At Sand-Reckoner…
What better way to celebrate The Buffet's 85 birthday than with the infamous
Texas Trash and the Trainwrecks
providing the tunes? A whiskey-fueled bacchanal filled with cowpunk and blazing rock 'n' roll awaits. With
Lost in the Sauce
…
Led by vocalist (retired Command Sergeant Major)
Connie Brannock, Little House of Funk
will take charge, filling the night air with R&B. At Monterey Court…
"Committed to kicking ass and drinking beer," Phoenix trash metallists
Scattered Guts
celebrate the release of The Wake, their latest contribution. At The Rock.
Guardians, Stubborn Old Bastard, Total Failure, Blacklidge and Scar Eater
provide the party favors…
Paying homage to the music and culture
, Jaca Zulu
is behind the turntables…
Like a summer monsoon, English bluesman
Tom Walbank
will leave you shaking your head in bewilderment wondering what just hit you. In the courtyard at Mercado San Agustin…
The timelessly modern sound of
The Paper Airplanes Project
floats through the air. At Saint Charles Tavern…
"The Grand Leveler," rapper
Apathy and Celph Titled
roll the Paragraphs of Murder Tour into Thunder Canyon Brewstillery. With
N.M.E. The Illest
…
Bifurcated, Half Full
is an eight-piece band comprised of a string quartet and a rhythm section. They cherry-pick songs from a wide reserve—pop, jazz, and classical music—and various eras. At Exo Bar…
Club Sanctuary resident
DJs Plastic Disease and Black Flagg
spin industrial/goth/electro/EBM. At the Surly Wench Pub…
Boot stompin' Tejano is what is in store at the AVA Amphitheater with
Ramon Ayala Y Sus Bravos del Norte y otros
…
Spanning decades. With a catalog that includes hits like "Listen to the Music," "Black Water" and "What a Fool Believes" these four-time Grammy Award winners have sold more than 48 million records worldwide.
The Doobie Brothers
are at the Desert Diamond Casino…
Sunday, Sept. 22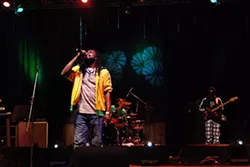 Following Bob Marley's untimely passing in 1981, bassist/founder
Aston "Familyman" Barrett
vowed to hold the band together and to keep Marley alive through music. Reggae legends
The Wailers
will do just that performing their classic album Survival on its 40th anniversary. At the Rialto Theatre.
DJ Jamar International
spins…
Five voices strong, this acapella country group met tenor
Austin Brown
, in 2012, on a Royal Caribbean cruise ship where he was working as a featured singer. After scoring a win on NBC's The Sing-Off, in 2013, the spoils they carried away—a recording contract with Sony Music—fueled their major label debut, Crazy Life.
Home Free
bring their latest Dive Bar Saints to the Fox Theatre...
The Tucson Pops Orchestra
performs Music Under the Stars. At Demeester Outdoor Performance Center...
Electronically looping together snippets of funk, rap, jazz and R&B with humor,
Mik and the Funky Brunch
perform at La Cocina...
Vocalist
Diane Van Deurzen
and pianist
Lisa Otey
perform boogie woogie, blues and torch songs. At Monterey Court...
Like a horror flick spilling off the movie screen, The Bring Out The Dead Tour herds industrial metallists
Dead Animal Assembly Plant and Requiem Rust
into The Rock for a zombie walk. With
Sons of Providence
...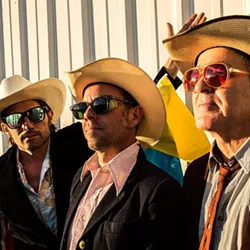 Golden BooTs' Ryen Eggleston and Dimitri Manos
accompanied by percussionist
Tommy Larkins
perform lovely instrumental background music. At The Coronet...
As the low-watt drone of swamp coolers wears on for a bit longer, acclaimed Americana singer-songwriter/storyteller
Kevin Pakulis
and his Band offer relief. At Borderlands Brewing Company...
These first-generation New Yorkers were weaned on a diet rich in heavy metal, psychedelic funk and soul.
Combo Chimbita
bring Afro-Caribbean percussion laden "tropical futurism" to Club Congress. With
Vox Urbana and SadGalNina
...
The Tucson Musicians Museum's Celebration of Music and Induction Ceremony 2019 takes place at the Tucson Convention Center, North Exhibit Hall. This year's inductees: Musician/recording engineer
Craig Schumaker
, guitarist
Mike "Johnny Guitar" Blommer
, music mogul/jazz vocalist
Gary LeMel
and jazz vocalist
Julie Anne.
Proceeds to benefit Tucson Musicians Museum Community Youth Music Outreach and Mentorship Programs...