With more than 11,000 new cases reported today, the number of Arizona's confirmed novel coronavirus cases topped 658,000 as of Friday, Jan 15, according to the Arizona Department of Health Services.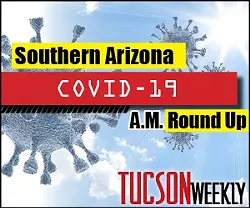 Pima County, which reported 1,342 new cases today, has seen 87,687 of the state's 658,186 confirmed cases.
A total of 11,040 Arizonans have died after contracting COVID-19, including 1,393 deaths in Pima County, according to the Jan. 15 report.
The number of hospitalized COVID cases statewide dropped slightly in recent days but still remains far above the peak levels of the summer's first wave. ADHS reported that as of Jan. 14, 4,866 COVID patients were hospitalized in the state, a slight drop from Wednesday's 5,055. The summer peak of 3,517 hospitalized COVID patients was set on July 13; that number hit a subsequent low of 468 on Sept. 27, or less than a tenth of the current count.
A total of 2,120 people visited emergency rooms on Jan. 14 with COVID symptoms, down from the record high of 2,341 set on Tuesday, Dec. 29. That number had previously peaked at 2,008 on July 7; it hit a subsequent low of 653 on Sept. 28.
A total of 1,138 COVID-19 patients were in intensive care unit beds on Jan. 14. The summer's record number of patients in ICU beds was 970, set on July 13. The subsequent low was 114 on Sept. 22.
A website that tracks COVID infections across the globe reports that Arizona continues to have a COVID transmission rate far above the United States as a whole.
The website 91-divoc.com, which uses data from Johns Hopkins University, reports that Arizona is seeing 126.5 infections per 100,000 people on a seven-day average, compared to 72.7 infections per 100,000 for the United States as a whole.
Pima County vaccination appointments fill up in two hours
Registration opened for priority groups in phase 1B of COVID-19 vaccine rollouts yesterday, but according to the Pima County Health Department, all available appointments aimed at the 75+ population at the two Banner-operated vaccination sites and Tucson Medical Center were "accounted for through the registration process," according to a press release from the health department.
More than 20,000 residents registered for appointments within the first two hours of the registration website's opening, the release said.
The health department recognized this is "causing frustration" for those still trying to receive appointments through the county's registration website, but said more appointments will be made available as it receives more allocated vaccine doses from the state.