Your
Weekly
guide to keeping busy in the Old Pueblo
Art
Philabaum's Furnace
. Master glass artist Tom Philabaum is quenching the flames. For 47 years, Tucson's Mr. Glass has been working with molten glass, thrusting it into the dangerous "glory hole," the white-hot glass furnace at his studio. No more. Now dealing with Parkinson's, Philabaum is giving up the heat required for glassblowing, but he has no intention of giving up glass: he'll continue making painted and fused glass works. The artist's formidable command of glass styles will be showcased in The Flame: Tom Philabaum, a five-decade retrospective opening with a reception from 5 to 8 p.m. this Saturday, Feb. 3, and continuing through April at Philabaum Glass Gallery, 711 S. Sixth Ave., 884-7404; philabaumglass.com. The artist gives a talk at the gallery at 5 p.m. Saturday. It's free but seating is limited. If you miss it, you can catch his lecture at Tucson Museum of Art on March 31.
Art Safari
. The Central Tucson Gallery Association is hosting this opportunity to visit seven different galleries in one night. At the Davis Dominguez Gallery, see abstract paintings by Josh Goldberg and color field woven linen by Claire Campbell Park. See a Trans-Atlantic Fusion exhibit at PCC's Louis Carlos Bernal Gallery. And see a New Year's resolution-themed exhibit at the Raices Taller 222 Gallery. Most will have special reception hours during the Art Safari, but exact times and, of course, locations vary. The Art Safari begins at 6 p.m. on Saturday, Feb. 3.

Mid-Century Perspectives: Paintings by Andy Burgess & Objects of Modern Design
. The stars have aligned this week at the Tucson Museum of Art: Their free first Thursday is falling on the same day of their newest exhibition's opening night. Featured artist Andy Burgess is known for his colorful and precise work in photography, sketching and painting, which explore the relationship between architecture and the natural world—often in the American Southwest. The exhibit also includes designed objects and furniture with signature mid-century curves and geometric shapes, and by the likes of Frank Lloyd Wright, Harry Bertoia and Rose Cabat. 5 to 8 p.m. Thursday, Feb. 1. Tucson Museum of Art and Historic Block, 140 N. Main Ave. Free.
The Flame Off
. It's called the Flame Off, but it's game on for the 18 glass artists who will race against the clock to create the best masterpiece out of molten glass this year. The artists come from all over the country, except for one international competitor, and have 90 minutes to create their entry pieces (which will be auctioned off the day after the competition) in front of an audience. For the 17th year of the annual festival, onlookers can enjoy the spectacle, along with Thunder Canyon Brewery beer, wine, live auctions, raffle prizes and food trucks. 7 to 11 p.m. Friday, Feb. 2. 633 W. 18th St. $20 will call, $50 VIP, with proceeds benefiting the nonprofit Sonoran Glass School.
Down the Road
Kartchner Caverns Cave Fest
. Caves are already fascinating, especially for kids—as anyone who's ever been to the Desert Museum with kids would know. But at this two-day celebration at Arizona's most cavernous state park, there will be even more than just caves. Check out the live animal and natural resource presentations, a caving obstacle course and special guests from the National Park Service and U.S. Forest Service. You can also go online to reserve a guided tour through the caves for an additional fee. 8 a.m. to 6 p.m. on Saturday, Feb. 3 and Sunday, Feb. 4. Kartchner Caverns State Park, 2980 Arizona 90, Benson. $7 park entrance fee.
59th Annual Tubac Festival of the Arts
. If you're in the mood to meander over to Tubac, or if you've ever thought about it but were looking for the right time, now's the perfect time. This five-day festival features the work of hundreds of artists from all over the country, and a food court that features food from all over the world. A beer garden with music is like a cherry on top of this lovely, artsy festival. 10 a.m. to 5 p.m. Wednesday, Feb. 7 to Sunday, Feb. 11. Tubac Village, 1 Tubac Road, Tubac. Free admission, $8 per car to park, with proceeds benefiting local nonprofits.
Spectacle
Shen Yun
. The New York Times called it "5,000 years of Chinese music and dance in one night!" The minister of culture of the Czech Republic called it "a touch of heaven." Broadway World called it "a must-see!" The nonprofit company Shen Yun has been bringing artists together from all over the world since 2006, and people are as enchanted by the show as ever. In the tradition of cultural Chinese optimism, this theatrical experience brings together Classical Chinese dance, original orchestral pieces and awe-inspiring patented effects. And they're actually coming to Tucson! Don't miss it. 7:30 p.m. on Tuesday, Feb. 6 and 2 p.m. on Wednesday, Feb. 7. Tucson Music Hall, 260 S. Church Ave. $80 to $150+.
World Premiere Meteorite & Laser Gem Show
. It doesn't seem like a talk by Geoff Notkin (one of the most popular live speakers in the world), an actual T-Rex skeleton and a light show done by Pink Floyd's former laser designer should even be allowed to be in one place. Isn't there some sort of safety regulation for having so much cool stuff in one place? Minds will be blown, heads could explode, you may be swept off your feet. Notkin's talk will be called "Space Rocks, Nuts and Bolts: The Secret Science of Meteorites" and accompanying dino/laser extravaganza will take place in a 3,200 square foot exhibit space. BRING POPCORN. And bring the kids. 5:30 to 7:30 p.m. Friday, Feb. 2. 22nd Street Show, 600 W. 22nd St. Free!
Ballet Tucson Winter Concert
. You have four chances to see this performance by some of Tucson's most talented movers. Because the performance is in collaboration with the Tucson Desert Song Festival, the company will be premiering A Tribute to Leonard Bernstein, featuring selections from West Side Story and Mass, as well as guest vocalists and alumni from Ravinia's Sterns Music Institute, as well as the pianist Michael Dauphinais. They'll also be premiering Divertimento in D, set to the music of the "Bel Canto Quintet," and performing Graduation Ball, a historic ballet in which the headmistress of a 19th century Viennese finishing school invites cadets from the military academy to the school's graduation ball. 7:30 p.m. on Friday, Feb. 2. 2 p.m. and 7:30 p.m. on Saturday, Feb. 3 and 1 p.m. on Sunday, Feb. 4. Stevie Eller Dance Theatre, 1717 E. University Blvd. $45 GA, $40 seniors/students/military.
Stomp
. This one goes out to the kids who used to stomp out of the room when their mom told them to do their chores, and who maybe still stomp out of the room sometimes when they don't like what they're hearing. Because, for two days at Centennial Hall, stomping is okay. Stomping is celebrated. This musical theatre/dance performance will fill the stage with matchboxes, garbage cans, brooms and Zippo lighters to make some joyful, rhythmic, riotous noise. 8 p.m. on Friday, Feb. 2. 2 p.m. and 8 p.m. on Saturday, Feb. 3. Centennial Hall, 1020 E. University Blvd. $19 to $60+. $5 off for seniors, $10 off for students.
Dueling Pianos, A Sing-Along Party!
Get ready to get rowdy! The Boogie Woogie Piano gals, Lisa Otey and Doña Oxford, will be leading the festivities in this interactive experience where YOU decide what they're playing next. Or at least you request it. They might not want to play any Lil Uzi Vert. But really, the audience does pretty much run the show, and you get free rein to dance, sing and laugh as much as you want. If that doesn't sound fun, what does? 6 p.m. on Tuesday, Feb. 1. The Gaslight Music Hall in Oro Valley, 13005 N. Oracle Road. $15 GA.
Learn Something New
First Fridays at the Arizona History Museum
. Somehow, we're already heading into the second month of 2018, when it still feels like it's about 2011. To make yourself feel less old, go learn about some really old stuff at the Arizona History Museum's special, where admission is two for one, and includes admission to "Dude Ranching in Arizona," a program where author Russell True will discuss his book about dude ranches in Arizona history. 4 to 8 p.m., with program at 6 p.m. Friday, Feb. 2. Arizona History Museum, 949 E. Second St. Regular admission is $10 adults, $8 seniors 65+, $5 students, $4 kids 7 to 17 and free for kids 6 and under, members and veterans. Two for one today!
Build-A-Gin Workshop
. Feeling uninspired or uncreative lately? We bet making something—like your own gin, for example—would lift your spirits. Three Wells Distilling Company's co-founders, Matt Montgomery and Chris Dudding, will discuss the science of distilling, what gin is made of, and then help you pick your own selection of botanicals to infuse into your unique create-gin. Plus, there'll be cocktails (first one's complimentary!) and spirits sampling. Don't miss it. 1 to 4 p.m. Saturday, Feb. 3. Three Wells Distilling Company, 3780 E. 44th St., suite 120. $60. $21+
The Andy Warhol Museum: Beyond Pop
. The Tucson Museum of Art is kicking off its 2018 Leadership Circle Lecture Series with a lecture by José Diaz, chief curator of the Warhol Museum. Diaz, who is also a 2018 fellow at the Center for Curatorial Leadership and recently curated the first museum solo exhibition of the Iranian artist Farhad Moshiri, will be speaking on, broadly put, the state of the arts. 6 to 8 p.m. Tuesday, Feb. 6. Tucson Museum of Art and Historic Block, 140 N. Main Ave. Free, but make reservations by calling 624-2333, x7108.
Learn Something New: Science Edition
The Art of Planetary Science
. We all know science is cool, but the data and numbers and statistics aren't always super beautiful. The UA's Lunar and Planetary Laboratory is remedying this with their annual exhibition and satellite events where scientists and artists both create artwork to give the audience a new perspective on the work they're doing. Last year, they displayed nearly 250 pieces of art from 120 artists and scientists and attracted more than 800 guests. This year, make it "more than 801 guests." 5 to 9 p.m. on Friday, Feb. 2, 1 to 5 p.m. on Saturday, Feb. 3 and Sunday, Feb. 4. Kuiper Space Sciences Building, 1629 E. University Blvd. Free.
Biocosmos: Our Sense of Place, Our Sense of Life in the Universe
. If the name of this event doesn't already have you hooked, knowing that you can spend the day at the Biosphere learning about how space science breakthroughs affect the human race should. Dean Joaquin Ruiz of the Biosphere 2 kicks the day off, and you'll also hear from Valerie Olson of UC Irvine; Dante Lauretta and Chris Impey of the UA's own Lunar and Planetary Laboratory Lab; Marcia Rieke from the UA astronomy department; Istvan Praet of the University of London at Roehampton and Lisa Messeri from Yale. Lectures will be followed by interactive discussions where you can ask space questions to your heart's content.9:45 a.m. to 4 p.m. Friday, Feb. 2. Biosphere 2 Lower Habitat, 32540 S. Biosphere Road, Oracle. Included with Biosphere 2 admission, or free for members. $20 adults, $18 seniors and military, $13 for kids 6 to 12, $10 with CatCard, $15 other college students.
Working Alongside Thinking Machines
. The UA Science Lecture Series continues with this talk by Nirav Merchant, a bioscientist at the UA's Bio5 Institute. The subject? Machine learning-based systems. If the phrase doesn't sound familiar, rest assured that these systems are all around you, including in cars, the medical diagnostics field and apps and websites that recommend music movies and merchandise. While they open up a world of opportunities, they also open up a can of worms about the ethics and security concerns. Merchant dives deep into the can of worms by talking about how to strike a balance between their pragmatic benefits and keeping people's information secure. 7 to 8 p.m. Monday, Feb. 5. Centennial Hall, 1020 E. University Blvd. Free.
It's Just Tucson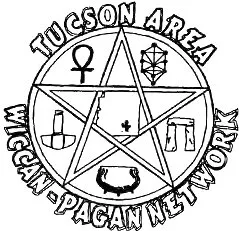 TAWN Imbolc Public Ritual
. Calling all Pagans! In case you don't already know, the Tucson Area Wiccan/Pagan Network exists, and they hold events like this one to bring members of the community together. This non-denominationally Pagan celebration is for Imbolc, or Brigid's Day, a Gaelic festival to celebrate the beginning of Spring, and held right around the halfway point between the winter solstice and spring equinox. Bring a potluck dish, bring (non-alcoholic) drinks, bring seating if you want it and bring a sweater if you're gonna need it. Kids welcome! Noon to 3 p.m. Saturday, Feb. 3. Hippie Hill at Himmel Park, 1000 N. Tucson Blvd. Free.
Odyssey Storytelling Presents: You Don't Know Me
. What does it mean to know someone? We talk a lot about how the identities people create for themselves online aren't always true to who they are. But are the identities people use to interface with the world always true to who they are? Can you know someone without knowing their deepest secrets? Can you know someone if you don't know their favorite food, or what their favorite thing to do in their free time is? Listen to six people's 10-minute stories on the concept of "who we are" at this month's Odyssey Storytelling event. 7 to 9 p.m. Thursday, Feb. 1. The Sea of Glass Center for the Arts, 330 E. Seventh St. $10 GA, $7 students with ID.
Tucson Death Cafe
. At first, you might think to yourself that a group that holds monthly meetings about death (in order to increase awareness and acceptance of the concept and help people live more fulfilling lives) might be something that would only exist in Tucson. But, in fact, the Tucson chapter is one of many: More than 2700 Death Cafes have taken place all over the world since 2011. It's not supposed to be morbid, and it's not supposed to be a grief counseling group. There's really not an agenda or an objective. Just a hope that by dragging death out into the light, making it more of a companion and less of an ominous, looming sort of thing, maybe it won't be so scary anymore. 5:30 to 7 p.m. Wednesday, Feb. 7. Ward 6 Council Offices, 3202 E. First St. Free.
Fun in General
Onesie Bar Crawl
. Most of the time when you don't feel like going out on a Saturday night, it's probably because your couch is too comfortable, right? On this onesie bar crawl, bring the most important comforts of home along with you, so you can stay cozy while you get boozy. So far, the Hut, Sky Bar, Bar Passe and Mr. Heads are participating, with other bars TBA. Make sure you register at The Hut from 3 to 5 p.m. so you can be entered into the running for "sexiest onesie" and "funniest onesie" prize. A ticket also includes food and drink specials, entry to an after party from 7 to 8 p.m. and onesie pong… which sounds like beer pong where the players are wearing onesies, but who knows? Maybe the cups are wearing onesies, or the ping pong balls. Only one way to find out. 3 to 8 p.m. Saturday, Feb. 3. Meet at the Hut, 305 N. Fourth Ave. $15. 21+, obviously.
Day in the Desert
. Get your creative juices flowing with Creative Juice, a local art bar that serves up casual art lessons and "creative juice," if you know what I mean. (I mean alcohol.) And instructor will walk you through a painting—in this case, a colorful desert scene, and you can paint along. And drink along if you so choose. We find it really helps us to get in the art-making zone. Saturday, Feb. 3. Creative Juice, 6530 E. Tanque Verde Road. $29/painter, drinks not included. $4 beer and $5 to $7 for wine.
We Love Dinosaurs!
Little Cardboard Rocket, which provides classes in caregiving for parents of young (think pre-preschool) children, is hosting this pop-up event. Work with your little Dino lovers and archeologists to measure a T-Rex food, excavate a "dinosaur egg," build a volcano and use your imaginations to turn into dinosaurs yourselves! Everyone gets a dino kit to take home so they can keep the magic alive. Can you say, "tyrannosaurus yes"? 10 to 11 a.m. Saturday, Feb. 3. Little Cardboard Rocket, LLC. 5360 E. Pima St. $10, with 65 percent sibling discount.
Nightcrawler
Ned and the Dirt
. Hailing from Los Angeles by way of the Dirty South, Ned and the Dirt are unapologetic in their liberal use of "Whoahs" and "ahs." But don't hold that against them. Their post-grunge guitar-heroics channel worries, fears and sadnesses, the likes of which we've not heard since early My Morning Jacket. Even the drums evolve from pounding heartbeats into ethereal sizzles. Yes, their requisite pain of sentience scratches through heavy pop tones. They're all about the build-up—across single songs and entire albums. Their 2016 EP begins as a search for cheap thrills, examines and registers casualties and loss along the way, "When I last saw Mikey he wouldn't stop pretending he was fine and in love/When I last saw Steph he died," before ending with, "Stay open, stay forgiving and you'll be fine." Post-Mumford and Sons rousing choruses, post-Everclear slam, this is the sound of honest struggle born of men trapped under the same sun, and it simmers and rocks, sometimes in the same tune. With Dirt Friends and Half-Broke Town. Saturday, Feb. 3. Club Congress, 311 E. Congress. 7 p.m. Free. 21+.
—B.S. Eliot
Mean Mary
. Few artists can sneak descriptors into their names—but Mean Mary James surely deserves hers. Since she was five years old, Mary's been spinning yarns of tall Texans and iron horses and all of the love won and lost across ramshackle landscapes of American music. As gifted a banjo and guitar player as she is a singer-songwriter, Mary's mad skill is a novelist's ability to channel the character she is serving, in melody and words. "I was tired of taking hard knocks and locking my dreams in a drawer," is plainspoken, huskily unadorned—like '60s-era Cher meets Karen Dalton—and after one verse we know "Sweet Jezebel" well enough to understand why she'd walk toward the man with "the eyes of a shark." Whether ably tackling country standards or offering original, bitter-pill love songs, each measure is crammed with heart and the feeling the songs are written and performed because they had to be. Sunday, Feb. 4. Monterey Court (Courtyard Stage), 505 Miracle Mile. 6 p.m. $10. All ages.
—B.S. Eliot
Fetty Wap
. Above all else, Fetty Wap is a romantic. Though that romanticism is tightly packaged in trap, with all the trimmings: money, dope, lambos, guns—but that's just so no one accuses him of being all R&B soft. The Honey in Wap's tunes gets invited to stay the night, to be his "Trap Queen" to share the cash, and the dope, and to make the music right alongside him. Wap's voice betrays a mournful welp—despite the vocoder—a distinct humanity that's too-often missing in this genre's flexed menace and self-obsessed alienation. Equally at home singsonging or hard rhyming, Wap claims "all fast money, no slow bus," but his tracks are fundamentally love ditties. Maybe it's because he hails from Paterson, over the bridge from the long shadow of the Rotten Apple, or perhaps it's the permanent loss of his left eye, but Wap has returned some measure of female respect to trap, in a vision all his own. Thursday, Feb. 8. Rialto Theatre, 318 E. Congress. Doors at 7 p.m. $46-$54. All ages.
—B.S. Eliot
Rezz
. Melding gut-punch sonics like Skrillex and head-trips that'd do DJ Shadow proud, Rezz excels at building on that which has come before her. Like any brilliant student, she bores holes through hardened traditions. Her EDM compositions rise on tension that teases the brain and body like rare sex—that yearning for the rarified moment of release. "Relax," one track commands, and the hypnotic beat is almost too much, the ornamentation almost too rich and dreamy. She's good. Friday, Feb. 2. Rialto Theatre, 318 E. Congress. Doors at 7 p.m. $35-$45. All ages.
—B.S. Eliot