Mayor's Tree Lighting Ceremony.
You probably already know this, but Santa gets very busy this time of year. But he didn't want to leave his beloved Tucsonans high and dry for this event, so he called in a favor from some of his friends in high places. And we'll have Mayor Johathan Rothschild himself at this tree lighting ceremony. The tree will be displayed from Black Friday up until the new year, and the night will feature youth mariachi group performances and ballet folklorico dancers to get you in an extra festive mood. Bring your family, bring your friends and bring your holiday cheer for a night that's sure to be a tree-t. 5 to 7 p.m. Friday, Nov. 23. Jacome Plaza, 100 N. Stone Ave. Free.
Details Here.

Enchanted Snowfall at La Encantada.
Twinkling lights and mugs of hot chocolate are good ways to get into the Christmas spirit. But things start to get truly magical when we tweak the laws of nature and make it snow in the Sonoran Desert. Every Friday and Saturday evening starting the day after Thanksgiving, it will snow TWICE—at 6 and 6:45 p.m.—at the La Encantada shopping center, and Blanco Tacos + Tequila will provide Mexican hot chocolate to keep your hands and tummies from getting too chilly in the storm. Live music performers will be there to keep your heart warm as well. Every Friday and Saturday at 6 p.m. and 6:45 p.m. from Friday, Nov. 23 through Saturday, Dec. 22. La Encantada Shopping Center, 2905 E. Skyline Drive. Free.
Details Here.

Hotel Congress/Maynards Market & Kitchen Gift Card Deal
. From Black Friday to Cyber Monday, Hotel Congress and Maynards is offering a deal where if you buy $100 in gift cards, you get a $25 bonus. A great opportunity for you to share of the delights at either downtown hot spot and get a little something for yourself, too! Friday, Nov. 23, to Monday, Nov. 26. 311 E. Congress Street and 400 N. Toole Ave.
Details Here.
Black Friday, Beer Friday.
Are you a big shopper? Me neither. Instead, go on a Black Friday brew tour with Old Pueblo Brew Tours and try different local beer. The tour will include transportation on their air-conditioned vehicle, stops at three local craft breweries, a flight of four beers at each stop, plus a whole lot of beer facts and trivia. 1 to 5 p.m. Friday, Nov. 23. 2648 E. Drachman St. $75
Details Here.

Free Mead Tasting and Live Music at Arizona Beer House!
The event description is pretty much
in the event name itself. For the first couple hours, join Arizona Beer House in tasting a complimentary sampling of a variety of meads and then stay for Flatlander Jim, who will be performing afterwards. 6 to 11 p.m. Friday Nov. 23. 150 S. Kolb Road.
Details Here.

IMC's World Famous Rummage Sale.
Surely you've already heard about this event, considering it's world famous. But just in case you haven't: Instrumental Music Center's annual sale full of weird stuff, cheap stuff, broken stuff, old stuff, new stuff and generally good stuff is an event they promise will be, and we quote, "THE MOST FUN YOU'VE EVER HAD IN YOUR LIFE." This year's value menu has all sorts of stuff on it, including violins, flutes and guitars for just $99; ukuleles for as low as $25, tuners for $5 and a drum stick pair for just $1. This Black Friday weekend, support a local business, and have the time of your life doing it. 10 a.m. to 5 p.m. Friday, Nov. 23, through Sunday, Nov. 25. Instrumental Music Center locations at 7063 E. Speedway and 405 E. Wetmore Road (though the value menu only applies to the Speedway location).
Details Here.
Bisbee Home Tour.
Are you ready to be charmed? The Bisbee Woman's Club invites you to the 36th annual chance to tour some of this sweet little towns' sweet little (and not-so-little) homes. In addition, be sure not to miss the 17th Annual Art Chairs and More Auction, which features all sorts of unique creations, especially tables, stools and benches. The silent auction is going on all weekend, but a reception and final bidding is from 4 to 5 p.m. on Saturday. If you're concerned about parking, take the Bisbee Touring Company golf cart shuttle around town for free. (But leave a tip!) 10 a.m. to 4 p.m. Friday, Nov. 23, and 10 a.m. to 5 p.m. Saturday, Nov. 24. St. Patrick's Parish Hall, 100 Quality Hill Road. Bisbee. Tickets are $20 for adults, or free for kids under 12.
Details Here.

Western Heritage Festival.
This town (Tucson) ain't big enough for the two of us. But at Old Tucson, there's plenty of room for everyone at this festival where we celebrate Southern Arizona's roots, with the help of groups like the Arizona Civil War Council and Ha:San Prepatory and Leadership School. Power from the Past will be displaying engines and serving up ice cream, and the Old Pueblo Bluegrass Band & Jazz Trio and Reyno Norteno will be providing live entertainment. Local artists and vendors will have booths where you can get some holiday shopping done while supporting the people who make our state great. The event does feature one prominent out-of-towner, though: Santa Claus himself, soaking up some Arizona sunshine before he gets into his busiest time of year. 10 a.m. to 5 p.m. Friday, Nov. 23, through Sunday, Nov. 25. Old Tucson, 201 S. Kinney Road. $19.95 GA, $10.95 for kids 4 to 11, with discounts for seniors, military and Pima County residents.
Details Here.
American Indian Month Social.
Native Americans were the first Americans, of course, and Arizona is rich with the culture of several tribal nations. This is a perfect chance to learn about 15 tribal nations and 10,000 years' worth of culture, while also enjoying gorgeous (and authentic!) artwork, crafts and entertainment. Held annually the weekend after Thanksgiving, the social invites everyone to come and learn a little bit more about the rich culture that has shaped the state we live in. Be sure to bring your camera! This year's featured cultural presentation is by award-winning hoop dancer Cecil Manuel, a Tohono O'odham and Apache. 10 a.m. to 6 p.m. Friday, Nov. 23, through Sunday, Nov. 25. Sheraton Hotel Ballroom, 5151 E. Grant Road. Free, but a scholarship donation is always appreciated!
Details Here.

Bear Down Fridays.
This is the final Bear Down Friday of the year, marking the end of the 13th season of Bear Down Fridays. What are Bear Down Fridays? Well, in part, they're a giant pep rally with the Pride of Arizona Marching Band, UA Poms, Twirlers and Flags, UA Cheer and (of course) Wilbur and Wilma going down Tyndall Avenue south of University Blvd. But it's more than that! Restaurants and stores have all sorts of happy hour pricing, discounts, giveaways and activities. ESPN Tucson 1490 AM & 104.9 FM kicks things off at Gentle Bens at 3 p.m., and is joined by 106.3 The Groove at 4 p.m. Both will be doing giveaways and hosting media celebs. This week's guest speaker is Fred Harvey of track & field and cross country. 3 to 7 p.m. Friday, Nov. 23. Main Gate Square on University Boulevard, between Euclid and Park avenues. Free. And parking is free in the Tyndall Garage after 4 p.m. with a merchant validation.
Details Here.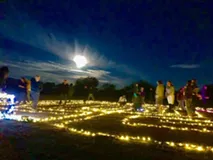 Gratitude Full Moon Luminous Labyrinth.
The holidays are the time of year where we'll all supposed to feel the most grateful. But it's also the time of year that can be the most stressful, making it easy to lose sight of what matters most. And you know one great way to re-center yourself? Walking through a labyrinth under the full moon. The Intuitive Shamanic Animists, a branch of Web of Life Animist Church, is hosting this opportunity to set an intention and find renewal—or whatever it is you're looking for—in the labyrinth. A drumbeat will guide your walk, but feel free to bring your own rattle or drum if you want to make your own rhythm. 5:30 to 7:30 p.m. Friday, Nov. 23. Rio Vista Natural Resource Park, 3974 N. Tucson Blvd. $5 to $20 donation requested.
Details Here.

Star Wars: A New Hope in Concert.
Be honest. How high were the chances that you were going to
be staying in and watching Star Wars this weekend anyway? So why not do it in style this time? Luke, Leia, Han Solo, Chewbacca and the whole crew are coming all the way from a galaxy far, far away to be projected onto the big screen at the Tucson Symphony Orchestra, while TSO plays John Williams' iconic, Academy Award-winning score beneath them. Both Rebel Alliance and Empire members are welcome at this bipartisan event, so please try to be civil. And kids under 18 get 50 percent off tickets! 4 p.m. Saturday, Nov. 24, and 2 p.m. Sunday, Nov. 25. Tucson Music Hall, 260 S. Church Ave. $15 to $86+.
Details Here.

Mamma Mia!
Here we go again. Or, if you've never seen this hit ABBA musical, here we go for the first time. Mamma Mia tells the story of a young bride named Sophie who decides she wants to have her father, who she's never known, at her wedding. As it turns out, her mother was pretty… promiscuous around the time she conceived Sophie, so digging through her mother's diary just narrows down who Sophie's father is to three men. They all come out just a few days before the wedding, and, well, chaos and hilarity ensues. This production by Arizona Onstage Productions features more than 40 professional actors, singers and dancing queens. 7:30 p.m. on Saturday, Nov. 24, and Saturday, Dec. 1. 2:30 p.m. on Sunday, Nov. 25, Saturday, Dec. 1, and Sunday, Dec. 2. Berger Center for the Performing Arts, 1200 W. Speedway. $35 GA, $25 student/teacher/artist/senior/military.
Details Here.
Annual Reid Park Holiday Arts and Crafts Fair.
Look, you have to get some of your holiday shopping done. But does the thought of going to the mall fill you with the deep existential dread that comes from visiting a place that, like you and me, is slowly but surely dying? Go shopping in the great outdoors! This annual event has been around for more than three decades, and is drawing in more than 140 photographers, painters, potters, jewelers and other artists. Stroll through aisles of fragrant handmade soaps, pick up some handcrafted stuffed toys and puppets for the little ones in your life, pick out something knitted or painted for a loved one and grab a gourmet treat for yourself. 9 a.m. to 4 p.m. Saturday, Nov. 24, and Sunday, Nov. 25. Gene C. Reid Park and 22nd Street and Country Club Road. Parks and Rec suggests parking at the Concert Place entrance for ample free parking.
Details Here.
Artists of the Southwest.
Could there ever be too many local artisan fairs during the holidays? No. Because you're probably going to miss all of them right up until the day before you need to give out presents, and then an army of local sculptors, metallurgists, painters, textile artists and other talented people will be the ones who save you from your own procrastination. And we've said this before, but we'll say it again: Supporting local artists is a cool thing to do! Head over to this fair full of art by regional artists, and enjoy music by Kindred Spirits. 9:30 a.m. to 4:30 p.m. Saturday, Nov. 24, and 9:30 a.m. to 4 p.m. Sunday, Nov. 25. Brandi Fenton Memorial Park, Ramada 1, 3482 E. River Road.
Details Here.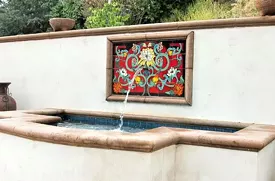 Carly Quinn Holiday Sale.
Even if you don't know the name Carly Quinn, you've probably seen some of the hand-glazed tilework by this artist or her company around town, and probably thought it was gorgeous. She works with some of the top designers in Southern Arizona to create tiles for commercial and residential installation, covered with everything from geometric designs to scenes from nature to gorgeously depicted addresses. If you've always wanted one of her pieces, or always wanted to buy one of her pieces for a loved one, now's your chance: The first annual holiday sale offers 20 percent off all tiles and murals and 50 percent off first-run gift sets. Happy holidays, indeed! 9 a.m. to 4 p.m. Saturday, Nov. 24. Carly Quinn Designs, 730 S. Russell Ave.
Details Here.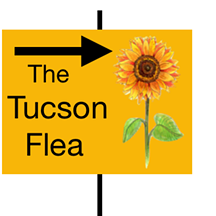 The Tucson Flea Dark Arts Market.
The Tucson Flea is always a good, quirky time. But for the holidays, they're really stepping things up by making this market full of handcrafted or vintage items completely focused on the Dark Arts. Aberrant Ceramics will be selling offbeat mugs and plates, Emily McGowan will have her otherworldly drawings, Kitty Hanson has all sorts of handmade pieces adorned with skulls and Herb Onyx Witchery will have handmade floral/herbal wands and crystals. Plus, vendors with names like Snake and Bone, White Raven Trading Co., Kitchen Mystic Goods and Zombisaur. It's not something witch you want to miss. 10 a.m. to 4 p.m. Saturday, Nov. 24. Owls Club, 236 S. Scott Ave.
Details Here.
Freddy's Saturday Night Car Show.
It's the last Saturday of the month again, which means the Freddy's Car Show is back. There's trophies for pretty much everything you can imagine, from the best classic car of each decade from the '40s through the '90s to the best motorcycle, best 4x4 and people's choice. There's also plaques for categories including best Camaro, best Mustang and best Corvette. Of course, the show is right next to Freddy's, which means you can level up your experience with some good, old-fashioned custard and burgers. 4 to 9 p.m. Saturday, Nov. 24. Freddy's Oro Valley parking lot, 11143 N. Oracle Road, Oro Valley. $10 registration per vehicle.
Details Here.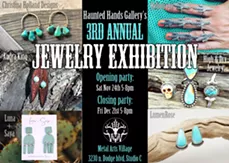 Haunted Hands' 3rd Annual Jewelry Exhibition.
It's a full moon, a Saturday and the perfect day to pick up some reasonably priced jewelry (most pieces are $20 to $100) from Christina Holland Designs, Heliotrope, Andra King, High and Dry Jewelry Design, Lumenrose Jewelry and Luna + Saya Jewelry. This one-night event (well, technically they'll be doing it two nights—the next one is Friday, Dec. 21, for the procrastinators among us) is the perfect opportunity to get some Christmas shopping done, or to bring a loved one along and help them do some Christmas shopping for you. The other studios in the Metal Arts Village will be open to the public, Tucson Hop Shop has beer and food trucks and live music will abound at this dog-friendly and kid-friendly event. 5 to 8 p.m. Saturday, Nov. 24. Haunted Hands, 3230 N. Dodge.
Details Here.
Bottoms Up for Gil the Wonder Pup.
Got company in town? In the mood to go out for drinks this weekend? Or just sincerely in the mood to support a good cause? Head to Catalina Brewing Company and raise a glass or two to benefit Gil, a paralyzed dog brought to Tucson for medical help. A percentage of each drink sold, as well as proceeds from a raffle, will help pay for Gil's therapy and ongoing needs. The raffle includes four tickets to the Nova Home Loans Arizona Bowl, a handmade quilt, gift certificates to local businesses, a custom dog treat basket from Rosie's Barket and more. The Gypsy Caravan food truck is on deck to keep you fed, so you can keep drinking for Gil. 5 to 8 p.m. Saturday, Nov. 24. Catalina Brewing Company, 6918 N. Camino Martin, #120. Free, raffle tickets are $5 or five for $20 at the door.
Details Here.
Krull.
Take me back to those mid-'80s days when high fantasy movies were all the rage and every televangelist thought you were going to lose your soul by playing a round of Dungeons and Dragons. Sure, there were classics like Conan the Barbarian and Highlander, but there were many-a dud trying to cash in on the trend as well. Enter Krull, a B-movie that isn't sure if it's fantasy, sci-fi, or slapstick. What is a "Krull"? Head on down to Casa Video and find out for yourself. 7 to 9 p.m. Saturday, Nov. 24. 2905 E. Speedway Blvd. Free.
Details Here.
Free Tequila and Tamale Sampling.
"Tequila and Tamale" sounds like a fun combo, doesn't it? El Charro Cafe is celebrating Small Business Weekend with a sampling of their new exclusive Flores Concepts Codigo Tequila Barrel and their seasonal Holiday Tamales. There will be two more tequila and tamale sampling events in December for those who miss this opportunity. Noon to 2 p.m. Sunday, Nov. 25. 6910 E. Sunrise Drive.
Details Here.

Who-Bilation.
If you have kids and you haven't checked out Our Play Place, the interactive children's play space full of climbing structures, slides and playhouses designed to encourage a sense of adventure and creativity, this is the perfect opportunity to do it. Join hands with kids and other parents and sing that old Who song, "Fahoo fores, dahoo dores, welcome Christmas, Christmas Day," at this event, which will feature plenty of playtime and a special Grinch ornament craft. This season has plenty of opportunities to see Santa, but this might be the only one for your kids to meet the Grinch himself! Come dressed as a Who if you're any fun at all. 10 to 11:30 a.m. Sunday, Nov. 25. Our Play Place, 3951 W. Costco Drive. $15 for the first child and $12 for siblings.
Details Here.

Send Us Your Photos:
If you go to any of the events listed above, snap a quick pic and message it to us for a chance to be featured on our social media sites! Find us on
Twitter
,
Facebook
and
Instagram
@tucsonweekly.
Events compiled by Brianna Lewis, Emily Dieckman, B.S. Eliot and Jeff Gardner.