In honor of the All Souls Procession celebration, I wanted to take the opportunity to laud some of my favorite spots for Mexican cuisine around Tucson. For weekend visitors, you'll find a myriad of outstanding Mexican joints to suit any price range, so knowing where to go can be tricky. For Tucsonans, you're likely already familiar with many of these places as several were reader-appointed Best of Tucson winners this year, but you might just discover something new.
TACOS
Tucson is definitely a taco town and cheap tacos abound both in restaurants and off of tacos trucks. Although South 12th Avenue is peppered with great spots to get a bite, Tacos Apson (3501 S. 12th Ave.) leads the pack with fresh off the grill options for meat lovers. Although almost all of the taco filling fixins here are on point, the costillas (bone-in rib) and tripas (tripe) stand out as unique. Further north, one taco truck stands above the rest Taqueria Aqui con El Nene (4415 N. Flowing Wells Road) with standards like carne asada, pollo and adobada. For the real Aqui con El Nene experience, though, you'll want to get the taco Yaqui, which serves up bacon, cheese, mushroom and beef stuffed green chiles.
BURRITOS
If you can stop yourself from getting distracted by the fresh tortillas, chips, salsa and more for sale at Anita's Street Market (849 N. Anita Ave.), you'll want to get either the machaca or red chile burros at this little neighborhood joint. Or, you could just get a burro for lunch and some snacks for later. Sure, La Fresita (1450 W. St. Mary's Road) is a drive-thru. Once you're there, you'll find that they know how to make a mean breakfast burrito (and huevos rancheros). Eggs, cheese, chorizo, carne asada, potatoes and more can all be crammed into a soft tortilla for the makings of a good morning. Paired with a pepino juice, the refreshing drink and substantial burro can revive you back to life, if you need it.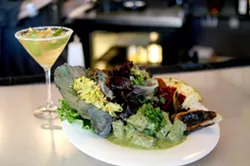 UPSCALE
If you'd rather sit down and enjoy some classy digs, Penca (50 E. Broadway Blvd.) is sure to satisfy both on the food front and the drink front with an extensive mezcal list, several sangrias and well-balanced cocktails. To eat, the tender cabeza tacos, made-to-order guacamole boards and flavorful stuffed chile en nogada are the way to go. Of course, no Mexican dining list would be complete without including the proginator of Tucson's upscale Mexican dining scene Café Poca Cosa. With a menu of daily specials that explore the many regions of Mexican cuisine and highlight mole in a way you never thought possible, follow chef Suzana Davila on a unique culinary excursion.
OTHER GOOD STUFF
But that's not all Tucson's diverse Mexican food scene has to offer. Try a Sonoran dog at the original El Guero Canelo (5201 S. 12th Ave.), grab some tortillas at St. Mary's Tortilla Factory (1030 W. St. Mary's Road), enjoy the conversation at Martin's Comida Chingona (557 N. Fourth Ave.), fill up on a tasty torta at Taqueria El Pueblito (1800 E. Ft. Lowell Road #A156), get your caldo (and vegan food) fix at Tanias 33 (614 N. Grande Ave.) and, of course, indulge in a pan de muerto, among other baked goods, at La Estrella (also located at the Mercado San Agustin at 100 S. Avenida del Convento).