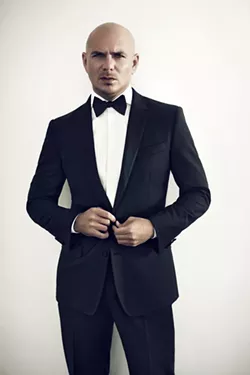 Pitbull:
If you think the Sonoran Desert is scorching, how about a night of heat all the way from Miami? Pitbull, the one and only Mr. 305, Mr. Worldwide will grace the AVA Amphitheater stage at the Casino del Sol on Sunday, July 8.
"Feel the Moment" with the number one Latin pop singer for a Fireball-filled night of fun. Pitbull will set the house on fire with "International Love" for an upbeat show sure to keep you on your feet.
International star, musician, rapper and fashionisto Armando Christian Perez, also known as Pitbull, has soared to the top of the Latin Pop music scene since his first album M.I.A.M.I. released in 2004. Pitbull now has over ten albums and has recorded songs with stars including Jennifer Lopez, Christina Aguilera and Ke$ha to name a few.
Pitbull will be making his stop in Tucson as part of an international tour that continues around the U.S. and to Belgium and Hungary before the end of July. After that, he joins up with Brittany Spears to be the opening act for her international tour starting in August. Mr. Worldwide is really living up to his name.
Some of the white-suit-wearing bald-headed superstar's biggest hits include:
"Hotel Room Service"
"Fireball" (ft. John Ryan)
The concert will start at 8:00 p.m. at AVA Amphitheater, 5655 W Valencia Rd, Tucson, AZ 85757.
Get your ticket soon, they're
on sale now.
Dale!
Dont Miss:
If you can't wait to party with Pitbull next weekend, check out the tomorrow, July 3, show celebrating Casino del Sol's 24th birthday. This free show starts at 8:30 p.m. and will include fireworks, food specials and music. Gates open at 7:30 p.m. More information about this show and others upcoming throughout the month can be
found here.