The 43rd annual Tucson Greek Festival will take place from Sept. 27 to Sept. 30 at St. Demetrios Greek Orthodox Church. The event is a celebration of Greek faith and culture and raises funds for ministries of St. Demetrios Greek Orthodox Church.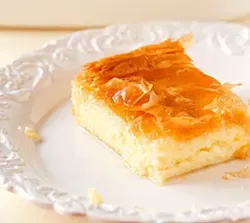 There will be authentic Greek food and pastries, a live Greek band with a DJ and dancers performing, assorted wine and beer and lots of family friendly activities.
The event will take place on Thursday from 5 to 10 p.m., Friday from 5-11 p.m., Saturday from 4-11 p.m. and Sunday from 12-5 p.m. $3 general admission. Admission will be free for Seniors, first responders, military and children 12 and under. Students with an ID will be free on Thursday. Come and get your Greek on for a few days!
20 Must-Try Classic Greek Dishes
1. Moussaka:
oven-baked casserole of layered eggplant and spiced meat
2. Baklava:
Greek pastry made with flaky phyllo dough layered with a cinnamon-spiced nut filling and bathed in sweet syrup
3. Horta Vrasta:
boiled leafy greens
4. Chicken Soup Avgolemono:
a traditional chicken soup
5. Tzatziki:
creamy cucumber- yogurt dip flavored with garlic
6. Pastitsio:
made with pasta, meat filling and a creamy bechamel sauce
7. Galaktoboureko:
custard phyllo pie
8. Fassolatha:
classic white bean soup
9. Spanakopita:
spinach pie
10. Youvetsi:
beef stew with orzo
11. Dolmathakia:
stuffed grape leaves stuffed with rice, pine nuts and fresh herbs
12. Taramosalata:
carp roe spread
13. Fassolakia Lathera:
green beans in tomato sauce
14. Melomakarona:
honey walnut cookies
15. Pork Souvlaki:
grilled pork skewers
16. Domates Yemistes:
stuffed tomatoes with meat and rice
17. Tsoureki:
Easter bread flavored with orange and Mahlab
18. Keftethes:
meatballs
19. Kourabiethes:
almond shortbread cookies
20. Tiropites:
phyllo cheese triangles