Friday, Aug 17
TGIF '90s Spectacular.
For every Friday in August, Casa Video is allowing you to relive the '90s! Go back to a wonderful decade where we didn't have any of the strife we have today; no unnecessary wars and no corrupt politicians. It was just technicolor tracksuits and Tamagotchis, all day every day. For this week's party, they're screening episodes of Family Matters, Boy Meets World, Step by Step and Hangin' with Mr. Cooper. 7 to 9 p.m. Friday, August 17. 2905 E. Speedway Blvd.
Details here.
Stand Up 101 Class Showcase + Carnival Diet.
Students over at Tucson Improv Movement just spent six weeks honing their comedy chops, and they're ready to show off their stuff. You're not going to want to miss this opportunity to see what just a month and a half of classes can do to a person's sense of comedic timing and ability to go with the flow. In addition, Carnival Diet, one of Tucson Improv Movement's house teams, will take a suggestion and weave you a world that's as weird and wonderful as a carnival—vomit-inducing rides, fantastical performances, fried miscellany and all. 7:30 to 8:30 p.m. Friday, Aug. 17. Tucson Improv Movement, 414 E. Ninth St. $5.
Details here.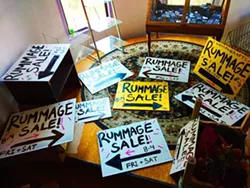 WomanKraft Rummage Sale.
You were probably looking for the perfect way to support the mission of validating and empowering women artists and other underrepresented groups this weekend, so we are pleased to tell you that there's a perfect event for that—one where you can walk away having gained more than just a good feeling. This rummage sale has toys, decorations, art books, novels, household items, tools, records, furniture, a huge variety of art supplies… and the list goes on. Pick up the piece you've been looking for to complete your wardrobe, or to tie together the décor of your living room. Bring a friend! Come more than once! Just don't miss out! 8 a.m. to 4 p.m. Friday and Saturday, Aug. 17 and 18. No early birds, please! 388 S. Stone Ave.
Details here.
Saturday, Aug 18
The Gaslight Music Hall Car Show.
It's that time of month again! This family-friendly event is the perfect opportunity to unwind in the midst of all this back-to-school stress. Listen to some old school tunes, check out some beautiful cars and talk to people who love cars as much as you do—or, if you're not super, super into cars, talk to people who can teach you all sorts of cool things about cars. Of course, don't miss the delicious, classic diner food being served up at the Gaslight Music Hall, because most experiences are made better with French fries. 4 p.m. Saturday, Aug. 18. The Gaslight Music Hall in Oro Valley, 13005 N. Oracle Road. Free.
Details here.
College and Career Day at the Library.
The period after graduating from high school can be pretty confusing. How do you make a resume? What do you put on a resume anyway? What the hell are you supposed to major in? How does financial aid work? Don't worry, though: You're not alone. The Joel D. Valdez Main Library is putting on this event full of college-and career-related workshops led by the Library's Idea+Space staff, Pima Community College and Earn to Learn. Reps from ASU, NAU, UA,, Prescott College and the Metropolitan Education Commission will also be on hand to answer questions. The event is open to the public, so you don't need to be a recent high school graduate to swing by and pick up some knowledge! 10 a.m. to 2 p.m. Saturday, Aug. 18. Joel D. Valdez Main Library, 101 N. Stone Ave. Free.
Details here.
Flashlight Night at the International Wildlife Museum.
Scientists have puzzled over the issue for decades, because there's really no rhyme or reason to it, but most everyone agrees than any game becomes more fun when you're playing it in the dark with flashlights. And kudos to the International Wildlife Museum for recognizing this with this night where you can hang out with reptiles and insects, take safari selfies, watch movies and participate in a spotlight scavenger hunt. Archery is available for ages 9 and up as well. Lights go out at 6 p.m., but feel free to come earlier if you want to see the museum with the lights on. It's open from 9 a.m. to 8 p.m. Saturday, Aug. 18. International Wildlife Museum, 4800 W. Gates Pass Road. $10 adult, $7 senior/military, $5 kids 4 to 12 and free for kids 3 and under. Archery is two bucks per person.
Details here.
Yoga for Stronger, Healthier Bones.
Yoga is supposed to make you feel stronger and more capable, but if you're dealing with bone troubles like osteoporosis or osteopenia, then the varied weight distribution that comes with it might not sound too fun. But at this class, you'll learn 12 poses to help enhance bone strength, and also exactly which poses to consider avoiding if you're dealing with weakened ones. There will also be discussion about the benefits of yoga for bone density, balance, strength, range of motion, coordination, anxiety and fall prevention. Whether you're brand new to yoga, or a yoga teacher looking for ways to better serve your students, you bone't want to miss it. 2 to 5 p.m. Saturday, Aug. 18. The Yoga Connection, 3929 E. Pima St. $35.
Details here.
Women & Money Masterclass.
As a print publication, we've had our fair share of moments where we realized we had more month than money. And really, who couldn't benefit from a YWCA-hosted class on how to create a realistic financial plan, to work with the money you have and to master the art of negotiating? This weekend is part two of this master class, and it's called "Let's Get Real About Money." 9 a.m. to noon. Saturday, Aug. 18. Frances McClelland Community Center, 525 N. Bonita Ave. $60.
Details here.
Sizzling Summer Nights.
The last iteration of this beat-the-heat event at the Jane Hamilton Fine Art Gallery is upon us! Their philosophy at the gallery is simple: Yes, it's absurdly, unreasonably hot, but, hey, at least the town has slowed down for the summer and the restaurants are less crowded. It's the perfect time to take a deep breath and relax, then to head over to the gallery for some more relaxing, but with wine, music and food. Ahhhh, summer. 5 to 8 p.m. Saturday, Aug. 18. Jane Hamilton Fine Art Gallery, 2890 E. Skyline Drive, suite 180. Free.
Details here.
Cool Summer Nights at the Desert Museum.
It's time someone said it: Sometimes not even the nights are that cool during the Tucson summer. But you know what? Heading out to the Desert Museum is still worth it. This week at their "Creatures of the Night" event: live presentations from the Herpetology Department featuring venomous reptiles, two "glow & flow" yoga sessions offered by Tiffany Georgia from Tucson Yoga Studio (glow sticks will be provided!) and a photography workshop by Jay Pierstorff all about using flash correctly. Plus all the usual fun in the form of fine art exhibits, the stingray touch exhibit, docent presentations and the Packrat Playhouse. 5 to 10 p.m. Saturday, Aug. 18. Arizona-Sonora Desert Museum, 2021 N. Kinney Road. $22 GA, $20 seniors 65 and up, $9 kids 2 to 12, $18 military, $17 Arizona/Sonora residents.
Details here.
Sorrytown.
Reverbed-out guitars eviscerate silence. "Go away," a dude urges, but the song drones on, jagged and un-attenuated, a relentless aural disaster. Sorrytown lifts the corners of the polite straight world and reveals the skittering, frenetic bugs underneath. "Everyone you know is somewhere you could never go," Simeon Beardsley exhales, like Built to Spill sans tidy deductions. Heavy drums and bass push tunes forward, headlong into uncertainty, demanding to "know." Then the answer comes—sonic booms and cathartic bass waves. There is no inner narrator, only a vast noisy void. "We have no reason to speak." Heavy primal fucking and alienation ensue. If Reznor routinely dips a toe in this black pool, Sorrytown is a headfirst dive into the abyss. This is bleak and mighty and could only hail from the forsaken Las Cruces desert. With The Big Bad, Medvedi and Her Mana on Saturday, August 18. Cans Deli, 340 N. Fourth Ave. 8 p.m. $5. 21+.
Details here.
Native Son.
Ahead of the release of the remake, The Tucson Black Film Club is screening the original film adaptation Richard Wright's classic novel. It tells the story of an impoverished black man taking the job of a chauffeur for a rich white family, where unforeseen complications arise. The screening will be held at the Dunbar African American Culture Center. 1 to 4 p.m. Saturday, Aug. 18. 325 W. Second St.
Details here.
The Greatest Showman Sing-Along.
Yeah, who cares if the movie glossed over a lot of exploitation, the songs are a great time! Join The Loft and Loft Jr. for a special version of the musical with on-screen lyrics to the hit songs like "This is Me," "Rewrite the Stars" and "The Other Side." 2 to 4 p.m. Saturday, Aug. 18. 3233 East Speedway Blvd. $12.
Details here.
Sunday Aug 19
5 Points Farmers Market.
You can never have too many farmers markets! Especially farmers markets like Grassroots, which charges nothing for their farmers to sell goods. Head over to 5 Points for a heaping helping of food that's local and sustainable. Try the organic produce! The antibiotic- and hormone-free meats! Even some baked goods and hot coffee from 5 Points to munch on while you shop! You'll walk away feeling good—not only because you got up before noon on a Sunday, and not only because you're going to fill up on foods that are good and good for you, but because you're supporting local farmers. And that's pretty dang cool. 8 a.m. Sunday, Aug. 19 (and every Sunday through Dec. 2). 5 Points Market & Restaurant, 756 S. Stone Ave. Free.
Details here.
Valley of the Moon Historic Tours.
If you don't know much about how the Valley of the Moon got started, for now we'll just tell you that it involved a Spiritualist preacher, a little girl sick with tuberculosis and about 800 sacks of cement. But we don't want to spoil the story. Head over there this Sunday (or any third Sunday, really) to take a tour and go behind the scenes to learn about some of the history and stories behind this magical little corner of the world. 6 to 8 p.m. Sunday, Aug. 19. Valley of the Moon Tucson, 2544 E. Allen Road. $5 adults, free for kids 12 and under with adult, members and teachers.
Details here.
Oro Valley's Got Talent Finale.
This is it! After months of preliminary auditions and two rounds of semi-finals, the moment we've all been waiting for is upon us! The finals and awards for Oro Valley's talent competition. Who will it be? Kelly Clarkson? Clay Aiken? That little girl with the yellow pants and the ukulele? Unless any of those people live in Oro Valley, then probably not. This is about homegrown talent, baby. And this is a really neat chance to step back and realize just how many of your neighbors are full of secret, impressive skills. First-place winner gets $1,000, and second place gets $500! 2 and 6 p.m. Sunday, Aug. 19. The Gaslight Music Hall, 13005 N. Oracle Road. $15.
Details here.
Interfate.
Phoenix is a hard, hot and shitty place to live and the boys of Interfate are nothing if not a product of their environment. The word "alone" is often purged from within, reinforced by the crash of a five-cymbal kit, pinned down by chest-crushing bass lines and shot through with whiplash guitars. "Our fates are intertwined." The trio rails against confinement of the impoverished living under wide open skies, the loneliness of a burned lover forced to mill amidst millions of strangers, only wanting The One. More emo than angry, vocalist J-Money manages to find nuance in his belted outcries for help, and though there's no new musical ground here, the band is dynamic enough to avoid whiffs of suburban generic. This is windows-down, sun-blazing, Red Bull-fueled gestalt that those turned off by plastic consumptive tripe will feel—head back, mouth open, fists pumping. Sunday, August 19 at House of Bards, 4915 E. Speedway Blvd. 7:30 p.m. 21+.
Details here.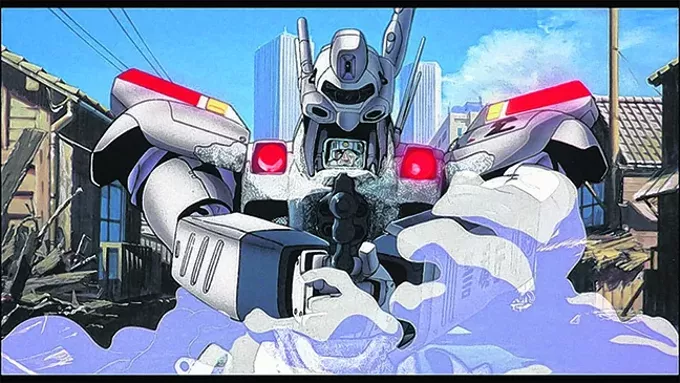 Bar Cinema: Anime Arcadia.
Sky Bar is throwing it back and keeping it wack with Anime Arcadia: a showing of the biggest and baddest animated robots battling it out. First, two episodes of the '80s mecha series Armored Trooper Votoms. Then, the main feature Patlabor: The Movie. More '80s Japanese robots blowing stuff up. What's not to enjoy? Hosted by Batwings Photography. 6 to 8:30 p.m. Sunday, Aug. 19. 536 N. Fourth Ave.
Details here.


Events compiled by Emily Dieckman, B.S. Eliot, Ava Garcia and Jeff Gardner.