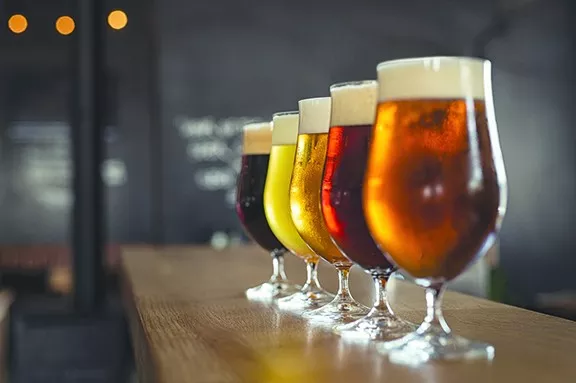 Friday, Sept. 13

Born & Brewed Pre-Party at 1912 Brewing. Before the festivities truly commence for "Born & Brewed," hop over to 1912 Brewing for a special tasting of two specialty beers: The Baya Gose and the Blueberry Pie Gose. At last years' Born & Brewed, 1912 took home the People's Choice award for their Baya Gose. This year, they hope to do the same with their Blueberry Pie Gose. 5 to 10 p.m. Friday, Sept. 13. 2045 N. Forbes Blvd.

Neto's Exhibit Reception.
Los Descendientes del Presidio de Tucsón is a nonprofit dedicated to preserving the unique cultural influences derived from the Spanish and Mexican periods of our history. For Hispanic Heritage Month, they're hosting an exhibit to honor the writings of Ernesto "Neto" Portillo Jr., the Daily Star columnist and La Estrella editor who retired in June. Come see a few of his writings from 20 years' worth of his columns sometime between Sept. 13 and Sept. 27, when the exhibit is running. But you may as well come to the opening reception! 5 to 8 p.m. Friday, Sept. 13. 151 S. Granada Ave. Free.
Long Day's Journey Into Night. Widely considered playwright Eugene O'Neill's best work, this play premiered in 1956 and won a Tony Award and a Pulitzer prize. The four-act play takes course over a single day in the Tyrone family household, where morphine addiction, alcoholism, tuberculosis and a shared sense of regret over unpursued dreams swirl together into a story that's both deeply personal (indeed, semiautobiographical) and profoundly relatable. Cynthia Meier directs this production, and Russell Ronnebaum is doing music direction. 7:30 p.m. Thursdays through Saturdays and 2 p.m. Saturdays and Sundays, Thursday, Sept. 12 through Sunday, Sept. 29. The Rogue Theatre at the Historic Y, 300 E. University Blvd. $42, or $32 for previews on Thursday, Sept. 12 and Friday, Sept. 13. $15 student rush tickets available 15 minutes before curtain, pending availability.


Comedy Returns to Black Rock: Following a summer hiatus, The Black Rock Brewery Comedy Showcase returns with host Mo Urban at 7:30 p.m., Friday, Sept. 13. Headlined by Josiah Osego (What Really Happened), the lineup includes Autumn Horvat (Comedians Who Aren't Men), Tim Maggard, Mariah Dickson, Joel Martin (Good Enough Comedy) and Alice Valpey.
Standup with Eliot Chang and Alex Elkin at 8 and 10:30 p.m., Laffs Comedy Caffe ($12.50 and $17.50). Improv with Performance Evaluation, Harold Alpha and Choice Cut at 7:30 p.m. and The Soapbox at 9 p.m. at Tucson Improv Movement ($5). Family-friendly improv with Not Burnt Out Just Unscrewed at 7:30 p.m. ($5 and $7) followed by Free Form Friday at 9 p.m. (free) at Unscrewed Theatre.
Arizona Underground Film Festival 2019. Whether or not you knew about it, the Arizona Underground Film Festival is back for its 12th year! From Friday, Sept. 13 through Sunday, Sept. 22, AZUFF is screening more than a dozen horror, documentary, drama and experimental films. This is Arizona's "premier cult film festival" and this year will be screening films like That's La Morte, a documentary on Italian horror; Feral, about life in the tunnels below New York; Foosballers, about people talking about their favorite quirky sport; Ghosttown, an experimental "Glitch Western"; and multiple blocks of short films. AZUFF is on a sole mission to "showcase the work of filmmakers with defiantly independent visions." And if watching these local and independent films inspires you, you can always submit a film of your own for next year's festival. Friday, Sept. 13 through Sunday, Sept. 22. All films at The Screening Room, 127 E. Congress St.
Cinema is screening this 2006 psychologically thrilling sci-fi. With surreal, mind-bending visuals and a plot examining the very nature of reality, Paprika became one of the highest-grossing animes when it hit the American box office. This will be shown in Japanese with English subtitles. 10 p.m. Friday, Sept. 13 & Saturday, Sept. 14. 3233 E. Speedway Blvd. $8.

Us. The Southern Arizona Friends of Jung volunteer psychology organization is screening this psychological horror film for their 2019 annual meeting. Directed by Jordan Peele, this 2018 film follows a family terrorized by a group of doppelgängers. A discussion on the film will follow the screening. 6:30 to 9:30 p.m. Friday, Sept. 13. 2331 E. Adams St. $10.

Saturday, Sept. 14


Bacon, Blues and Brews. It's that time of the year again! Brother John's Beer, Bourbon & BBQ is making you happy with some bacon, then giving you the blues, then picking you back up with some locally crafted brews. It's an evening of bacon-themed plates, courtesy of multiple local restaurants, including Kingfisher, Bisbee Breakfast Club, Mama Louisa's Italian Restaurant, Tanque Verde Ranch, Fresco Pizzeria and more. Brews provided by Barrio and Dillinger Brewing companies. And although this is a food column, I feel it necessary to mention the blues, provided by Michael P. and the Gullywashers featuring Charlie Hall. Hosted by Tucson Originals Restaurants in partnership with 96.1 FM KLPX. 3 to 6 p.m. Saturday, Sept. 14. 1801 N. Stone Ave. $35, purchase tickets at baconbluesbrews.eventbrite.com. 21+

Born & Brewed. It's the week for local beer festivities, it seems. This Saturday night, Hotel Congress will be the home for all things local beer. The eighth annual "Born & Brewed: Tucson's Beer Cup" includes drinks from more than a dozen local breweries, and you get to vote on who you favorite is! Entry gets you a taste of each competing beer, a commemorative tasting glass and a plate of food provided by the Cup Café. But VIP tickets get you into a four course beer-paired dinner before the festivities even begin. The participating breweries are 1912, Barrio, BlackRock, Borderlands, Button, Catalina, Copper Mine, Crooked Tooth, Dillinger, Green Feet, Harbottle, Iron John's, Sentinel Peak, Ten55 and Thunder Canyon. 7 to 10 p.m. Saturday, Sept. 14. 311 E. Congress St. $40, or $100 VIP.

The Tucson Flea. The cool weather is coming back, which means this opportunity to buy handcrafted and vintage goods from a group of local artisans and sellers is back too! Hooray! We're talking cosmetics, baked goods, art, beanies, jewelry and watches, steampunk goods and handmade mini hobo bags. Get ready to do some serious shopping, but don't worry: Los Locos Tacos will be there to keep you fueled so you don't literally shop 'til you drop. September is one of the most common birth months, so you probably have plenty of birthday gifts to pick up for loved ones. 10 a.m. to 4 p.m. Saturday, Sept. 14. Brings Café, 236 S. Scott Ave.

Second Saturdays Downtown. Whether you're going out to eat, visiting a nightclub, seeing a live show, checking out the shops and galleries, or just wandering around, downtown Tucson is almost always a good bet for a way to spend a Saturday night. But on the second Saturday of the month, artists showcase their handmade products along Congress Street, the restaurants have special menu items and there's live entertainment. In the truest sense of the phrase, downtown is poppin' off on second Saturdays. Put on your Saturday night shoes (but the comfy ones, because you'll be walking around), and we'll see you there! 5 to 10 p.m. Saturday, Sept. 14. 125 E. Congress St. is a good place to start.

Mexican Independence Day Celebration at the Presidio. The City of Tucson was actually established as a Spanish military fort back in 1775, and the Presidio Museum we have today is a reconstruction of the original. This Saturday, in honor of Mexican Independence Day, the Presidio will be flying the Mexican flag, just as it did from 1821 to 1854, while it was operated by the Mexican Republic. Soldades of the Mexican Republic and La Gente will be there in period costume, Danzacultura and Tucson High's Mariachi Rayos del Sol will be performing, and you can taste horchata and handmade tortillas. ¡Viva México! And viva handmade tortillas! 10 a.m. to 1 p.m. Saturday, Sept. 14. Presidio San Agustin del Tucson Museum, 196 N. Court Ave. Regular admission is $5, or $1 for kids 6 to 14.

THEMposium. Have you heard of the THEM Youth Ensemble? It's Tucson's LGBTQ+ and allied youth chorus, for young people ages 13 to 24. Desert Voices, the Reveille Men's Chorus and the Thornhill Lpez Center on 4th are behind this group that accepts singers of all experience levels and gender identities. While regular rehearsals (always open to new members!) are on Thursdays from 5 to 7 p.m., this day-long extravaganza is full of gender-affirming musical instruction, games, a free lunch and a culminating performance. Direct your questions to artistic director Nicky Manlove (they/them pronouns) at youth@reveillemenschorus.org. 9:30 a.m. to 4 p.m. Saturday, Sept. 14. Thornhill Lopez Center on 4th, 526 N. Fourth Ave. Free, but register online at bit.ly/themposium2019.

Wonder World Jumping Castles Free Family Fun Day. Do we even need to say anything about this event hosted by Wonder World Jumping Castles LLC? There are jumping castles, which makes it perfect for the kids, and it's free, which makes it perfect for you. You don't even have to tell the kids it's free—just let them think you're treating them to this day full of more than a dozen different inflatables, popcorn and cotton candy (also free). More than 35 local vendors will be onsite showcasing their goods, services and delicious treats, so this is truly a winning event for everyone. Might as well jump. 10 a.m. to 2 p.m. Saturday, Sept. 14. Emmanuel Baptist Church, 1825 N. Alvernon Way. Free.


Kids' Improv with F.O.M.P at 1 p.m., and Spanish language standup and improv with Carcajadas: Una Noche De Comedia at 7:30 p.m., followed by round 1 of the 3 v 3 team competition at 9 p.m. at Tucson Improv Movement ($5). Family-friendly improv with Unscrewed Family Hour at 6 p.m. and Not Burnt Out Just Unscrewed (NBOJU) at 7:30 p.m., followed by Not Burnt Out Just Unscrewed Uncensored at 9 p.m. at Unscrewed Theater ($5 and $8). Standup with Jason Love at 6 p.m. at Oro Valley Church of the Nazarene ($5). Standup with Eliot Chang and Alex Elkin at 8 and 10:30 p.m., Laffs Comedy Caffe ($12.50 and $17.50).

Harry & The Hendersons (Free). Perhaps more important a question than "How did this get made?" is "How does this film have this kind of longevity?" As part of Loft Jr. children's series, The Loft Cinema is screening this wacky '80s family film about an Average American family who more or less adopt a LITERAL SASQUATCH. Featuring John Lithgow, this unexpected hit won an Oscar for Best Makeup, and inspired a spin-off TV series. This screening is sponsored by the Pima County Public Library and includes pre-show activities hosted by Mildred & Dildred Toy Store. 10 a.m. to noon, Saturday, Sept. 14. 3233 E. Speedway Blvd. Free.

Italian Dinner at Maynards. For this special four-course dinner, Maynards Market & Kitchen is going international (and not just with their food). Maynards chef Brian Smith is teaming up with chef Simona Fabrizio from Orvieto, Italy for this meal, which includes wine alongside the dishes. While the menu remains a mystery, Smith and Fabrizio plan to combine cultures over the course of four dishes. And knowing Maynards, you can assume it's going to be classy yet leave you full. 6 to 9 p.m. Sunday, Sept. 15. $90. 400 N. Toole Ave. For more information, and to reserve tickets, visit maynardstucson.com


Let's Get Physical, TMC Tucson 10K. Say that 10 times fast. Now run a kilometer, 10 times, fast (or at whatever pace you want). This course goes through the lovely rolling hills of the Painted Desert part of the Tucson Mountains, and ends with a quick descent into the shade, which is the best way for any physical activity to end, if you ask us. Proceeds benefit the Southern Arizona Roadrunners and the BEYOND-Tucson Foundation, the finishers medals are super snazzy, and there are cash prizes for some of the top finishers. Why not? Packet registration and pickup is from 5:30 to 6:15 a.m. 10K starts at 6:30 a.m., 5K starts at 6:45 a.m. and the Kids Dash is around 8:30 a.m. Sunday, Sept. 15. Pima Community College West, 2202 W. Anklam Road. $45.
Establishing New Plants & Basic Plant Care. Have you ever taken a trip to a nursery and gotten so excited about all of the plants there are in this big, beautiful world that you just bought an armful of them? Only to come home and realize you don't know how to help them acclimate to their new home in your garden, how to prepare the soil, or what they need to stay healthy and happy? Spadefoot Nursery has got you covered with this class about gardening and landscaping in the Southwest. They'll talk about how to prep the soil for landscapes and gardens, go over basic soil biology and answer your questions. 7:30 to 9 p.m. (but doors open at 6:30 p.m. for some pre-class shopping). Sunday, Sept. 15. Spadefoot Nursery, 2831 E. Broadway Blvd. $15 in advance, $20 at the door.

Hummingbird Workshop. You know they're the only birds that can fly backwards? Or that the word for a group of hummingbirds is "a charm?" It's no wonder they're one of the most popular birds in the United States. This workshop hosted by Pima County Natural Resources, Parks and Recreation will discuss the biology of hummingbirds, how to identify them and ways to attract them. 9 a.m. to noon. Sunday, Sept. 15. Brandi Fenton Memorial Park Visitor Center, 3482 E. River Road. $10 for members or $15 for nonmembers. Ages 12 and up.

Rainbow Reads Book Chat. It's pretty cool to live in a city where there's more than one LGBTQ+ book club. This one, run by the Pima County Public Library, meets every month to talk about LGBTQ+ books. On odd months, like this one, feel free to come gush about any book you love, and to gather recommendations for new books to read from other attendees. Readers from anywhere on the gender and sexuality spectrum are welcome to attend for a fun, respectful dialogue. (If you prefer an assigned book, which everyone will be discussing together, the Rainbow Reads Book Club meets during even months.) 1 to 3 p.m. Sunday, Sept. 15. Exo Roast Co., 403 N. Sixth Ave. (Meet in the back space.) Free.

Free Open Mic at 8 p.m. at Chuckleheads in Bisbee.