The Century Room
Feeling jazzy? There are plenty of options this month at this new Downtown location. At 7 p.m. Wednesdays, enjoy an open mic roundup of standards, musical theater and opera hosted by pianist Elliot Jones. At 9 p.m. Sundays, multi-instrumentalist Max Goldschmid hosts the Century Room Jazz Jam. On Thursdays and Saturdays from 6 to 8 p.m., their cocktail hour solo piano session includes rotating pianists like Sly Slipetsky, Susan Artemis and Nick Stanley. All of these have no cover! For a cover, they also have late gigs at 9 p.m. and 10:30 p.m. every Thursday and Saturday, plus sets at 7 and 9 p.m. this Friday, Aug. 12, by Angelo Versace, director of jazz studies at the University of Arizona.
Various times and days, Century Room, 311 E. Congress Street, various pricing, hotelcongress.com.
Critter Night at Mission Garden
We all know the evenings — especially after, or even during, a monsoon — are the best times to go outside during the summer. And desert wildlife knows this too. Frogs in the canal, nighthawks in the sky, bats around neighborhoods. Each August, Mission Garden brings together wildlife agencies, nonprofits and the UA to teach the public about wildlife. Some of them even bring live animals and activities for kids! (There will also be Lahaina Shave Ice!) Bring a flashlight and a water bottle.
6 to 9 p.m. Friday, Aug. 12, Mission Garden: Friends of Tucson's Birthplace, 946 W. Mission Lane, free, missiongarden.org.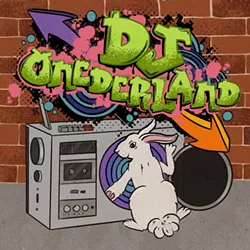 'DJ in Onederland'
The next show on the Children's Theatre Stage at Live Theatre Workshop is the modern musical "DJ in Onederland," which follows DJ who, in preparation for high school, feels compelled to let go of all the fun stuff, like childhood and imagination. They end up on a journey through the technicolor world of Onederland, where they meet a cast of characters who help them learn the true meaning of growing up. Written and directed by Gretchen Wirges, with original music by Michael Martinez, Richard Gremel and David Ragland.
Saturday, Aug. 13 to Sunday, Aug. 28, 5 p.m. Saturdays, 1 p.m. Sundays, Live Theatre Workshop, 3322 E. Fort Lowell Road, $10 kids and $12 adults, livetheatreworkshop.org.
Chillin' at the Chul
Well, have you chilled at the Chul yet this summer? This free evening series at Tohono Chul features refreshing drinks, light snacks and live music. And you can enjoy it all from the shade of their big ol' trees, where things will feel about 10 degrees cooler. The Children's Museum of Oro Valley is providing entertainment for the kids, so you can focus on your street mesquites and your prickly pear mimosa (or lemonade). Also on the menu: Sonoran hot dogs, a Chillin' Chul cocktail, Tajin watermelon and mint, and gelato. Diluvio provides music Friday, Aug. 12 and Sophia Rankin and the Sound are playing Saturday, Aug. 13, 5 to 8 p.m. both days
Tohono Chul, 7366 Paseo del Norte, free, tohonochul.org.
Second Saturdays Downtown: Movie and Music at the Fox

The Fox is starting a new double feature series, pairing a performance by a local musician with a music-themed film. This month, the duo Liz and Pete (Liz Cerepanya and Peter Dalton Ronstadt) are bringing their acoustic melodies to the stage. The film is "The Sound of My Voice," the acclaimed 2019 documentary about legendary singer Linda Ronstadt.
7 p.m. Saturday, Aug. 13, The Fox Theatre, 17 W. Congress Street, $12.50 for adults and $10.50 for kids, foxtucson.com.

Cool Summer Nights All About Art
The Desert Museum is so wonderfully versatile. Where else can you pet a stingray, play on a playground, see a coatimundi and even enjoy local art? At this week's iteration of their summer series, they're focusing on art. Kids can enjoy an art scavenger hunt around the museum and take home a coloring book to kick off their own art careers. There are also live demos from plein air painters and a film screening of desert photography. They also have their usual art galleries open, face painting sessions and live music by Jacob Acosta.
5 to 9 p.m. Saturday, Aug. 13, Arizona-Sonora Desert Museum, 2021 N. Kinney Road, $24.95 GA, $22.95 seniors, $13.95 youth 3 to 12, free for members and kids under 3. Other discounts available, desertmuseum.org.
Summer Safari Nights: Social Networking in the Animal Kingdom
Can you believe this is the final event in the zoo's annual summer series? Don't miss your final chance to learn about the social habits of all your favorite animals — and see which animal has the social habits most like yours. Children's book author Teydon Rae will be signing copies of "Kami the Koala Makes a Decision" and Broadway in Tucson will be there with activities related to its upcoming production of "The Lion King." You could even win tickets to the performance. As usual, food and drinks abound, and this week's live music is by OnesAll.
5:30 to 8:30 p.m. Saturday, Aug. 13, Reid Park Zoo, 3400 Zoo Court, $10.50 adults, $8.50 seniors, $6.50 kids 2 to 14 and free for kids under 2, reidparkzoo.org.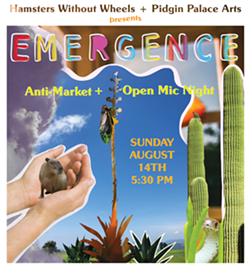 Emergence: Anti-Market + Open Mic Night
I know we can always rely on Tucson to offer an abundance of local open-air and makers markets. But, somehow, it also feels very on brand for Tucson to be home to an event called an anti-market. It's still an evening at which you can support local artists and vendors, but rather than paying them with money, you'll engage in a barter and donation-based market open to all. Bring an item you'd like to share or trade, or sign up for potential skill-share opportunities in this vent co-hosted by Pidgin Palace Arts and Hamsters Without Wheels. There's also an open mic at which individuals can share their voices starting at 7 p.m.
5:30 p.m. Sunday, Aug. 14, Pidgin Palace Arts, 1110 S. Sixth Avenue, free, pidginpalacearts.com.
Kingfisher Summer Road Trip
Every summer, Kingfisher takes guests on a culinary road trip across the United States. This week, they're taking us back east. The official menu isn't out, but last year's featured treats like lobster tails, smoked salmon scotch eggs, baked scrod and an apple and dried cranberry slab pie.
4 to 9 p.m. through Saturday, Aug. 20 (except Sunday and Monday, when Kingfisher is closed), Kingfisher Bar & Grill, 2564 E. Grant Road, kingfishertucson.com.