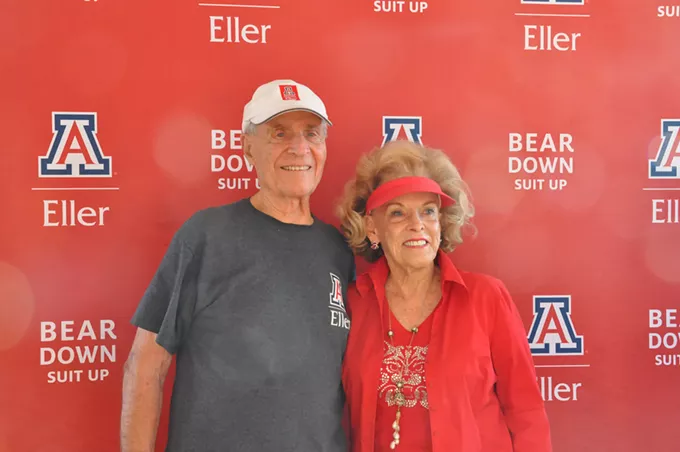 The UA's Eller College of Management is a household name across Arizona, and its namesake Karl Eller is remembered by many after his passing on Sunday, March 10.
"Karl Eller was a true pillar of this community and an inspiration to the many people whose lives were positively impacted by his generosity, dedication and Wildcat spirit," said UA President Robert C. Robbins in a release.
Eller was born in Chicago in 1928 and grew up in Tucson. Growing up across the street from Arizona Stadium, Eller's mother rented rooms to UA students and Eller's connection to the university was born. He enrolled in the U.S. Army after high school and later attended the University of Arizona to study business.
About a decade after graduation, Eller founded Eller Outdoor Advertising. He later went on to lead the Gannett Company and Columbia Pictures as board chairman and CEO. In the early 1980's Eller took over the Circle K Corporation.
In 1998 the UA School of Business was renamed the Eller College of Management to recognize the legacy, philanthropy and impact Eller had on the school.
"What an honor it has been to know Karl Eller. He used his education, intelligence and a deep commitment to integrity to achieve the highest levels of success, while always keeping a little bit of Tucson ruggedness and authenticity," said Paulo Goes, dean of the Eller College of Management.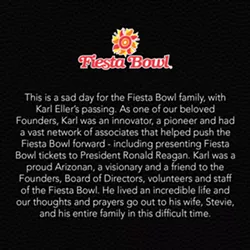 Over the course of his career, Eller and his wife Stevie donated millions of dollars to UA to develop the Entrepreneurship Program, fund student career development and more.
Eller was also involved with Arizona athletics, helping bring UA into the PAC-12 and the Fiesta Bowl to Arizona. The Fiesta Bowl released a statement remembering his impact.
Eller is survived by his wife, Stevie, their two children, six grandchildren and one great-grandchild. He is remembered and honored by many in Tucson and his legacy will live on through the Eller College of Management.