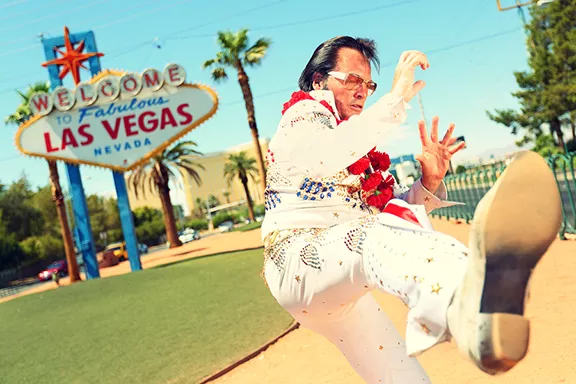 The Legend of Georgia McBride. In this show put on by Arizona Repertory Theatre, the protagonist, Casey, is really going through it. In one night, he loses his beloved job as an Elvis impersonator, his landlord demands the rent and his wife tells him she's pregnant. But then, a ray
of hope: A drag show moves into his old place of employment, and the former king becomes a (drag) queen. You'll smile, you'll laugh and you'll cheer for the production numbers in this heartwarming show. Preview shows 7:30 p.m. on Saturday, Sept. 21, and 1:30 p.m. on Sunday, Sept. 22. Show runs Wednesday, Sept. 25, through Sunday, Oct. 6, with 1:30 p.m. and 7:30 p.m. showtimes, depending on the day. UA Tornabene Theatre, 1025 N. Olive Road. $32 adults, $30 seniors/military/UA employees, $15 students. Details.
Free open mics at 7 p.m. at The Screening Room and 8:30 p.m. at The Mint. Details.


Anthropocene: The Human Epic. The planet is changing, and humans are impacting that change greatly. This is only the jumping-off point for this new documentary coinciding with the U.N. Climate Action Summit. Anthropocene is described as a "cinematic meditation on humanity's massive reengineering of the planet." This screening at The Loft Cinema is part of their Science On Screen series, and features a post-film Q&A with New York Times science writer Jim Robbins, scientists from the University of Arizona's Tree Ring Lab and moderator Susan Swanberg of the UA School of Journalism. 7:30 p.m. Wednesday, Sept. 25. 3233 E. Speedway Blvd. $10.
Details.