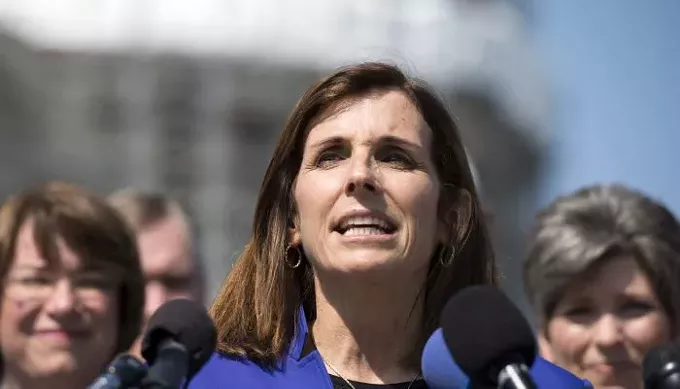 They say that "almost" only counts in horseshoes or hand grenades, but today, Congresswoman Martha McSally (R-AZ02) tried to add lawmaking to those exceptions.
After her hardline immigration bill gathered only 193 votes, Team McSally sent out a press release crowing: "McSally Legislation to Secure Southern Border Nearly Receives Votes Needed to Pass House."
Last we checked, that doesn't fall in the win column—although it does help McSally politically as she continues her flight into hard-right conservatism as she runs for U.S. Senate.
Anyhoo, here's McSally's canned quote:
I've been working tirelessly on this bill since September of last year and it's unfortunate it fell short today because it represents an important step to keeping our country safe. As a representative of border communities in Southern Arizona, I have witnessed first-hand the security threats we face and the dysfunction of our immigration system. The provisions contained in this bill are thoughtful solutions to solve the serious issues that continue to impact communities in Arizona and the rest of the country. Like many pieces of legislation, this bill was not perfect and certain improvements that had been made over the last six months were left out. This large vote total represents a huge victory for those of us who believe the border must be secured and I remain ready to lead and help deliver legislation to the President's desk that he can sign into law.
McSally's bill was
never expected to pass
because of cuts to legal immigration and other elements, reports The Hill:
House leadership had expressed pessimism on the chances for either Goodlatte's legislation or a second compromise bill written with centrists, both of which come as the growing crisis at the border dominated headlines.

The hardline measure faced sharp pushback from both Democrats and moderates, who took issue with a number of provisions including its cuts to legal immigration.

Meanwhile,
that compromise bill also doesn't have the votes to pass
, so House Speaker Paul Ryan has delayed the vote until next week. Hey, why not? It might give lawmakers a chance to actually read the legislation before they vote on it.