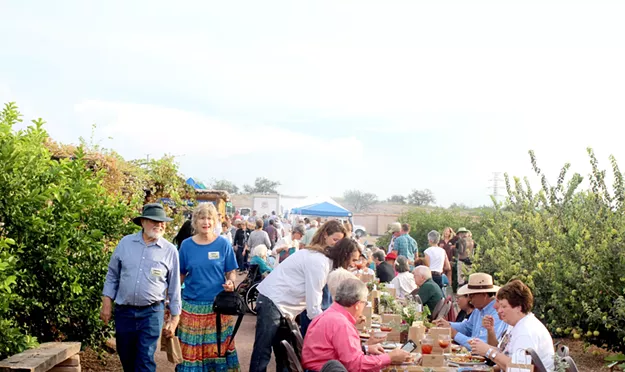 There's probably no better way to showcase local food than by pairing farmers up with chefs. However, the Mission Garden and
Native SEEDS/Search
aren't just growing produce. The two nonprofit groups are committed to maintaining heritage plant life that has grown in the region since the times of Father Kino and before.
On Sunday, Oct. 18, the Mission Garden filled up with stands and long tables to serve up truly farm-to-table fare cooked up by some of Tucson's top chefs. While many food events focus on rich, decadent ingredients and loads of meat to win over attendees, almost all of the dishes at the gourmet picnic were vegetarian. The refreshing use of mostly veggies made for an event that was certainly easier to digest, but not lacking in flavor by any means. Instead, chefs like Doug Levy (Feast), Robbie Tutlewski (Pizzeria Bianco) and more simply enhanced the natural flavors of their freshly picked ingredients.
Here's what happened:
Of course, that's not the only way you can learn about and help out this outstanding native foods organization. Visit the
Friends of Tucson's Birthplace website
for more information.