Thursday, May 16
They are the progeny of the late Gregg Allman and Dickey Betts. Accomplished musicians in their own right, Devon Allman and Duane Betts just can't help it; They have guitar playing in the double-helix of their DNA. The Allman Betts Band slides into The Fox Theatre... Washington, D.C.'s Dead Meadow light up their Lovecraftian psychedelia infused stoner rock at 191 Toole. Strange Lot and La Cerca are part of the soft parade... "Every song is a reflection of how I'm actually feeling," says this Canadian pop singer. "I'm telling people about me." Johnny Orlando is at the Rialto Theatre. With Hayden Summerall... From Austin, dreamy psychedelic synth poppers Night Glitter (featuring LouLou Ghelichkhani from Thievery Corporation) bring sultry, French-pop inspired electronica to Club Congress. With chanteuse Louise Le Hir... Filled with necromancy and lore, like the Arthur Burks novel of the same name, cross the imaginary "Desert of the Dead" with garage/psych rock 'n' rollers Black Medicine. At Tap + Bottle + Downtown... Powerhouse gospel and jazz vocalist Ada Redd Austin belts at Jazz Night at the Westward Look... Sullying the sacred, The Demons and Then When will melt the granulated sugar off the malasadas. At Irene's Holy Donuts... Nashville music mogul Virginia Cannon presents Thursday Night Live: A singer-songwriter showcase. Six performers, four original songs, taking turns round robin. At Monterey Court... Folk harp and viola delicately commingle to arrive at a mysterious landing. Mariah McCammond and Deanna Cross are The Hatpin Duo. At Agustin Kitchen... The Gabrielle Pietrangelo Trio perform timeless romantic songs to soothe your feral soul. Date Night on the patio of The Coronet...
Friday, May 17
Often twinning, Jess Wolfe and Holly Laessig present themselves aesthetically as mirror images but it is the uncanny pairing of their dazzling voices where the true symbiosis refracts. Their latest, Nudes (Mom + Pop Records), an acoustic compilation, presents reworked songs from their back catalog and new material along with folk standard "Goodnight, Irene" featuring Roger Waters. A song recorded in a 1947 Voice-O-Graph. "Which is basically a telephone-booth recording studio, direct to vinyl. It's a crackling, sizzling, warm, beautiful sound. It was really fun," says Wolfe. Lucius defrock the Live Nudes Tour at the Rialto Theatre. With Pure Bathing Culture... "We guarantee we'll make you sweat, but we promise you'll love it." These are the luring words of Lola Torch, producer and featured burlesque performer. Conjuring up images of twirling ribbons and the promise of summery days ahead Tucson Libertine League presents May Day. At 191 Toole... Want to "Meet Your Maker?" "Cosmic Queens" Pearl Earl—an all-female, psych/pop/prog/garage rock outfit from Denton, Texas—will lead the way. At Club Congress. The Rifle add their own unique color to the paisley palette... Out on the plaza at Hotel Congress, Blues Friday continues with The Amosphere... Learn to increase sight from the third eye: Still Life Telescope and Peppermint Hippo expand consciousness at Saint Charles Tavern... Tracing back the roots of country music, from the Appalachian Mountains to the flats of Bakersfield, Freddy Parish's monthly residency continues. Dry 'n' Dusty at Exo Roast Co... Alt '90s Dance Party finds DJs Plastic Disease, Black Flagg and KNILLZ spinning round, round. At the Surly Wench Pub... Easy Money, Beg For Life, No Right, Victim to None and Hellhook rage. At WARD6 - AZ... Blues vocalist/violinist Heather Hardy performs at Monterey Court... The sweet folk of Natalie Pohanic is what you'll uncover in the fine powder at The Dusty Monk Pub... Their music was played on the Space Shuttle Discovery. Not many can make that claim. Guitar duo Reno del Mar featuring violinist Beth Daunis are in the tasting room at Sand-Reckoner...
Saturday, May 18
This extreme weather condition occurs when a system of high atmospheric pressure moves in and air is pulled toward the ground rapidly increasing in temperature. Heat Wave Vol. 2 features Manny Sosa, Aske, Natho & Sinclair the Masked Zombie, Tommy Will, Cash Lansky, Jae Tilt and more. At 191 Toole... Singer Emelie Marchand leads her red hot musical flames—Thøger Lund, Ben Nisbet and Dimitri Manos—through a repertoire that spans from "The Devil's Music" of 1920s to the wicked soul jams of the 1960s. Lola & The Torchbearers cast sparks at Exo Roast Co... FebboFuentes entertain at Sand-Reckoner... Traditional bluegrass will waft through the balmy night air. Cadillac Mountain perform as part of the Spring Concert Series. On the plaza at Hotel Congress... The soulful wail of Miss Olivia and the Interlopers can be heard at Crooked Tooth Brewing... Once tagged a "cowpunk goddess," a nod of acknowledgement is in order. Musician/actor Jean Caffeine jolts through town. Perhaps best known for her film work in Art Linklater's Slacker (1991) and Waking Life (2001), Caffeine is on the road—one woman, one guitar—in support of Sadie Saturday Nite (Joe Records).
Part spoken word, part garage country concept album, she candidly recalls her adventures coming of age during the first wave of punk in San Francisco. At Saint Charles Tavern. With BreakingGlass and J. Matzek... Two stages. 18 bands. What could possibly happen next? Summer of Man, Calling Upon a Theory, Better on The Inside, Liquid Space Atmosphere, Desert Kings, The Doubted, Interfate, Fatal Malady, While She Waits, Mission G, Ciphered Existence, Pyrotechnica, A Liar Like You, Bury Me Alive, Dedwin, Fire Glass, Fire By Rank and Minutes To Midnight. Yes, it's Metal In May Fest at House of Bards...
Sunday, May 19
One of this classically trained pianist's early gigs was tickling ivories at the Beverly Wilshire Hotel. Although it has seemingly taken eons, on 15,000 Days this musician/actress finds her true voice. Alicia Witt turns a new page at 191 Toole... Rhythm & Roots presents the "bare-knuckle lowdown blues" of Roy Book Binder. Acoustic fingerstyle blues wunderkind Roman Barten-Sherman invigorates the lineup... Music Under The Stars features music by the Tucson Pops Orchestra. Al fresco, at DeMeester Outdoor Performance Center...
Monday, May 20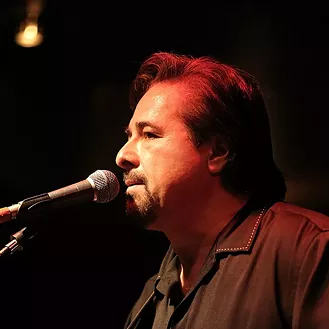 Depicting aspects of his childhood, while rebuking Trump Administration policies, the title track, "This Land," takes a hard look at racism in America. Drawing inspiration from Woody Guthrie's "This Land Is Your Land, " this Austinite comments, "It's like the 'Pledge of Allegiance.' When you're kids, everybody's together. You don't see differences until you get older. People influence you to think about other people a certain way. I just want to get back to singing that song like we were kids again." Guitar slinger Gary Clark Jr. unleashes a Texas tornado of wickedness at the Rialto Theatre. The Peterson Brothers are in tow... Five years of constant touring with Albert Collins and then 10 years with John Mayall's Bluesbreakers turned this Stratocaster-wielding guitarist into a fire-breathing monster. Eight solo albums later, Coco Montoya delivers the blues hardest truths at 191 Toole...
Tuesday, May 21
On "Heartbreak" Hunter Hayes went through a break-up and now he wants to talk about it. "If you've gone through all the storms and the sky finally clears, what are you gonna do? Sit down and go, 'Wow, I don't want to do that again?'" Hayes adds, "No. You made it through, so celebrate!" At the Rialto Theatre. Rising country artist Levi Hummon opens... Keb' Mo': This four-time Grammy winning blues musician's show slated to play at the Fox Theatre has sold out... Indie-rapper Ishmael Butler of Digable Planets spearheads a new project; Knife Knights make their debut on the Club Congress stage. Erstwhile Tucsonan Lando Chill rounds out the lineup...
Wednesday, May 22
After two decades in the band, Good Charlotte's Joel Madden looks back: "When we first started there was this unconscious feeling. It's like we were running our own race. I think we've been trying to find the doorway back for a long time." Generation Rx, their seventh studio album, has helped these pop punk purveyors find their home. At the Rialto Theatre. Being As An Ocean opens the show... New York via El Paso, René Kladzyk is a performance artist, musician, perfumer and cultural geographer. Her nom de guerre: Ziemba. She performs infectiously fragrant synth-pop at Club Congress. Groove Domestic Product and The Gem Show lend their support... They will drill holes in your cerebellum and eat your brain. NOISEM, Warmonger and Earacher induce pain at Wooden Tooth Records... Lav Andula and Asymptote's Summer Seance Tour kickoffs at Blacklidge Community Collective, a new DIY venue/community space...
Thursday, May 23
A technicolor musical experience awaits when Silver Cloud Express, United Snakes and Hey Bucko take to the stage at Sky Bar... The Blues Review features Tom Walbank, Austin Counts and Christopher T. Stevens. At Tap + Bottle Downtown... Guided by unseen voices, they are able to leap across the stage in a single bound. Piñata Protest, Pigmy Death-Ray and The Demons run amok. At the Surly Wench Pub...
Shout Out
The release of the new Bryan Thomas Parker & Friends album, titled ...and Friends, is being feted on Friday, May 17 at Sky Bar. The Demons and Eric Schaffer and The Other Troublemakers take part in the festivities... "Pisces poppers" Mesquite celebrate the release of Caliche, a nuanced amalgam of R&B/neo-soul, on Saturday, May 18, at Subspace. Trees Speak whisper softly in the wind... Little Cloud is releasing Four of Cups. And the band is pulling out all the stops. To commemorate they are holding a carnival. Yes, that's right. With Amy Munoz & Strange Vacation and Natty & the Sunset. On Saturday, May 18, at Sky Bar...
On The Horizon
Shout out to all the juggalos. Violent J and Shaggy 2 Dope bring back the "Dark Carnival" on Saturday, May 25. Hide your offspring. Insane Clown Posse storm the Fury Tour into the Rialto Theatre... One Big Rock Show, a benefit for 99.1 FM Downtown Radio, features performances by Sugar Stains, Miss Olivia and the Interlopers, Texas Trash and the Trainwrecks, Dos Hombres, Little House of Funk, Quarter Royale, and Irish punks Katie's Randy Cat. On Sunday, May 26 at Saint Charles Tavern. DJ Satan hosts... Finally, this piano prodigy made his national debut on Star Search at the age of 10. He has gone on to work with luminaries: Sting, Regina Spektor, Josh Groban and Sugarland. On Friday, May 31, Frankie Moreno steps into the spotlight at the Desert Diamond Center...
Until next week, XOXO...