Thursday, May 9
These alt-rockers formed in Tempe in 2007. Seven studio albums later, frontman John O'Callaghan casts light on their latest, You Are Ok (8123 Records). "I decided to name this album those three small words for no better reason than to speak to myself. And if they somehow resonate with someone across the world then I accidentally did at least a little good while I was alive." O'Callaghan sings, "You are a million different little things/Just like me/But above all of these little things/You are the greatest thing you'll ever know/You are you/and you are ok." The Maine feed the ego and starve the soul at 191 Toole... Featuring violists Candice Amato and Raphael Lizama, violinists Emily Chao and Grace Nakano and cellist Juan David Mejia, Chamberhood—the newest offshoot of Arizona Friends of Chamber Music—makes classical chamber music accessible in the neighborhood. At Crooked Tooth Brewing Co... Nancy & Neil McCallion perform original Americana with "a twist of soul and a dram of blarney." At La Cocina... Sidle up and drink copiously from the water trough of home-grown country blues/cowboy surf that is Hey Bucko as they will provide a soundtrack for Baja Arizona. At Tap + Bottle-Downtown... Deeper Thursdays: DJs Atom Energy and lunarfox spin house at Passé... From Brooklyn, this duo's sound has been described as "a warm breath against your neck when you're bracing against an ice storm." Xeno & Oaklander bring their minimalist electronica to Club Congress. With Plastic Ivy and others...
Friday, May 10
The visionary eco-city of Arcosanti will transform into the "urban laboratory" that is FORM: An annual three-day festival of music, art, ideas, wellness and community (no VIP sections), all backdropped by otherworldly architecture and landscapes, makes liftoff today. Three distinct stages provide framework for intimate performances with no overlapping sets. This year's headliners include: Florence + The Machine, Skrillex, Tim Hecker, Anderson .Paak & The Free Nationals, Kaytranada, Japanese Breakfast, Pussy Riot, DJ Koze, Bonobo and American Football. The festival programming will also features a "mixed-reality project" by Sigur Ros and a conversation between Pussy Riot's Nadya Tolokonnikova and Florence Welch. Details at experienceFORM.com ... Bluesmen Austin Counts & Tom Walbank bust out of the "Pima County Jail" to play a gig in the tasting room at Sand-Reckoner... The horn-driven ska/cumbia/salsa sounds of Santa Pachita blast unimpeded up on the roof at Playground Bar & Lounge... "Sleepless in Phoenix," a leading force in the metalcore scene Blessthefall, petulantly proclaim "You Wear a Crown but You're No King." At Encore (formerly Club XS). Backed by Slaves, Capsize and Glass Houses... In much the same way that menudo is doled out after a hard day's night of drinking, Pedro y Los Líricos return to Exo Bar to serve up flavorful rancheras, cumbias y norteñas, caliente y picante. Don't forget the twist of lime and cilantro... Part of the Spring Concert Series, Blues Friday features Bad News Blues Band, with special guest saxophonist Terry Hanck, on the Hotel Congress Plaza... Tucson indie rockers from Old Pascua Sur Block top the bill with Chateau Chateau and Paper Foxes at Club Congress... Metal Mayhem: Sinphonics, Blacklidge, Stands With Fists, Memento, Waysted Youth, Dead Man Dom, S.L.U.T. and Decenvir. At the Rialto Theatre... Spinning powerful melodies, warped loops and field recordings into pop lucidity. Electronic artist Bayonne takes Drastic Measures at 191 Toole. Palm Daze opens...
Saturday, May 11
"Girlpool started as this mutual love for songwriters and going to punk shows in L.A.," says bassist Harmony Tividad, who with guitarist Cleo Tucker co-founded the band. Inspired by Elliott Smith, The Cranberries, Cocteau Twins, the duo released their self-titled debut EP in 2014. On "Slutmouth" they question the world around them with anger. "Sometimes I wanna be a boy/Cause I feel like a toy/...Cause I don't wanna get fucked/By a fucked society." Girlpool is at 191 Toole. With Australian dreampopper Hatchie... Ryan Alfred and Katherine Byrnes Americana/folk project, Sweet Ghosts, trestled by Grace Rolland's Rising Sun Daughter can be found on the plaza at Hotel Congress... Performing neo-country classics from Texas State Bird and Laredo, like an ever "Blooming Flower," The Infinite Mercies will have you "Seeing Stars." In a listening room event at Exo Roast Co... Guaranteed to elicit a smile: Violinist Danny Worms joins vocalist Liz Cerepanya and guitarist T. Greg Squires. Big Grin perform mellow indie folk at Sand-Reckoner... Under the direction of László Veres, celebrating its 30th season, the Arizona Symphonic Winds perform as part of Udall Park Concerts. Bring a blanket or lawn chair... Two-time Grammy-nominated multi-instrumentalist Amo Chip Dabney leads the genre defying AmoSphere at Monterey Court... "Have You Seen My Aura?" In search of the existential, Brooklyn experimental indie artist Helado Negro demonstrates This Is How You Smile. With Ojalá Systems at Club Congress... The Lord Huron show at the Rialto Theatre is sold out...
Sunday, May 12
In 1987, these metal-edged punk badasses helped usher in the era of grunge. With a new album in tow, Scatter the Rats (Blackheart Records), 20 years in the making, they are out to add to their inscription in the pantheon of rock. L7 unblushingly proclaim, "I Came Back to Bitch." At the Rialto Theatre. Le Butcherettes bloody up the stage first... Playing a mix of original compositions and covers—from Johnny Cash to Katy Perry—Cameron Hood, one half of award-winning alt-folk duo Ryanhood, performs at Public Brewhouse... From Atlanta, these lo-fi pop/post-punkers channel the spirit of the late 1970s and early '80s. Omni swear that they "Don't Dance" at Club Congress. Flanked by Cool Funeral and Dirt Friends...
Monday, May 13
On No Pryers (2019), these Los Angelenos alternate between currents of political angst and pummeling darkwave dance beats. With a metallic stare, The Electric West say "No No No" to just about everything. At Club Congress. M. Crane and Zero Miles To Empty add fuel to the fire... "Just One of the Guys," Jenny Lewis has placed everything On The Line. "Heads Are Gonna Roll" at the Rialto Theatre. With the "alternative world" music of Karl Blau... This musical performer has been described as "a utopian anarchist in Cuban heels." Equal parts primal hill country bluesman, deviant avant-garde artiste and rock 'n' roll raconteur, Tav Falco's Panther Burns brings the Cabaret of Daggers to 191 Toole. With a salvo, gunsmoke-tinged indie rockers The Rifle kick off the show...
Tuesday, May 14
Can you hear the "The Hollow Sound of the Morning Chimes" in the wind? Canadian indie rockers TOPS bring their fey pop hooks to 191 Toole. Video Age launches the show... This is an album marked by tragedy: The death of mentors Leon Russell, Truck's uncle Butch (founding member of the Allman Brothers) and guitarist Col. Bruce Hampton, who died after collapsing on stage at a benefit concert in Atlanta. Susan Tedeschi's soulful vocals and Derek Trucks impassioned guitar work transform grief into that which can "Strengthen What Remains." Tedeschi Trucks Band play the Tucson Music Hall... So hey, "Where Did You Go?" Experimental psychedelic rockers Weeed enter the infinite and open the doors of perception. At Club Congress. Kryge and Tambourinen rein it all in...
Wednesday, May 15
Gary Mackender, Karl Hoffmann and Billy Yates, otherwise known as The Carnivaleros Trio, add a few secret herbs and spices (use your imagination) into a savory stockpot of zydeco, polka y Tex-Mex and bring it to a roiling boil at Public Brewhouse... They are a little folk, a little country with a Southwestern tan: Eric Schaffer & the Other Troublemakers with JD Loveland & Friends are at Monterey Court... San Francisco doom metalists Castle continue to push the envelope as they await the Flash of the Pentagram. With the power/violence/crust punk of Dayak and Napalm Strike at Club Congress...
Thursday, May 16
From Austin, dreamy psychedelic synth poppers, Night Glitter (featuring LouLou Ghelichkhani from Thievery Corporation) bring sultry, French-pop inspired electronica to Club Congress. With chanteuse Louise Le Hir... Filled with necromancy and lore, like the Arthur Burks novel of the same name, cross the imaginary "Desert of the Dead" with garage/psych rock 'n' rollers Black Medicine. At Tap + Bottle + Downtown... Nashville music mogul Virginia Cannon presents Thursday Night Live: A singer-songwriter showcase. Six performers, four original songs, taking turns round robin. At Monterey Court... "Every song is a reflection of how I'm actually feeling," says this Canadian pop singer. "I'm telling people about me." Johnny Orlando is at the Rialto Theatre. With Hayden Summerall... Washington, D.C.'s Dead Meadow light up their Lovecraftian psychedelia infused stoner rock at 191 Toole. Strange Lot and La Cerca are part of the soft parade...
On The Horizon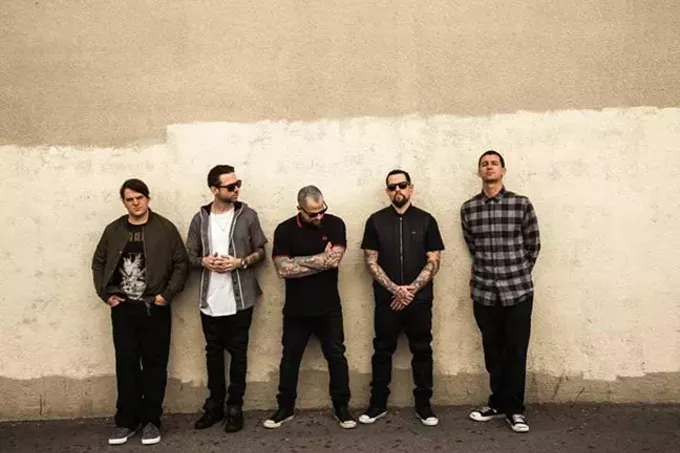 On Friday, May 17, Lucius defrock the Live Nudes Tour at the Rialto Theatre. With Pure Bathing Culture... Guitar slinger Gary Clark Jr. unleashes a Texas tornado of wickedness on Monday, May 20, at the Rialto Theatre. The Peterson Brothers are in tow... Finally, on Wednesday, May 22, Good Charlotte is celebrating two decades of playing their pop-punk sound at the Rialto Theatre. "When we first started, there was this unconscious feeling," explains Joel Madden. "It's like we were running our own race. I think we've been trying to find the doorway back for a long time." Generation Rx, their seventh studio album, has helped them find their home. Being As An Ocean opens the show...
Until next week XOXO...