Thursday, May 2
A chiming 12-string acoustic guitar sets the mood on "Under The Milky Way" for the shadowy lyrics to whisper at the mysteries of the cosmos. It remains at the pinnacle of this Australian bands catalogue, now 26 albums deep. Dream poppers The Church drift the Starfish 30th Anniversary Tour into 191 Toole... Celebrate the opening of Learning to See: Josef Albers, an evening inspired by geometric abstraction. Apropos, Chris Black provides music. Halsero spins. At Tucson Museum of Art... Birds + Arrows, SIRSY and Strange Vacation experience the Mandela Effect at Sky Bar... With venomous snakes for fingers akin to the strands of Medusa's hair, Time recognized this Swedish neo-classical metallist in 2009 as one of the 10 Greatest Electric Guitar Players of All Time. Yngwie Malmsteen sets the World on Fire. At the Rialto Theatre. Sunlord and Paralandra provide buttressing... Songstress Adara Rae breaks hearts and wrecks homes at Thunder Canyon Brewery... Downtempo hardcore metal power trio Reign top the bill at House of Bards. Flanked by Holehearted and I Am Heir and others... Singer-songwriters Ry Warner and Chelsey Lee Trejo share stories interwoven in with experimental folk and American primitive stylings at Exo Roast Co... With early influences that include Tupac, LL Cool J and Eminem, this Indiana rapper describes his own style as not only "modernized" hip hop, but also "the essence of real hip hop." Mark Battles brings the Still Fortunate Tour to Club Congress. With local heavyweight Tommy Will... They have been known to cause involuntary muscle spasms. Funky Bonz just might compel you to shake a tail feather. At Saint Charles Tavern... After shining brightly during reggaeton's explosion in the 1990s, addicted, broke, depressed and overweight this rapper-singer sought self-exile in Puerto Rico to sing "cheesy pop covers" in a hotel lobby. In a near miraculous comeback, "El Amante" bounced back in 2015 to top the Billboard Latin charts 5 times. Nicky Jam plays the AVA Amphitheater...
Friday, May 3
In a collaboration with Ozomatli and Locos Por Juana, "The Wall" questions the definition of the word immigrant and what makes one illegal. According to the band, "The track speaks volumes about what has been going on in terms of immigration, borders, homeland security and identity politics during the current divisive administration." From Austin, this Grammy Award-winning nine-piece Latin funk and cumbia powerhouse, Grupo Fantasma, blasts into 191 Toole. Vox Urbana get the party started... "Fans have been asking for an album centered just around me. So, I give them N9NA." On his freshly released video, "Like I Ain't," this indie rapper is on mission to convert non-believers. "This is me, wholeheartedly. It's for die-hard fans and newcomers. I'm rapping like I've never sold a gold or platinum record." Tech N9ne rolls the It Goes Up Tour into the Rialto Theatre... Utah dream poppers Choir Boy and a solid cast of others—Hikikomori, Lychee, Kell, Carnival and This or This—perform in an all-ages show at Ward6 - AZ... Playing the role of modern-day outlaw, country singer Gary Allan is placing his "Used Heart For Sale" on the auction pedestal at the Desert Diamond Center... Akin to a piping hot bowl of menudo that comforts and helps to remedy the malaise, The Carnivaleros offer up an "unnatural ball" at Monterey Court... "Musician, renegade, friend," Mike Hoy & The Boys wheel the Limited Mileage Tour into Sky Bar. With the rock 'n' roll of Rye Heat... On Thresholds, this Canadian guitarist/songwriter faces existential uncertainties packaged beguilingly amid indie pop melodies. Mike Edel is at Club Congress. Night Weather and Viané provide support... The EDM community shall gather. Sirenz, Jamaste, DJ Ramrod, Lephan and RVRE assemble for a Memorial Show in Honor of Josh Torres. Proceeds to help family with final expenses. At Passé...
Saturday, May 4
This DJ/producer duo's genre-defying sets seamlessly segue trap and hip-hop into booming electro house, then just as quickly can detour through unanticipated terrains. GTA drop massive bass beats at Gentle Ben's. With electronic dance groovemeisters Nadastrom... Black Renaissance: A celebration of black artists in Arizona happens at Hotel McCoy every Saturday in May. This week features the music of hip hop artists Jaca Zulu, Cash Lansky, Chakara Blu and Kazier... Château Château, Moontrax, Oracle & Hardy and The Sometimes perform at The Girl Crush Benefit Concert. Proceeds will go to the United Nations Foundation's adolescent girl campaign Give Her a Future initiative. At Club Congress... And on the plaza at Hotel Congress, it's the Agave Heritage Festival. While exploring the significance of agave on the border region the intoxicating rhythms of Phoenix Afrobeat Orchestra and Jerusafunk will wafts through the night air... In the mood for a Rock 'n' Roll Donut Party? The Gunrunners, The Distortionists and The Ohmlauts will make the chocolate sprinkles melt at Irene's Holy Donuts... Celebrating the release of their first demo tape, Love That You've Lost, The Great Citizens are holding an all-ages bash at Ward6–AZ. Stripes520, All Harmless, Hang The Bassist and Banana Pancakes add to the festivities... The transworld musical stylings of Kyklo cross borders at Exo Roast Co... The Eugene Boronow Trio entertains at The Dusty Monk Pub... The Mariachi Women's Festival features two-time Grammy winners Mariachi Divas de Cindy Shea, Phoenix's Mariachi Rubor and Tucson's own mariachi singer Monica Trevino. At the Leo Rich Theater...
Sunday, May 5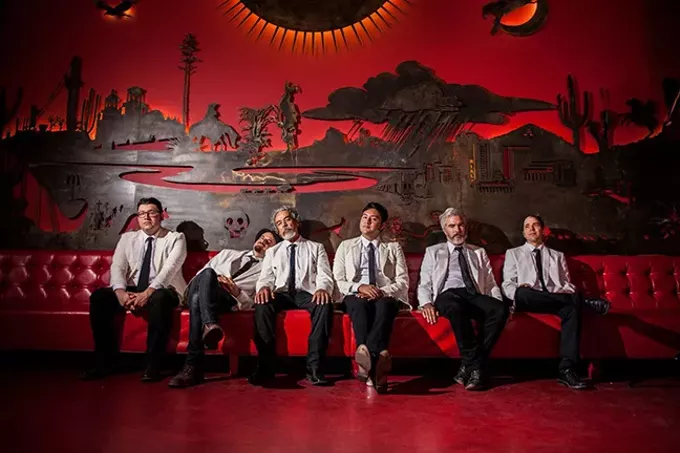 Hotel McCoy throws a Cinco de Mayo party with Devotchka, Orkestra Mendoza and Joey Burns of Calexico. The bash with food trucks and other fun kicks off at 2 p.m.... The Latin fusion-inspired salsa, cumbia and ska of Santa Pachita figure prominently in The Annual Cinco de Mayo Celebration at Hotel Congress. Oh, and, the agave too... "Being famous was never the goal," says lead vocalist/guitarist Andrew VanWynGarden, who from the outset had a knack for writing songs that sounded like they were "filtered through a kaleidoscope." Well, if you waited on getting tickets, bad news. Rumor has it the MGMT show at the Rialto Theatre has sold-out... Mik & The Funky Brunch offer up just that at La Cocina...
Tuesday, May 7
Spirit of the radio. Breaking Glass, Just Najima, Juju Fontaine and Church Pants perform as part of the KMKR 99.9 FM Benefit Show. At La Cocina... Led by Kawabata Makoto, over the course of a decades this "soul collective" has evolved from a commune of Japanese hippies into an experimental freak-out group for the 21st century. Psychedelic rockers Acid Mothers Temple convene at Club Congress. Yamantaka and Sonic Titan open...
Wednesday, May 8
After releasing their acclaimed self-titled debut, this Melbourne trio launched the It Takes One campaign to protest against sexual and physical assault and to create safe spaces at live music events. With strength and ferocity, standout track "The Opener," from How To Socialise & Make Friends (2018), is a clarion call to the music industry to that effect. Camp Cope fight for betterment at 191 Toole. Flanked by Australian indie rockers An Horse and Oceanator... "Just for the Record," the Losers' Lounge has survived for one entire year. The "unfussy roots" of singer/guitarist Adeena Black, the electric folk/punk of Gutter Town and the tweaked psycho-country of Hank Topless Band help commemorate this remarkable feat of underachievement at Owls Club... Chill with The Suffering Jukebox at Exo Roast Co. DJs Carl Hanni and Steven Ramshur spin... Spectrum Jazz Ensemble is an accumulation of 16 advanced high school and college musicians from across Arizona, led by pianist Esme Martin. They make their debut at Hotel Congress in an all-ages performance... Live from Laurel Canyon is an acoustic tribute to the music created by American folk pioneers. At the Fox Theatre...
Thursday, May 9
These alt rockers formed in Tempe in 2007. Seven studio albums later, frontman John O'Callaghan casts light on their latest, You Are Ok (8123 Records). "I decided to name this album those three small words for no better reason than to speak to myself. And if they somehow resonate with someone across the world then I accidentally did at least a little good while I was alive." O'Callaghan sings, "You are a million different little things/Just like me/But above all of these little things/You are the greatest thing you'll ever know/You are you/and you are OK." The Maine feed the ego and starve the soul at 191 Toole... Featuring violists Candice Amato and Raphael Lizama, violinists Emily Chao and Grace Nakano and cellist Juan David Mejia, Chamberhood—the newest offshoot of Arizona Friends of Chamber Music—makes classical chamber music accessible in the neighborhood. At Crooked Tooth Brewing Co... Nancy & Neil McCallion perform original Americana with "a twist of soul and a dram of blarney." At La Cocina... This Brooklyn's duo's sound has been described as "a warm breath against your neck when you're bracing against an ice storm." Xeno & Oaklander bring their minimalist electronica to Club Congress. With Plastic Ivy and others...
On The Horizon
On May 10-12, the visionary eco-city of Arcosanti will transform into the "urban laboratory" that is FORM: An annual three-day festival of music, art, ideas, wellness and community (no VIP sections), all backdropped by otherworldly architecture and landscapes. Three distinct stages provide framework for intimate performances with no overlapping sets. This year's headliners include: Florence + The Machine, Skrillex, Tim Hecker, Anderson .Paak & The Free Nationals, Kaytranada, Japanese Breakfast, Pussy Riot, DJ Koze, Bonobo and American Football. The festival programming will also features a "mixed-reality project" by Sigur Ros and a conversation between Pussy Riot's Nadya Tolokonnikova and Florence Welch. Details at experienceFORM.com ... In 1987, these metal-edged punk badasses helped usher in the era of grunge. With a new album 20 years in the making, Scatter the Rats (Blackheart Records), L7 are out to add to their inscription in the pantheon of rock. On Sunday, May 12, they unblushingly proclaim, "I Came Back to Bitch." At the Rialto Theatre. Le Butcherettes bloody up the stage first... Bound by a shared love of old soul, blues and classic rock this veteran blues rock supercouple add their own Americana imprint to Signs (Fantasy Records, 2019). This is an album marked by tragedy: The death of mentors Leon Russell, Truck's uncle Butch (founding member of the Allman Brothers) and guitarist Col. Bruce Hampton, who died after collapsing on stage at a benefit concert in Atlanta. Susan Tedeschi's soulful vocals and Derek Trucks impassioned guitar work transform grief into that which can "Strengthen What Remains." Tedeschi Trucks Band play the Tucson Music Hall on Tuesday, May 14... They topped the charts during the decade best known for Ally McBeal, Dolly the first cloned mammal, My So-Called Life and the public debut of the World Wide Web, The '90s House Party featuring Vanilla Ice, Rob Base, Tone Loc and Coolio keeps "The Last Great Decade" alive. On Saturday, May 25, at the AVA Amphitheater... And finally, known for her dynamic live performances, La Reina de Rock en Espanol Alejandra Guzman will rock you like a huracán on Friday, May 31 at the AVA Amphitheater
Until next week XOXO...