Thursday, March 21
During the early 1990s, alongside The Chemical Brothers and Fatboy Slim, this Las Vegan electronic music duo helped pioneer the big beat sound, inspiring tracks that still bang today. The Crystal Method are making The Trip Home. At 191 Toole... Fronted by erstwhile Tucsonan Elizabeth Scarinzi, The HollyHocks bring their brand of alternative country/desert rock from Santa Fe to Che's Lounge. With the mighty Greyhound Soul... From Paris, DJ/producer Dustycloud holds down Resonance Monthly with mad sets of bass/future house at Gentle Ben's... This month's installment of the smorgasbord of artistic expression known as Ladytowne features the comedy of Linda Ray, interviews with Najima & Tiera Rainey, Shannon Smith, Hannah Levin and the live music of Najima & Stripes520. At Club Congress... More than 40 years into their career, these Latin icons have sold a staggering 60 million albums. Enjoying a resurgence thanks to YouTube and social media, exposing their music for a new generation to discover, Amanda Miguel y Diego Verdaguer are at the Fox Theatre... Hot chicks playing cool surf. The Surfbroads perform at Free Third Thursdays at MOCA Tucson. Oh yeah, the museum's current exhibit: Dazzled is a celebration of razzle dazzle, a military camouflage paint scheme used on British ships during WWI and WWII... During the 1990s, on the strength of chart toppers "Fly to the Angels" and "Up All Night" these glam-metallists sold more than 5 million albums worldwide. Mark Slaughter performs the hits and a few surprises. In the Paradiso Lounge at Casino Del Sol...
Friday, March 22
March Mayhem features 21 Dreams, Oversic, Noise Field, In Lessons, Sinphonics, Gila Byte, Heroes Reunion. At 191 Toole... On "Because I Can" this folksy crooner issues a caveat. "And you can take any part of me/Just know you are also leaving with this heart of mine." Leila Lopez stirs the senses at Crooked Tooth Brewing... The Royal Agaves bring a jazzy sound drenched in sexy sax and groove to the House of Bards... Emerging from Las Vegas, a city known for its glitz and glamour, Bravo Delta's intelligent modern rock has exploded on rock radio. At Club XS. Mark Slaughter and Wild Side open... This Orange County post-hardcore band are ready to take "Fists To Walls." Takers Leavers will bludgeon the House of Bards. Elk Grove and Zero Miles to Empty take part in the demolition... Natty & The Sunset head Westbound at Mercado San Agustin Annex... The ever prolific Gabi Montoya leads her conglomerate of folk/soul/blues/rock project, Juju Fontaine, to Arizona Beer House... On the Eastside, blues/rock/reggae will spill out of the Chicago Bar from the Brian Berggoetz Band... The sultry sounds of Miss Olivia and The Interlopers bring light to the Surly Wench Pub... Featuring an ever revolving cast of esteemed pickers, Freddy Parish's monthly residency, Dry 'n' Dusty, takes the listener on a musical journey from Bakersfield to the Appalachian Mountains. At Exo Roast Co... Stay on your toes. From Phoenix, the menacing sounds of Las Chollas Peligrosas will dominate this installment of El Tambó. At Hotel Congress. Dirtyverbs and guest DJ Rebyl spin before, after and in between...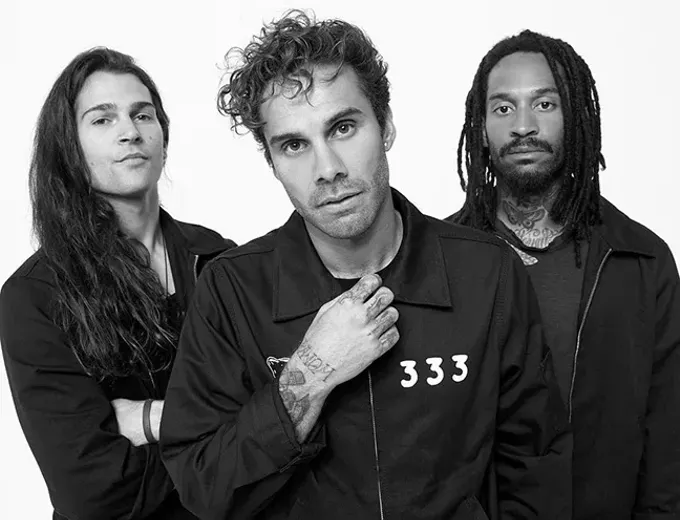 Saturday, March 23
Gird your loins! KFMA Day will take siege of the Kino Veterans Memorial Stadium. Leading the onrush: Post-grunge hard-rockers Shinedown, alt-rockers Papa Roach, English metalcorists Asking Alexandria and genre-hopping rapcorists Fever 333... Touching on various high notes from the 1970s, '80s and '90s, Tribute Takeover II finds Bucketfingers, Psycho 78, Ramonz, Wild Side and Cowboys 'N' Hell exalt the music of Buckethead, Misfits, The Ramones, Mötley Crüe and Pantera. At the Rialto Theatre... Homo La Flor: Queer Dance Party blooms at 191 Toole. DJs Mommy1ssues, Atlantis Moreupset, Robertitx, Daddy Slmbr Prty and Sissy Peniston spin... Offering acoustic covers of modern bluegrass, folk and indie, October Intuition is at Saint Charles Tavern... Leila Lopez accompanied by bassist Brian Green entertain in the tasting room at Sand-Reckoner... Brian White and mandolinist Eric Hays (of Flagstaff's Viola and the Brakemen) are at Crooked Tooth Brewing. Laura Jean and Keli Carpenter contribute sets... Crazy Love unfetter their obsessive/compulsive sonic stylings at Passé during the Fourth Avenue Street Fair... Galactivation: An immersive evening of art and sound promises a journey through the frequencies and live digital painting. Dance in a trance at Solar Culture... In a fundraising event to benefit the Tucson Folk Festival, TKMA presents the Wayback Machine, JC & Laney, Sabra Faulk & friends (Petie Ronstadt and Bryan Matajecek) and the Jacob Acosta Band. At Monterey Court... Bringing light and nostalgic euphoria, DJ NoirTech presides over the Desperately Seeking Susan '80s Dance Party. At the Surly Wench Pub. Dress accordingly... These iconic composer's works—Gypsy, West Side Story, Sweeney Todd, Evita, Jesus Christ Superstar, Phantom of the Opera—forever changed musical theater. Tucson Symphony Orchestra pays homage to the music of Andrew Lloyd Webber and Stephen Sondheim. At the Tucson Convention Center. Andy Einhorn is at the podium...
Sunday, March 24
On "Aden" this noir country singer-songwriter defiantly proclaims, "I grew up my father's daughter/He said don't take no shit from no one/You'll never see me cry." When just a teenager performing at a California coffee shop, a stranger left her a small note with a big prognostication scribbled on a dollar bill. Bear witness as Jade Jackson ascends the fabled stairway at 191 Toole. The heart-rending country of Freddy Parish lends support... Their vocals are ethereal, electronic dance beats spartan and lyrics introspective. Closely examining desire, fantasy and loneliness, Boy Harsher "Face the Fire" at Club Congress. Backed by BOAN... Filling the void with melody, The Unday provide momentary solace at the Fourth Avenue Street Fair... Playing classic dub reggae, Dub Society spread an irie vibe at Royal Sun... Veteran metallists Fates Warning—flanked by
Push, Fire By Rank and Tribulance—cast rune stones at House of Bards... From the unsullied mountains of the American Northwest, these sibling's harmonica, upright bass and acoustic guitar-driven repertoire spans from heart-rending ballads to barn-burning bluegrass numbers. The Brothers Reed bring their Dreams Tour to the Monterey Court... With its origins deeply rooted in the Gypsy culture of Spain, this traditional art form presents the interactions between song, dance and guitar, executed on a percussive wooden platform. Cantante Olivia Rojas, guitarrista Ismael Barajas, cajonista Jason Martinez and bailarína Melani "Mele" Martinez are Tablao Flamenco. At Exo Roast Co... Similar in concept to Porch Fest, Park Fest 2019—an alcohol-free/family-friendly event—features food trucks and four stages chockful of live music. With performances by Chuckwalla, Paul Martin, Alégrate, Dakota Williams and the Message, The Gunrunners, Dulcet Chimera, Denise Lane, Bunny Kirby, Kristie Cunningham, Jamie O'Brien, T Town Ramblers and more. At Palo Verde Park...
Monday, March 25
Sporting a Black Hoodie, underground hip hop artist Twistello is ready to Show N Prove. At The Dive Bar & Kitchen...
Tuesday, March 26
"Danger! High Voltage." From Detroit, garage punk/disco new wavists Electric Six plan an assault on 191 Toole. Brightly flashing codpieces and bras optional. With Dave TV...
Wednesday, March 27
The Already Already Already Tour sees renowned New Orleans funk 'n' rollers Galactic, whose house-shaking rhythms and electronic instrumentation, meld effortlessly like sweet butter with the vintage soul of vocalist Erica Falls. At the Rialto Theatre. Con Brio add a dash of lustre... Promising a saccharine sweet dose of ear candy, Latin indie rockers Tonight's Sunshine, Diluvio and The Dry River Band are at Club Congress... Sub Pop's abrasive post-punk trio Moaning abrade at Owls Club. Soft Shoulder and Feverfew round out the night...
Thursday, March 28
California pop-punkers Get Married are at Owls Club. With Amateur Palm Trees, and Logan Greene... Singer-songwriter Natalie Pohanic offers her unique brand of dreamy folk in the bar at Agustin Kitchen... Human Behavior: A BJÖRK Tribute is happening at R Bar. DJs Mijito and Vamp Feline preside... Who will the man the decks? One never knows. It's Wooden Tooth Records DJ Night at Che's Lounge... And finally, a unique conglomeration of like-minded artists adroit in creating sheets of sonic tension tempered by amorphous release. Shoegazers Slow Crush, Mute Swan, Holy Fawn and Trees Speak summon the Furies. At Club Congress...
Shout Out
Pop a "Wheelie" just for the sheer joy of it. Fronted by sisters, Dawn and Kee Kopps, the avant-garde funk/no-wave dance party from another interplanetary dimension beyond that is Shooda Shook It celebrate the release of a new album. On Saturday, March 23, at Che's Lounge...
On The Horizon
This pop star started her career penning songs for Gwen Stefani, Britney Spears, Justin Bieber and Selena Gomez. And, the girl's got "Issues." Recently, in People she admitted to bad behavior in the name of creativity. "I think as an artist it's fairly easy to become stagnant. When that happens you do a lot of really shitty things to people, that you don't really mean to." On Friday, March 29, Julia Michaels reveals her Inner Monologue at the Rialto Theatre. Accompanied by a handful of rising artists: Billy Raffoul, Josie Dunne, Corey Harper and Spazz Cardigan... Vocalist/guitarist Ben Gibbard culled his band's name from the title of a song performed by the infamous Bonzo Dog Doo-Dah Band. Saturday, March 30, sees Death Cab for Cutie careen into the Tucson Music Hall... And finally, this pop singer-songwriter is a classically trained pianist. She played keyboard with BØRNS before striking out on her own. Acclaimed for her dreamy, immersive soundscapes, her debut single "White Noise" rapidly climbed both Spotify and HypeMachine's viral charts to occupy the number 1 position. Monday, April 1 sees Ella Vos at 191 Toole...
Until next week, XOXO...