Thursday, March 7
Tucson Hip Hop Festival 2019: Day Two pops off with a pre-show party hosted by Cash Lansky. This glimpse of things to come, features performances by Ace, Favi, Ill V, J-Noir, Ampfi, Moses, Jaca Zulu, Marne Dom, Jimmy Coltrane, Cordero Eubanks and Yung Flamboyant. At Monsoon Collective... In a state of perpetual flux since early 2018, this oceanic bassist/composer is rudderless without a fixed home. C.J. Boyd brings his latest sprawling four-disc magnum opus Kin Ships to Wooden Tooth Records. Flanked by the worn harp and heartfelt love and longing of freak-folksters Sun Riah and the fragile bedroom pop of Ricky, Truly... Tasteful indie rock of the pink persuasion, Feverfew rocks the Tap + Bottle Downtown. With Otherly Love... This R&B troubadour is devoted to music that stirs and captivates. "I'm not chasing any current whatevers," says four-time Grammy Award nominee Eric Benét. "It's about music that gives me goosebumps and touches my soul. That's always been a good barometer for me." At the Fox Theatre. Butch Diggs and the Pyramid Project opens the show...
Friday, March 8
Comprised of indie folk-rockers Phoebe Bridgers and Conor Oberst, Better Oblivion Community Center will be holding meetings across the United States and Europe. They welcome you to experience a healing sound bath. Live in concert at the Rialto Theatre. Sloppy Jane and Christian Lee Hutson lend their support... As a member of the fabled Juice Crew, whose steely chisels carved hip-hop out of crude stone, Masta Ace and East Coast underground producer Marco Polo bring A Breukelen Story (Fat Beats Records) to Tucson Hip Hop Festival: Day 3. Come watch this pair set the stage at Hotel Congress en fuego... Bay Area rocker Thadeus Gonzalez has opened for KISS, Mötley Crüe, Slash and Bon Jovi. His sophomore release, Silver Inside (Spectra Music Group), pulses with slashing guitars and rock 'n' roll swagger. Gonzales performs at Passé... Comprised of New Orleans' most promising young talent, The Willie Green Project represents the next generation of great jazz musicians to emerge from the birthplace of the genre. At The Sea of Glass Center for the Arts... W:O:A Metal Battle 2019 finds Ash To Dust, Dedwin, Black Amethyst, Skoville, Eyes Go Black, Fire Glass, Guardians and Sigils Of Summoning grappling tooth and nail for a coveted slot at Wacken Open Air Festival, widely considered "The Mecca of Heavy Metal Culture," held this summer in Northern Germany. At Club XS... The Harm Reduction Benefit Show sees The Trees, Vasectomy, The Rifle, Cruise Ctrl, Flor de Nopal and Xochitl circling the wagons in support of the Syringe Access Program and other community based harm reduction efforts. At 191 Toole... For over a decade, these vaudevillians have offered audiences stunts of skill and courage including sword swallowing, quick-change magic, handcuff and strait-jacket escape, the execution blade box, a talking dog y mas. The Pretty Things Peepshow's 10 Year Anniversary Tour rolls into the Surly Wench Pub... Louise Le Hir, Eyelashes, Soft Streak and the debut of Telephone Games takes place at Sky Bar... The second annual International Women's Day Celebration features a performance by June West. All proceeds are donated to Sister Jose Women's Center and Women for Women International. At Owls Club... Day four of Arizona Friends of Chamber Music's Winter Chamber Music Festival features New York based Escher String Quartet, where the ensemble serves as season artists of The Chamber Music Society of Lincoln Center. The program includes works by Takács, Schnittke, Puts and Taneyev. At Leo Rich Theater... From Côte d'Ivoire, General Tchefary and his relentless foot soldiers present a night of African roots reggae at Chicago Bar... Still Life Telescope, Saint Augustine and Silver Cloud Express expand hearts and minds at Saint Charles Tavern... "Wham, bam, kapow!" The Rock is the site for this year's The Battle For KFMA Day. Like Rock 'Em, Sock 'Em Robots, this year's contestants—Pyrotechnica, Echoes, Like A Villain, Broken Romeo, exit.dream and Her Name Echoes—will attempt to knock each other's block's off to win an opening slot at KFMA Day 2019... Subversive Greenwich Village folk singer/songwriter Michael Hurley's shows (on March 8-9) at Exo Roast Co. have sold out...
Saturday, March 9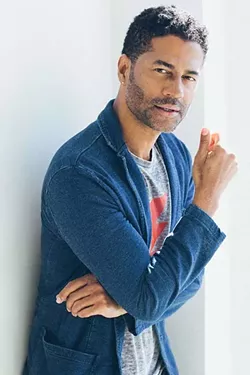 Can you hear the buzz? Inspired by literature and a love of language, classical and pop music these preternaturally gifted siblings recently sold out a headlining show at New York's Bowery Ballroom without ever having released a song. The next day their first single, "I Was Wrong," dropped and just as quickly it landed on Stereogum's radar screen. The word was out. Their debut album Thrilled To Be Here (Fantasy Records) comes with a pedigree. It was produced by Grammy-winning John Congleton, who has worked with St. Vincent and the War on Drugs. Bailen stride chin up into Club Congress. Sweet Ghosts provide support... Explaining the origins of their name, rapper Issa Gold said, "I feel like the things that we do could be considered underachieving, like smoking pot. So, it's just a flip on that. Even though technically we're doing underachiever things, we're bringing positive energy." With more than 100 acts on six stages, The Underachievers headline the block party at Tucson Hip Hop Festival: Day 4 at 191 Toole... Two-time Grammy-nominated multi-instrumentalist Chip Dabney's Amosphere dabble in musical genres at Monterey Court... The sultry sounds of Miss Olivia and the Interlopers waft through the air at Che's Lounge... The Worldwide Burger Revolution 7 Tour rails into Wooden Tooth Records. With sets by Thee MVPs and Mom And The Mailman. With local faves Golden Boots... Tempest DuJour sets the pace for a jam-packed, family-friendly evening of comedy, music, dance y mucho mas. The Very Big Show (of Support) is a fundraising spectacular benefitting Planned Parenthood. At the Rialto Theatre...
Sunday, March 10
From Oxford, Mississippi, folk popper Kate Teague brings a bit of the Low Life to Club Congress. With the sad dream pop of French For Rabbits and Chelsey Lee Trejo... During the Swing Era of the 1930s and '40s, this erstwhile bandleader's popularity was sustained by a matchless string of hits. The world famous Glenn Miller Orchestra keeps the spirit alive. At the Fox Theatre... The Determined Luddites obstinately craft acoustic music for the sophisticated urban hillbilly. At Public Brewhouse... Grounded in the power of radical femmes, this event places the voices, talents, visions and dreams of liberation fostered by black, indigenous and people of color (BIPOC) who believe change cannot come from a system designed to perpetuate and profit from white supremacy, violence, toxic masculinity, homophobia, transphobia and the continued devaluation of our humanity. International Womxn's Day Celebration takes place at 191 Toole...
Monday, March 11
Bambi and Cole met on a basketball court. Six months later, the two married under a blanket of smoke emanating from a forest fire. Reptaliens create lo-fi dreamscapes at Club Congress. With Lano and Like Diamonds... The eight songs on Oh, Evolution (Burger Records) are as alluring as a catchy beat from a '60s AM radio station. Sarah Bethe Nelson plays an in-store show at Wooden Tooth Records. With The Rifle and The Wanda Junes... Wild Powwers, F I N K E L, Shooda Shookit and Jillian Bessett bring their distinct musical stylings to the stage at Saint Charles Tavern...
Tuesday, March 12
From Monterrey, Mexico, born out of improvisation, Pirámides bring their ambient electronic psychedelia to Club Congress. Con The Trees and Mesquite... A night of EBM, shoegaze and fiery rock and roll, to rattle the bones and shake the pews, awaits. With Karger Traum, Shaki Tavi and NCNS at Owls Club... Frontman Christo Bowman calls their punchy single "Hold Your Fire" a "meditation on acceptance in the form of confronting the end of a relationship." Infused with California sunshine and an anthemic dream pop sound, Bad Suns seek Mystic Truth at the Rialto Theatre. Vista Kicks opens the show...
Wednesday, March 13
Honing their skills in The Big Easy, this roots rocking octet are known for giving an energetic live performance. The Revivalists bring the Take Good Care Tour to the Rialto Theatre. Influenced by the sound of his father's pedal steel, Nashville singer-songwriter Rayland Baxter kicks off the night... You can never be sure what they'll pull out from the record crate. DJs Carl Hanni and Steven Ramshur present The Suffering Jukebox. At Exo Roast Co...
Thursday, March 14
Rumor has it that British electronic music producer/DJ Chris Lake's show at Gentle Ben's has sold out... Spektrum: QG Dance Party—DJ Mijito and Vamp Feline spin goth/darkwave/industrial/techno—at R Bar. With a special performance by Lav Andula...
On The Horizon
This band of Los Angeles "bad boys from heaven," shortly after releasing their debut album, Less Religion More Sex, felt it prudent to announce that they were parting ways with their bassist following allegations of sexual misconduct. On Friday, March 15, Cherry Pools behave badly at 191 Toole. TiLLie opens the show... Following an elbow injury, this erstwhile college baseball pitcher took up songwriting. On Saturday, March 16, "Here Tonight," country pop singer-songwriter Brett Young is at the Diamond Center... And finally, vocalist/guitarist Ben Gibbard culled his band's name from the title of a song performed by the infamous Bonzo Dog Doo-Dah Band. Saturday, March 30, sees Death Cab for Cutie careen into the Tucson Music Hall...
Until next week, XOXO...