Thursday, Feb. 14
Happy Valentine's Day! The ladies of country collective Loveland honor St. Valentine of Rome's canonization at Tap + Bottle Downtown... From Chicago, garage power poppers North By North bring their Never-Ending Tour to Sky Bar. With Black Medicine and Marshal Man. Preceded by the NailPolish Drag Show... Cupid sautilles his bow joyously off a violin. Heather Hardy hosts Lil' Mama's Love Fest at Monterey Court. With Mitzi Cowell, Angel Diamond, Koko Matsumoto and other special guests... The Lousy Lovers Club presents, from Germany, The Booze Bombs. "Rock a Bop" into the night at the Surly Wench Pub. The Shivers and The Vooduo open... And, for lovers or the lovelorn, Emile Marchand & Naim Amor fill the air at Agustin Kitchen with sweet sounds...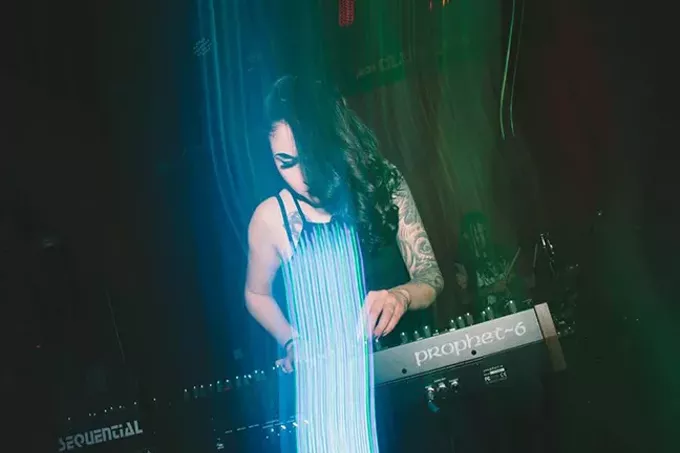 Friday, Feb. 15
An exercise in philistinism? In January 2017, this violin virtuoso donned a baseball cap and rumpled shirt and played as a hum-drum busker in a D.C. subway station, performing one of the most challenging solo pieces ever composed effortlessly—Bach's D minor Chaconne—on his 1713 Huberman Stradivarius violin worth $3.5 million. Of the thousands of passersby, only seven stopped to listen. This doyen collected $32.17 in alms. Joshua Bell holds court at Centennial Hall... Tucson's favorite psychedelic cumbancheros XIXA are at Club Congress. With support from "a radical collective of loosely organized artists, creators and criminals," Ojalá Systems... The Rialto Theatre hosts Metal Fest XVI, featuring Then When, Sucker For The Sour, Sigils Of Summoning, Animate Echoes, Gutter Town, Exit Dream and Head Rust... The Jacob Acosta Band provides the soundtrack for Harbottle Brewing first anniversary soiree... Miss Olivia & the Interlopers share their jazz-inflected soul with all in the tasting room at Sand-Reckoner... Southern rock, seared, and laid over a lush bed of Americana seasoned with a sprinkling of Cajun spices. Caleb & the Homegrown Tomatoes "chase clouds" at Monterey Court... Featuring pianist Barry Douglas, the Tucson Symphony Orchestra perform Tchaikovsky's Piano Concerto No. 1 and Anton Bruckner's Symphony No. 7. José Luis Gomez is at the podium. At the Tucson Convention Center... Dig out your best '80s finery for a dose of post-Valentine's Day campy fun and nostalgia. DJs Plastic Disease and NoirTech provide the soundtrack for the Pretty In Pink Themed Dance Party at the Surly Wench Pub... Sky Bar is the site for a power country, blues hoedown. Featuring Hank Topless Band, Get Right Rounders and Chris Hall... From the Appalachian Mountains to Bakersfield, Freddy Parrish traces the roots of country music in a monthly residency: Dry 'n' Dusty at Exo Roast Co... Jacques Taylor & The Real Deal drop a time bomb filled with old school, Motown and R&B at Casino del Sol... Punk rock/post-punk legend Kid Congo Powers (The Cramps, Gun Club, Nick Cave & The Bad Seeds, Sex Beat Dance Party) tops the bill at Chick Cashman presents A Love Hangover Pajama Party. With special guests Escape-ism (featuring Ian Svenonius and Alexandra Cabral) and ShuShu. Kon Tiki serves as launching pad...
Saturday, Feb. 16
The infamous Tequila Taxi makes a stop—long enough for the Al Foul Trio to stumble out—into the courtyard at Mercado San Agustin... From the City of Angels, angelic alt-pop trio Tangerine wake from a Fever Dream at Club Congress. Flanked by synth-loving indie poppers Chateau Chateau and Night Weather... Tejano singer/accordionist AJ Castillo headlines a Valentine's Day Dance at Casino del Sol Events Center. With Dezigual and Louie Marinez y Myzterio... On the heels of Rocking In The Rain, their latest release, Midnight Transit Co. storm into 191 Toole. With Beyond Words... The Mafiatic Misfits, McNastee, King Dice, Trent Stark and LoyalT headline The Cali-Zona Love Tour. At CeeDee Jamaican Kitchen... Equal parts talent and entertainment, Paul "The Piano Man" Jenkins tickles ivories at Hotel McCoy... It's complicated. Phoenix alt-rockers No Volcano are "Coming Up Roses." While "slob rockers" The Gem Show are repentant and "Never Going To Do That Again." See for yourselves, at Che's Lounge... Not for the faint of heart, Musk Hog and Creeper Van do odiferous and suspicious things at Saint Charles Tavern... No place is safe from the incessant techno rhythms of Disco Zombie nor the bass laden beats of FAIRYDVST. Project Atlas presents Dungeon Of Love at Solar Culture. Enter at your own risk... Tokyo garage punks Your Pest Band rip and tear through a set at Owls Club. Lenguas Largas and Resonars only add to the mayhem...
Sunday, Feb. 17
San Franciscan loud, fast trash blues rockers Alvie & The Breakfast Pigs help Baby Gas Mask Records celebrate its first anniversary. With Wyves, Tongs, and Moontrax... Providing the beats and melodies and energy behind everything, Golden Boots and Feverfew occupy Che's Lounge patio... Febbo & Fuentes play bilingual AmeriMexicana for the betterment of the human soul. At Public Brewhouse... Faithfully capturing the interaction of cante (song), baile (dance) and toque (guitar), Tablao Flamenco present the music of the Andalusian Roma Gypsies of southern Spain. At Exo Roast Co... Pop punks, from Tampa, Florida, Up From Here, top the bill at Sky Bar. With In Lessons and Something Like Appropriate... This English guitarist's piercing, yet delicate, technique and execution have earned him a Top 20 spot on Rolling Stone's list of Best Guitarists of All Time. Richard Thompson Electric Trio is at The Fox Theatre...
Tuesday, Feb. 19
Telling sometimes discomforting stories wrought of heritage while championing modern chicana feminism, Luz Elena Mendoza will lead us through the places that we are afraid to go. Eclectic indie-folk poppers Y La Bamba are at 191 Toole... Gabriel Sullivan is hosting a songwriter night every Tuesday in February at Owls Club. Joining him this episode, homie Brian Lopez... "If vomit were a movie, this would be the soundtrack." Cannibal Corpse make some of the most extreme, violent metal music bar none. Paired with death metal pioneers Morbid Angel. The gates of Hell are sure to buckle under the strain. At Club XS...
Wednesday, Feb. 20
"Who knows who she used to be/Before it all went dark?/Was she like a streak of fire/A painted glass, a beating heart?/All the mirrors, all the smoke." Both confessional and cathartic, acclaimed country singer-songwriter and author Rosanne Cash asks rhetorical questions at The Fox Theatre... Tucson folk rocker Namoli Brennet is at Club Congress...
Thursday, Feb. 21
With Philip Glass's new work, Partita for Solo Violin, as the centerpiece, Portals plaits together films by Kate Hackett, Benjamin Millepied and the words of Leonard Cohen into a multi-media exploration of the longing for human connection in the digital age. Accompanied by little more than a laptop, violinist Tim Fain performs at The Fox Theatre... Fusing elements of the '90s with a modern edge, Boston's Slothrust "Double Down" at Club Congress. With the apocalyptic pop of And The Kids... Nitecall: DJ Mijito and guest Plastic Disease spin trip hop, electronica and garage at R Bar... Chanteuse Louise Le Hir electrifies the night with her distinct French psych-pop influenced Americana. At Tap + Bottle Downtown...
Shout Out
Tucson emcee Marley B is celebrating the release of Time Again with a saturnalia at Solar Culture that features performances by Cash Lansky, Tommy Will, AgO, R3D, ZCO, Eddie Wellz and Dela Preme. On Friday, Feb. 15...
On The Horizon
With plainspoken sincerity, this country traditionalist is "A Little More Country Than That." Easton Corbin is "ready to get out of this ordinary rut" and just "Roll With It." At The Diamond Center on Saturday, Feb. 23... "Sublime and Transcendental," comments The Village Voice. Combining live world music, dance and NASA visualizations of Earth from space, Bella Gaia offers an out of this world live multimedia experience on Sunday, Feb. 24 at Centennial Hall... Saturday, March 23 sees KFMA Day take siege of the Kino Veterans Memorial Stadium. Leading the onrush: Post-grunge hard-rockers Shinedown, alt-rockers Papa Roach, English metalcorists Asking Alexandria and genre-hopping rapcorists Fever 333...
Until next week, XOXO...