Thursday, Feb. 7
Neo-psychedelic drone artist Efrim Manuel Menuck, of Godspeed You! Black Emperor, will be Pissing Stars at Club Congress... With a staggering 40 albums to his credit, electronic wizard Robert Rich helped define the ambient, tribal and trance music genres. At Solar Culture... New Orleans punk rockers Sick Thoughts dish at Wooden Tooth Records. With the "music you need a prescription for" of Lenguas Largas and Free Machines... Backed by some of Tucson's finest musicians, vocal spitfire Keli Carpenter and The Big Dream are at Tap + Bottle Downtown... From The O.C., self-described psychedelic hip-hop punk rockers Kottonmouth Kings continue to ask the unchanging question: "Where's The Weed At?" At The Rock... Psych, prog, power is on tap. Silver Cloud Express, The Mind and Still Life Telescope at Sky Bar... The Pine Hill Haints self-describe their southern roots sound as "Alabama Ghost Music." At Owls Club. Backed by leaden-footed Slow Motion Cowboy...
Friday, Feb. 8
"Fairies wear boots and you gotta believe me." Handpicked by Sharon & Ozzy Osbourne for their inherent badassery to open for the ill-fated OzzFiesta inaugural. From the portal of Hell, otherwise known as Los Angeles, Black Sabbitch are at 191 Toole... Forbidden by the Catholic Church during the Middle Ages! Composers faced a fiery death by bonfire for incorporating the tritone—aka "diabolus in musica"—into their works of music. Progressive trance/electro house duo Tritonal tempt fate at The Rialto Theatre... Veteran musicians Katherine Byrnes and Ryan Alfred conspire on a project, creating a colorful instrumental palette. Acoustic folk instruments meld mysteriously with stunning, unpredictable harmonies to haunting effect. Sweet Ghosts at Exo Roast Co... The dynamic folk rock of Natty & The Sunset illume the night at Westbound... Chanteuse Emilie Marchand & Dante Rosano create musical magic in the tasting room at Sand-Reckoner... Brad Moontribe, West Coast rave scene veteran, and Griffin Paisley spin EDM at Solar Culture... With traditional Afro-Colombian drums and the Indigenous Colombian gaita (flute) this eight-piece psychedelically electric ensemble transports you to the Andes and Caribbean. Kiko Villamizar celebrates life and Mother Earth at Club Congress. Openers Los Esplifs help to spark things up at Club Congress...
Saturday, Feb. 9
All but perfecting every last nuance, Bobby Miller recreates the sights and sounds of the artist Prince in an ultimate celebration. The Prince Purple Madness Tribute Show pops off at The Rialto Theatre. With the ever wicked Miss Olivia & The Interlopers... Downbeat Magazine calls Mary Flower a "world-class fingerstyle guitarist and lap slide player." We'll add to that, with a supple honey-meets-whiskey voice. In the listening room at Exo Roast Co. Sharing the bill, acoustic blues guitar wunderkind Roman Barten-Sherman... The Fineline Revisited: DJ Stubbie spins at the Surly Wench Pub... Dash Pocket, blazing up-and-comers, play Americana, folk and alt-country at BlackRock Brewers... Blending Americana, folk, country and blues, Lisa O'Neill sings songs sung on porches and in patios. On the Scott Street Stage as part of Second Saturdays Downtown... Playing the music of Jerry Garcia, Legion of Mario are at Corbett Brewery... The ukulele-driven, gypsy-inspired, whimsical indie-pop of Little Cloud celebrate Aquarians at Sky Bar. Pianist Sara Mohr opens... The seventh annual Pascua Yaqui Festival of the Arts features Native American arts & crafts, a lowrider car show, live music and more. At Pascua Pueblo Park... Join the space cult. ATLiens invade Gentle Ben's bringing with them a hard dose of EDM... Kill 'em All pays tribute to the music of Metallica. At House of Bards... "Don't be a basic witch." Hosted by Jenna Dumay, Tucson's punk, queer, glam drag show Vamp is at 191 Toole... Americana songstress Joyce Luna, accompanied by mandolinist Mike Markowitz, perform in the tasting room at Sand-Reckoner... With folk roots and a rock 'n' roll hearts, Tucson transplants Birds and Arrows are at Hotel McCoy... The evening's program includes "New Kid In Town," "One of These Nights," "Best of My Love," "Hotel California" and others. The Tucson Symphony Orchestra pays homage: The Best of The Eagles. At the Tucson Convention Center... The second annual Beads, Blues and Beer Festival features performances by Whose Blues Band, Bryan Dean Trio, Southbound Pilot, Cadillac Mountain and Brokedown Palace. At The Metal Arts Village...
Sunday, Feb. 10
"Everyone carries a shadow," psychiatrist Carl Jung wrote. "And the less it is embodied in conscious life, the blacker and denser it is." As reflected in the music of San Francisco-based, goth-infused indie rockers Balms' debut album. "Mirror is a journey of self, an exploration confronting the shadow-aspect of the soul." At Club Congress flanked by fiendishly rad The Exbats and Hannah Yeun... Old world traditionalists Kyklo set the perfect atmosphere for the sweet whispers of love or the hushed tones of political conspiracy at Exo Roast Co... Mik and The Funky Brunch are at La Cocina... Jazz and blues vocalist/harmonicist Paul Green & The Midnight Blue watercolor wash the night at Monterey Court...
Monday, Feb. 11
Outside of music, this indie-folk artist labors on his three-acre farm growing medical-grade marijuana and vegetables for market. When not farming, the Colorado-based singer-songwriter recorded Evening Machines, his seventh album, in a studio housed in his barn. Gregory Alan Isakov will be "Raising Cain" at The Rialto Theatre... Gutter Town, Clementine Was Right and The Cactus Pricks tumble and twirl at The District Tavern... From Welland, Ontario, Juno-nominated musician, poet and visual artist Daniel Romano "delivers mosey croonin'" at Club Congress. With buttressing by Casey Golden and Buxton...
Tuesday, Feb. 12
On "Yellow Bike" David Bazan waxes nostalgic about the thrill found in childhood bike rides in his hometown of Phoenix down the uncertain roads that accompany the onset of adulthood. Indie rockers Pedro The Lion are at 191 Toole. With the haunting folk of Tomberlin... Their career—which includes a sizable catalog of country, pop and gospel hits—spans decades. The Oak Ridge Boys bring their trademark harmonies to The Fox Theatre... Before pursuing a solo career, this Canadian keyboardist worked with Laura Vinson, k.d. Lang, Ian Tyson and others. Stewart MacDougall performs at Monterey Court... His 2015 single "Faded" received platinum certification in 10 countries. No small task. Norwegian electro house DJ/producer Alan Walker lands the Different World Tour at The Rialto Theatre. With compatriot K-391 and Zaxx... Gabriel Sullivan is hosting a songwriter night every remaining Tuesday in February. This week's spotlight brightly shines on Kid Congo Powers and The Pink Monkey Birds. Powers pedigree includes being a member of The Gun Club, the Cramps and Nick Cave and the Bad Seeds. At Owls Club... Bluegrass & Brews Jamboree features The Freddy Parish Trio and Cadillac Mountain. At The Gaslight Music Hall in Oro Valley... Chill, but kinda sad, "Blossom (Wasting All My Time)"—from this Nashville singer-songwriter's debut album Clean—was demoed in her dorm room basement without a second thought as to it ever seeing the light of day. Soccer Mommy at Club Congress with Motiongazer...
Wednesday, Feb. 13
"I'm writing fairy tales, and I hear my life story in them, but they're not about me," Ms. Case says. "I still can't figure out how to describe it. But I think that's why we make music or write things. You've got to invent a new language." Neko Case at The Rialto Theater with Canadian singer-songwriter Jennifer Castle... Arizona Friends of Chamber Music presents San Francisco's Alexander String Quartet with Cliburn Competition medalist pianist Joyce Yang. The evening's program spans the full history of music composed for piano and strings. From the very first major effort in the genre by Mozart to new works by composer Samuel Adams. At the Leo Rich Theater... A veritable smorgasbord awaits. This month's Ladytowne Live features the synth-pop of Ziemba (from NYC) and the intrepid acoustic post-punk noir of BreakingGlass. A performance by circus troupe Les Femmes Marveilleuses. Interviews with Joanna Lynne Smith (Southwest Love Fest), Lola Torch and Ziemba's René Kladzyk. With stand-up by Autumn Horvath. At Club Congress... This Nashville songwriter penned such hits as "It's a Great Day to be Alive" for Travis Tritt and "Heartbreak Town" for the Dixie Chicks and many others. Darrell Scott performs at Monterey Court. Guitarist Peter McLaughlin opens the show... The latest installment of Losers' Lounge is an "anti-Valentine's Day" mashup. Featuring techno/emo synth queen Snackbirdy, easy-listening troubadour Franklin Ross and country blues powerhouse Najima Rainey. At Owls Club... David Dondero has been many things in this life: From gas station attendant in New Jersey to being named by NPR's All Songs Considered as one of the "best living songwriters" alongside Bob Dylan, Paul McCartney and Tom Waits. At Exo Roast Co...
Thursday, Feb. 14
For lovers or the lovelorn, Emile Marchand & Naim Amor fill the air at Agustin Kitchen with sweet sounds... Heather Hardy hosts Lil' Mama's Love Fest at Monterey Court. With Mitzi Cowell, Angel Diamond, Koko Matsumoto and other special guests... From Chicago, garage power poppers North By North bring their Never-Ending Tour to Sky Bar. With Black Medicine and Marshal Man... The Lousy Lovers Club presents, from Germany, The Booze Bombs. "Rock a Bop" into the night at the Surly Wench Pub. The Shivers and The Vooduo open... And, the ladies of country collective Loveland twang Cupid's bow at Tap + Bottle Downtown...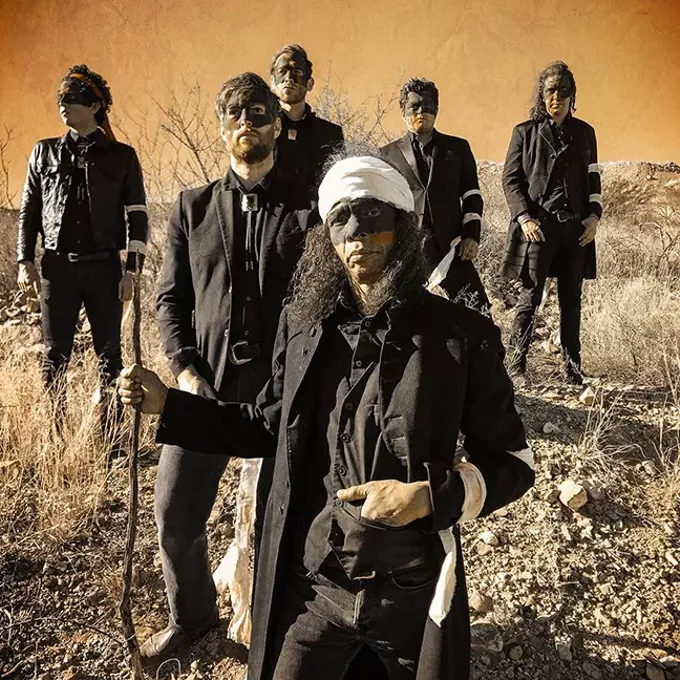 On The Horizon
Friday, Feb. 15, sees Tucson's favorite psychedlic cumbancheros XIXA at Club Congress. With support from "a radical collective of loosely organized artists, creators and criminals," aka Ojalá Systems... Telling sometimes discomforting stories wrought of heritage while championing modern chicana feminism, Luz Elena Mendoza will lead us through the places that we are afraid to go. Eclectic indie-folk poppers Y La Bamba are at 191 Toole on Tuesday, Feb. 19... And finally, Wednesday, Feb. 20 sees country singer-songwriter and author Rosanne Cash at The Fox Theatre...
Until next week, XOXO...