Thursday, Nov. 29
DJ Mijito hosts Nitecall at R Bar. This inaugural event features a performance by Stripped: A Depeche Mode Tribute. DJ Cabslays spins... Sonic architect Steve Hauschildt, no longer content to deconstruct droning sounds, channels Cleveland's post-industrial decay into exquisite electronic compositions. At Club Congress with sound artists Ryan Alfred and Jon Rex... Street Blues Family plays two sets for lyricist Rey Murf's Birthday Bash at Sky Bar. Roch spins... Silver Talon, Napalm Strike and Flying Donkey Punch bring the roar of heavy metal thunder to Cans Lounge...
Friday, Nov. 30
In addition to a multi-Grammy Award studded career, he has been a member of Grateful Dead and is a long-time collaborator with filmmaker Spike Lee, recently adding another chapter to their collaborative history with Lee's new film, BlacKkKlansman, Lee's new film. An Evening with Bruce Hornsby holds promise at The Fox Theatre... Santa Pachita pass around the "little hip flask" at Cans with The Bennu... Erstwhile cop turned rock 'n' roller, Eddie Money has "Two Tickets to Paradise" and he wants to share them with you. With coheadliners Starship featuring Mickey Thomas at Desert Diamond Center... "I make music to express myself, my soul and my love for everyone and everything around me," said Ronnie Weberg, electronic/dance musician. Unlimited Gravity transports "Speakers That Boom" to 191 Toole... Hosted by the Tempest DuJour ("Best of Tucson" reigning drag queen three years running), Super Gay Party Machine features sets by DJ Shorty and performance art collective Haus of K. At Club Congress... Bluesman Tom Walkbank is in the tasting room at Sand-Reckoner... Be rad. The Rifle, Luau and Cool Funeral haunt The District Tavern... Parisian jazz guitarist Naim Amor plays at Crooked Tooth Brewing... An acoustic show at The Parish featuring Eric, Loren and Bruce. Trouble awaits... Polyphonic overtone singing? Yes. Altai Kai Throat Singers resonate sacred frequencies at Sea of Glass Center for the Arts...
Saturday, Dec. 1
Iconic Atlanta emcee Gucci Mane, Carnage and Smokepurpp have banded together for The Unusual Suspects Tour. At the Tucson Convention Center... "Gotta Get Away?" Join the Booty Shakers Ball with Vista Kicks at Cans... World AIDS Day 2018: A Tribute to Eazy-E and Freddie Mercury features Janeé Starr with performances by The David Clark Band, The Jons, Paul Jenkins y mucho mas. At Club Congress... Also at Hotel Congress, relish in diversity, enjoy "desert country rock soul" with Armando Moreno & The Southern Revival, garage rock with Juju Fontaine and Europop with Seanloui... Accompanied by various local talents, Emile Marchand sings favorites in the courtyard at Mercado San Agustin... David Bryan's Loveland performs at Cans. Rumor has it that the ladies of Loveland will perform a special set of their own... Gamelan Dewi Malam offers the magical music of Bali at Galactic Center... Phil Free is at Saint Charles Tavern... The hip-hop dreams of Reverie are becoming reality. At Solar Culture with Cash Lansky, Vinnie Mendez y mas... The Infinite Beauties stir up the polvo at The Dusty Monk... Be awestruck by the guitar histrionics with Eugene Chadbourne's Guitar Freakoutpalooza at The District Tavern... And the mighty Resonars bring the sound of the British Invasion to Che's Lounge...
Sunday, Dec. 2
From Manila, Eyedress crafts "genre-defying bedroom lo-fi, running the gamut of shoegaze, hip hop and synth wave." With The Trees and Oolalong at Club Congress... Raging metal with Unearth and Fit For An Autopsy are at The Rock... From Asheville, North Carolina, multi-instrumentalist Nathan Kairis composes sounds to bounce off of the Appalachian Mountains. At The District Tavern with Kryge and Quaker Folk... And, Golden Boots welcome the night at Che's Lounge...
Monday, Dec. 3
"The lovable laid-back prince of indie rock," Mac DeMarco sings "One More Love Song" at 191 Toole...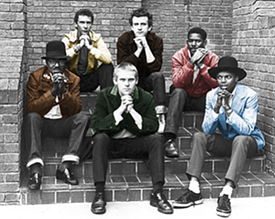 Tuesday, Dec. 4
Here We Go Love acts as an intracardiac injection of uptempo ska to the heart and is this UK band's first new album since 1982. The English Beat seek out the "Mirror In The Bathroom" at 191 Toole. DJ Jahmar International spins... Carrying "The Weight of the World" on their shoulders, North Carolina doom metallists Toke and local likeminded brethren Hist and Kyrge cast long shadows at Club Congress...
Wednesday, Dec. 5
Finding common ground in old blues and folk music, blending classic original compositions and songs from a wide spectrum of songwriters and styles from Merle Haggard to Sam Cooke to the Young Bloods, Dave Alvin & Jimmie Dale Gilmore with The Guilty Ones bring the songs of Downey to Lubbock to The Rialto Theater. The Jon Langford Duo opens... The evening's program features compositions by First Viennese School composers Beethoven and Haydn. In addition, a new work by Lembit Beecher. Arizona Friends of Chamber Music presents the world renown Juilliard String Quartet perform at the Leo Rich Theater... In the wake of the Ghost Ship artist collective fire in Oakland that claimed the lives of 36 people, indie songwriter Stephen Steinbrick retreated to a storage unit, taking LSD near daily, and went about obsessively recording Utopia Teased, grief-driven art. At Club Congress with Sean Bonnette and Lano... And the lights will shine brightly when renowned guitarist Peter McLaughlin, multi-instrumentalist/singer Alvin Blaine and master fiddler Nick Coventry take the stage. Nick McBlaine & Log Train perform at Monterey Court...
Thursday, Dec. 6
On the heels of their 10th studio album, Shiny and Oh So Bright Vol. 1 / LP: No Past. No Future. No Sun, The Smashing Pumpkins are "Marchin' On" into The Rialto Theater. With the androgynous darkwave of Drab Majesty... And, a night of neo-soul/funk awaits at Club Congress with J-Calvin and Mesquite...
On The Horizon...
The Southern Arizona Blues Heritage Foundation presents Winter Blues Bash featuring The Paladins on Friday, Dec 7, at El Casino Ballroom... On Saturday, Dec 8, the Rise of the Octopeel Tour featuring Dirt Monkey with Subdocta rolls into Gentle Ben's... Finally, also on Saturday, Dec 8, the Squirrel Nut Zippers encourage all to "Bring a date, bring your grandad, and shake your booty" to their infectious West Coast swing sounds when their Holiday Caravan Tour slides into The Rialto Theater...
Until next week, XOXO...