Thursday, Nov. 22
Emilie Marchand accompanied by guitarist Naim Amor perform jazz standards, vintage country and more at Agustin Kitchen on Thanksgiving Day ...
Friday, Nov. 23
Phoenix hip-hoppers NB Ridaz reunite. Featuring Zig-Zag, MC Magic and Dos at The Rialto Theater. With R&B singer Frankie J, Lil' Rob and Trish Toledo... Monterey Court celebrates its seventh birthday with a bash that includes the Latin rhythms of Santa Pachita, Oscar Fuentes y mucho más... Out in support of Yuck Fou, rapper Jarren Benton makes a stop at Solar Culture. With Tommy Will, Marley B, Cash Lansky and Aaron Cohen... Ritual: DJs Plastic Disease, Mijito and E_Rupt spin industrial/techno/darkwave at Cans Lounge... Naim Amor's A Jazz Trio provides the soundtrack for date night at Exo Roast Co... Performance troupe Cirque Roots along with the weighty punk sound of Cement Shoes, Crooked Saints and Toylift are at Sky Bar... Singer-songwriter Amber Norgard accompanied by violinist Seth Murzyn entertain in the tasting room at Sand-Reckoner... Sixteen Candles: '80s Dance Party. DJ NoirTech spins at Surly Wench Pub... Local Love celebrates local music at 191 Toole. The lineup: Gutter Town, Animate Echoes, Fire Glass, Dedwin, Bordertown Devils, For or Against and Endavus... Cryptic Wisdom's "Turnt 4 Tots" Holiday Toy Drive & Concert takes place at The Rock. Featuring Mopar Bentley, Booda, Stacc Styles, Whitney Peyton, Cryptic Wisdom. DJ Michael FøXx spins... Noise Will Be Noise. After a long hiatus, Holy Rolling Empire "Keep It Together" at Club Congress. With Asian Fred and Dirt Friends...
Saturday, Nov. 24
Romo Tonight Live, Tucson's late-night variety show hosted by Steven Romo with co-host Alexa Michelle, features a superabundance of comedians and musical performances by Paul Jenkins, Jivin Scientists and Fever Few... Sweetly melding together the gravitas of classical chamber music with the earthiness of folk, Oliver the Crow bear the "Ashes of a Day Gone By" to Exo Roast Co. With Matt & Rebekah Rolland... The Tucson Symphony Orchestra brings John Williams' iconic film score to new life as Star Wars: A New Hope is projected on the big screen. At Tucson Music Hall... Singer-songwriters Joyce Luna and Jamie Anderson perform a listening room concert at Congregation Chaverim... Joe Peña, Liza Byrne, Bruce Halper and Evy LLyan share the stage at The Dusky Monk... Some Tucson musicians of note are assembling at Che's Lounge for a Tribute to Stone Temple Pilots. Keeping the '90s alive at Che's Lounge... Technical Difficulties, Button Struggler and Gutter Town rock at The District Tavern... United Snakes, Watercolor and Marta DeLeon are at Sky Bar... Heavy metallists Otep "Rise, Rebel, Resist" at House of Bards... James Noriega (Rough Draft), Stripes, Snack Birdy and Breaking Glass (Julie Jennings Patterson & Mario Lizarraga-Cordova) perform in a benefit for KMKR 99.9 FM at Club Congress...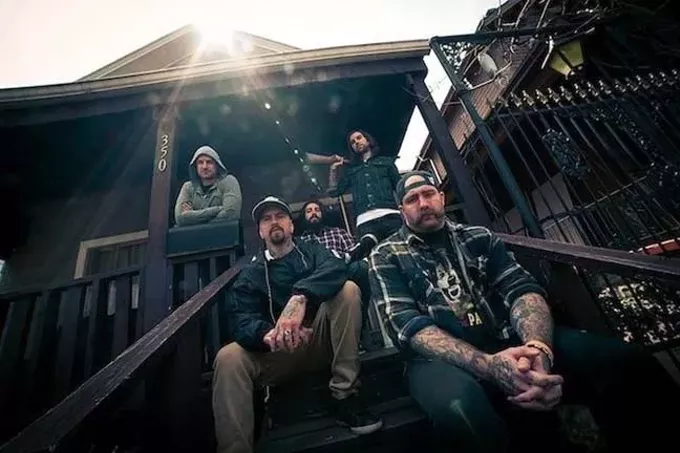 Sunday, Nov. 25
Signed to Epitaph Records, apropos, Every Time I Die is at 191 Toole with Turnstile, Angel Du$t and Vein... Fall Food and Toy Drive 2018 takes place at House of Bards with performances by Zero Miles To Empty, Iam B Dailey, Waysted Youth, Eviternity, Psycho 78 and Duo...
Monday, Nov. 26
DJs Cat Child, Justin Silva and guests spin for Monday Night Social at Bar Passe...
Tuesday, Nov. 27
Performing material from his solo career and his erstwhile band, recent Canadian Hall of Fame inductees Barenaked Ladies, the Steven Page Trio perform at 191 Toole. With singer-songwriter Wesley Stace (aka John Wesley Harding)... Folk rock with Natty and the Sunset at The District Tavern... Featuring comedy, interviews and discussions on progressive topics and live performances by Vasectomies and Moontrax, Ladytowne is a feminist talk/variety show at Club Congress...
Wednesday, Nov. 28
Based on the strength of their debut album, Double Dare, British mag Rock Sound readers' poll named these pop rockers Best International Newcomer in 2016. Waterparks get "Stupid For You" in an all-ages extravaganza at 191 Toole with support by I Don't Know How But They Found Me, Nick Gray, Super Whatevr and De'Wayne... Tone Ranger "makes epic dance music that embodies the mysterious and supernatural beauty of the American Southwest" at Cans Lounge. With Oolalong and Mic TV... Possessing the same "Fire of the Mind" as his former band Coil, Scottish electronic musician Drew McDowall explores the unchartered at Club Congress. Along with Hiro Kone, Dismorphic, Lana Del Rabies and DJ Plastic Disease...
Thursday, Nov. 29
Sonic architect Steve Hauschildt no longer content to deconstruct droning sounds, channels Cleveland's post-industrial decay into exquisite electronic compositions. At Club Congress with sound artists Ryan Alfred and Jon Rex... DJ Mijito hosts Nitecall at R Bar. This inaugural event features a performance by Stripped: A Depeche Mode Tribute. DJ Cabslays spins... Silver Talon, Napalm Strike and Flying Donkey Punch bring the roar of heavy metal thunder to Cans Lounge... And, Street Blues Family plays two sets for lyricist Rey Murf's Birthday Bash at Sky Bar. Roch spins...
In The Flesh...
DUSK Music Festival 2018
Armory Park
Nov. 10-11
The intergalactic mashup of arts, gastronomy and cutting edge music that could only have been paired together in a galaxy far away as rogue stars collide made its downtown Tucson debut on Nov 10-11 at Armory Park.
The otherwise serene environs—whose hub of day-to-day activity is the Armory Park Senior Center—were transmuted by larger-than-life sculptures, food trucks, arcades and mesmeric video projections into the DUSK Music Festival grounds.
An invading force of revelers, largely Gen Nexters, convened upon the site in reverence. Objects of idolatry were many. Here are a few highlights.
Day 1

After venting dolefully about life in a "Cruel World," Phantogram shifted gears. Vocalist Sarah Barthel and guitarist Josh Carter took the audience through the hills and valleys of love—from the euphoria of "Fall In Love" to the dispirited realization that "You Don't Get Me High Anymore." At song's end Barthel said coyly, "We've all got a little bit of hoe in us." And like an anamorphic illusion projected upon a screen they were gone.
Australian EDM artist Anna Lunoe seized the second stage. "I'm your high-heel killer/I'm your midnight thriller/I'm your bass drum dealer/and I always deliver." Word. Between songs Lunoe preached gospel. "You are the motherfucking shit. You can do whatever you want. Put your mind to it." She was countered by a backwards cap-wearing guy with "I Respect Nothing" emblazoned on his T-shirt who sauntered past. Undaunted, Lunoe rocked the crowd, proclaiming her "Badass[ery]" before exiting in a "Blaze of Glory."
Mashing together house, reggaeton, dancehall and trap, Dillon Francis brought the monstrously deep bass groove of moombahcore to the desert. Transcending space and time, some of Francis' crowd pleasing tracks incorporated samples from Pink's "Let's Get The Party Started," BackStreet Boys' "I Want It That Way" and Alphaville's "Forever Young." With pleas to "let me see those hands in the air," this multi-platinum selling, Wynn Las Vegas resident DJ/producer had the house screaming, "I Like It." He knows his audience, embracing multiculturalism, as evidenced in "White Boi" a biracial love story. "No entiendo my Spanglish?/But you can read my body language/Papi, you're my favorite dish/Can I get a taste?" Another thing that needed no interpretation. All in attendance were here for one thing: To dance.
Day 2
She sang, danced, played keyboards, triggered samples while meticulously crafting her artistic vision in the Information Age while demonstrating an innate ability to fuse with her audience. Elohim, a name ascribed to God in the Hebrew bible, was a one-woman force of nature. She took command of the second stage—ensuring that "Sleepy Eyes" were open wide and "Hallucinating," heightening individual consciousness to arrive at the realization that the "Universe Is Yours"—before the nights headliners took to the main stage.
Pioneers at blending electronic dance music with live instruments—wailing saxophone and massive drums—Big Gigantic brought this bacchanal to a fist-pumping frenzy. Donkey piñatas on poles were foisted, beach balls bounced through crowd, a section of the UA marching band made an appearance and the pervasive aroma of ganja wafted through the air. All the while Big Gigantic compelled the party to "Get On Up" and to let the "Good Times Roll." Like generations before.
As the DUSK Music Festival came to a close, and revelers began to trickle towards the exit gate, The Who's 1966 classic came to mind. Yes, "The Kids Are Alright."
On The Horizon...
Erstwhile cop turned rock 'n' roller, Eddie Money has "Two Tickets to Paradise" and he wants to share them with you. With coheadliners Starship featuring Mickey Thomas on Nov. 30 at Desert Diamond Center...Finally, iconic Atlanta emcee Gucci Mane, Carnage and Smokepurpp have banded together for The Unusual Suspects Tour. At the Tucson Convention Center Saturday, Dec. 1...
Until next week, XOXO...