Thursday, Nov. 15
Posterboys for ne'er-do-well alienation who single-handedly invented pop-punk, SoCal's Descendents "Ride The Wild" at The Rialto Theater. Openers Radkey and the Hagfish will "Rock Your Lame Ass"... Lord of Bass, Yookie drops a megaton detonation of dubstep on the dancefloor at Gentle Ben's... From Albuquerque, folk duo A Hawk and A Hacksaw were inspired by the Japanese practice of forest bathing for their latest album. Curious? With Naim Amor at Exo Roast Co... Folk/rock/country and beer await when The Other Troublemakers make mischief at Tap + Bottle... M. Crane, Demonyms and Divy are at Club Congress... All-ages show at The Rock with Decrown The Heir, Salt Creek, Weathered and more... Noir folk rockers Lord Youth and Casey Golden perform at Passe... NYC garage punkers Acid Dad cause erosion at Owls Club. With Droll... Shred your worries and bounce along to the sad punk and emo of Mom Jeans as they spread Puppy Love at 191 Toole. With Just Friends, Awakebutstilinbed and Retirement Party... Immediately after making their Carnegie Hall debut, prodigious classical guitarists Meng Su & Yameng Wang were signed by impresario Bill Capone launching their international career. Beijing Guitar Duo perform at UA Crowder Hall...
Friday, Nov. 16
"Mama's got a squeeze box/Daddy never sleeps at night." Iconic Tex-Mex and conjunto artists unite in an all-star accordion summit par excellence. Featuring Sunny Sauceda, Santiago Jimenez, Jr., Ram Herrera, David Farias, grupo Dezigual, Gilberto Jr. Y Los Dos Gilbertos, J.R. Gomez and La Tropa F. Squeezebox Arizona: Super Dance Fest happens at the Desert Diamond Center... Singer/songwriter Leila Lopez & Brian Green entertain in the tasting room at Sand-Reckoner... Aiming to discover fresh talent, The Hip Hop Search 2018 takes places at The Rock "Where Legends are Made"... Premiering two short films and a live mystery for the audience to solve, Evil Under the Desert Sun is a benefit show for music education programs run by Tucson Symphony Orchestra in schools. At The Rialto Theater... You will find neo-soul fusion with Street Blues Family and hip-hop with Jaca Zulu at Club Congress... "Straight Up." Paula Abdul headlines The Fox Theatre's Annual Chasing Rainbows Gala... Beaming out transmissions from the star-studded realms, alt/psych rockers Silver Cloud Express—with dark desert fuzz crooner Jeremy Michael Cashman—are at Sky Bar... Pigmy Death-ray, US Depressed and Shooda Shook It rattle and shake at The District Tavern... Americana/rock singer/songwriter Amber Norgaard with special guest Sabra Faulk entertain on a cool fall evening at Monterey Court... Loud, unapologetic rock and tattoos? Kickin Valentina are at House of Bards with Dirt Nap and Meza... An evening of acoustic duets awaits. Featuring Heather Hardy, Nancy McCallion, Steve Grams and Alvin Blaine at The Whistle Stop Depot... Vox Urbana mete out sizzling latin rhythms at Cans Lounge. DJ Smite spins... Since 1983, the path to spread the rock 'n' roll gospel has taken these acolytes from correctional facilities to late-night TV. Southern Culture on the Skids get trashy at 191 Toole with Phoenix punk-grassers The Haymarket Squares... Freddy Parish hosts a monthly series which traces back the roots of country music, bluegrass, Appalachian folk and honky tonk. Dry and Dusty features a cast of Tucson's most esteemed pickers. At Exo Roast Co...
Saturday, Nov. 17
Indie rockers Why? perform songs from their second album, Alopecia at 191 Toole. With Lillie West's Lala Lala... John Densmore of The Doors has this to say about singer/songwriter John Coinman. "His songs move like the wind. He is the lone coyote howling in the desert." See for yourself when he performs as part of the Fall Concert Series on the plaza at Hotel Congress... Ruinfest 2018 at The Rock features Sorrows Ruin, exit.dream, Dedwin, Amoras Bane, Skoville and more... In 1983, Zebra's self-titled album—fueled by the hit single "Who's Behind the Door"—became Atlantic Records fastest selling debut recording. Singer/guitarist Randy Jackson performs a solo acoustic set at House of Bards... Singer Olivia Reardon celebrates her birthday with a soiree at Saint Charles Tavern. Miss Olivia and the Interlopers, Gabe Rozzell and friends will entertain... "You shine because the one who sent you does/Your life is an unblemished dove," Starseed Acoustic Ensemble walk into the light at Sea of Glass Center for the Arts... Wanna dance? Little House of Funk are at Monterey Court... Mason, Broken Romeo and The Robins rock The Hut... DJs Thee-O, Dougal, KRMT, Justin Silva and others spin house. Left Coast Housewerks at the Galactic Center... Featuring the works of Piazzolla, Guarnieri, Márquez, Villa-Lobos and Aaron Copland's Clarinet Concerto, a piece commissioned by Benny Goodman, Tucson Symphony Orchestra presents Copland & Goodman. Spotlighting clarinetist Boris Allakhverdyan of the Los Angeles Philharmonic. Keitaro Harada is at the podium. At Catalina Foothills High School...
Sunday, Nov. 18
In Yoruba, she is the mother of African sweet waters. Indie soul/hip-hop divas Oshun are the embodiment of Afrofuturism. Featuring Proda. At Club Congress... Bluegrass,country and gospel will fill the air when celebrated entertainers Jamie Dailey & Darrin Vincent perform at The Fox Theatre. With Rebekah & Matt Rolland... Drumspyder and Scott Nice will perform at Sunday Funday, a yoga, sound healing and ecstatic dance event, at the Galactic Center. Donations accepted for Hoods for Homies Winter Clothing Drive... Lisa O'Neill & The Open Ocean perform at The Tucson Museum of Art Holiday Artisan Market... Celebrating 10 years, the Celtic Thunder "X" Tour is coming to the Tucson Music Hall... Habitual Resonance, The Distortionists and Flying Half Full defy the odds at Cans Lounge... Straight from a tour with Mushroomhead, El Paso's Not My Master enter defiantly into the House of Bards. With Eyes Go Black and Broken...
Monday, Nov. 19
"There Was This Girl." Indeed. Modern country singer Riley Green searches for the one at The Rialto Theater in KIIM-FM 99.5 annual Penny Pitch Concert benefiting Arizona's Children Association. With Tucson's own Caiden Brewer...
Tuesday, Nov. 20
Steeped in tradition, this blues guitar behemoth has single-handedly brought blues rock into the mainstream. Joe Bonamassa is on the road to "Redemption." At Tucson Music Hall... A Sun-Coloured Shaker like Norse legends entwines golden threads while aiming for the grand. From Canterbury, England, post-rockers Yndi Halda "Enjoy Eternal Bliss" at Club Congress with Trees Speak, Staghorn and Zack Hansen... And, American heavy metallists Machine Head seek Catharsis at Club XS...
Wednesday, Nov. 21
What started humbly soon turned into a viral sensation. This musical collective has amassed over one billion YouTube views since 2011, morphing into a worldwide touring sensation. Scott Bradlee's Postmodern Jukebox turns modern pop hits into vintage sounds of yesteryear at The Rialto Theater... DJs fill two rooms with sound. Therapy: A Pre-Thanksgiving Party at Cans Lounge... Billed as The World's Largest Touring Freakshow, Hellzapoppin' Circus Sideshow is at The Rock... Cave girls and lost cowboys? Lemon Drop Gang and Golden BooTs shimmer and shine at Cans Lounge... And, Italo Disco at R Bar with DJs E_rupt and Entyce...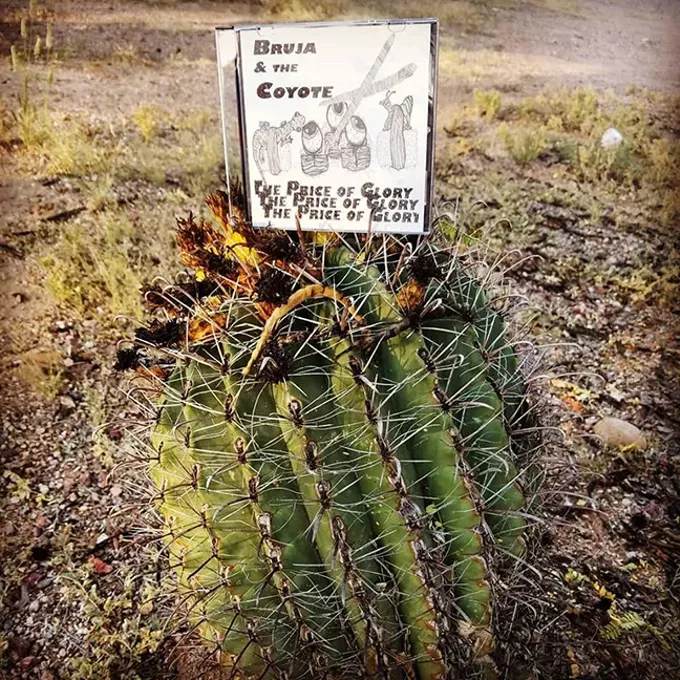 Shout Out...
Starting day one of their one-day residency. Blues/punkers Bruja and the Coyote celebrate the release of The Price of Glory at Owls Club on Saturday, Nov 17. With Dogmatic Addict and Backup Brass Band...
In The Flesh...
"Yes means yes. No means no."
Chants of solidarity resounded throughout The Rialto Theater on Monday, Nov. 5, during the speakout at the culmination of SlutWalk 2018, which was organized by UA feminist organization FORCE and Southern Arizona AIDS Foundation (SAAF). TASC (Tucson Abortion Support Collective) was also in the house.
Is it a rally? A march? A protest? It's all of these things. Moreover, organizers say, "SlutWalk is a movement aimed to highlight the prevalence of victim blaming, rape culture, street harassment and sexual violence." The movement began in 2011 as a response to Toronto police officer Michael Sanguinetti's remarks that "women should avoid dressing like sluts" in order to prevent being sexually assaulted.
"I am woman. Hear me roar."
Vasectomies, comprised of vocalist/keyboardist Sally Roundhouse and drummer Kris Aman, opened the speakout. And roar they did. Embodying the spirit of the evening, Roundhouse sang, "You can fuck whoever you want. As long as they want to fuck you."
Roundhouse said the formation of the band/performance art project was emotional. "The first few practices turned out to be us processing rape culture and crying about it," she said. "We decided on the name because women's access to abortion is becoming so limited. We are encouraging people with penises, who could impregnate people who have wombs, to get vasectomies."
Hot Wax...
R&B/euro popper Seanloui is set to drop The Church Electric, his first EP, on Friday, Nov. 16. "Outer Space," the first single, is out of this world. Seanloui celebrates with an EP release party at Cans Lounge with a little help from Taco Sauce and Night Weather on Saturday, Nov. 17.
On The Horizon...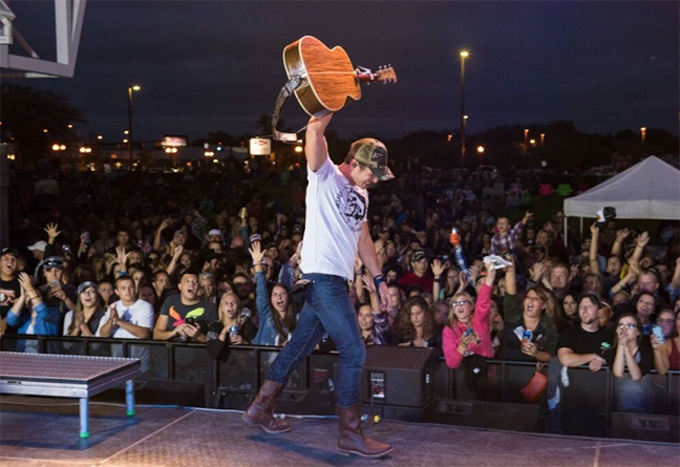 The evening's program features compositions by First Viennese School composers Beethoven and Haydn. In addition, a new work by Lembit Beecher. Arizona Friends of Chamber Music presents the world renown Juilliard String Quartet on Wednesday, Dec. 5 at Leo Rich Theater... Country music trailblazer Granger Smith rides into the AVA Amphitheater on Friday, Dec. 7... Finally, based on the strength of their debut album, Double Dare, British mag Rock Sound readers' poll named these pop rockers Best International Newcomer in 2016. Waterparks get "Stupid For You" in an all-ages extravaganza at 191 Toole with support by I Don't Know How But They Found Me, Nick Gray, Super Whatevr and De'Wayne on Wednesday, Nov. 28...
Until next week, XOXO...