Thursday, Nov. 8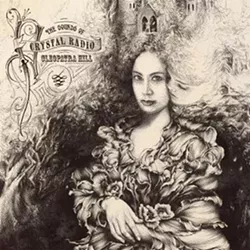 Sharing producer Gabriel Sullivan in common, Billy Sedlmayr, Inez (from Switzerland) and Crystal Radio comprise the Dust & Stone Review at Club Congress... Suicide Forest, Vouna, Shadows of Algol and Azfarat are at Cans Venue & Lounge... This soul/R&B artist has worked with James Brown, almost married Otis Redding and dropped acid with George Clinton, but the late George Jones called her "truly a singer's singer." Bettye LaVette, featuring Evan Mercer on keyboards, holds court at The Rialto Theater... At Best Cuckold, singer-songwriter Avi Buffalo is at Sky Bar with Haunted Summer and Dirt Friends...
Friday, Nov. 9
Kevin Barnes explains the two-title concept behind, White Is Relic/Irrealis Mood. The former was inspired by James Baldwin's writings of a toxic American white identity. "I've come to learn it's just a tool wielded by the 1 percent to give poor white people a false sense of superiority in an effort to keep the masses placated and numb to how deeply we're all getting fucked by capitalist rulers." Juxtaposed next to a linguistic indicator, irrealis mood: Something that isn't yet reality but with the potential to become so. "This concept of the death of 'whiteness' appeals to me. Might be the only way to save the world," Barnes says. Of Montreal and Reptaliens invade 191 Toole... Tejano enthusiasts rejoice. Jay Perez and Bobby Pulido are at AVA Amphitheater... Featuring Heather "Lil 'Mama" Hardy, Fred Hayes, Ed Delucia, Evan Dain and special guest Matt Mitchell, get a Taste of Jazz at Monterey Court... Outlaw Americana singer-songwriter Jesse Dayton is on the plaza at Hotel Congress... While Phoenix Afrobeat Orchestra is indoors at Club Congress with Los Esplifs. South Africa's DJ LAG spins... This husband/wife duo are touring in support of their latest album Niños Del Sol. Austin's The Division Men's distinctive sound weaves sparse elements, centered around an acoustic guitar and bass, to create dark, ethereal neo-folk. At Exo Roast Co., with musician/artist Oliver Ray... Touch, taste, smell, sight and sound. Sense: An Interactive Sensory Experience takes place at the Galactic Center. DJs Skrub, Sinnapz, Lance Fairchild, H.R. Guerin and Cuddle Muffin spin... Old School/Motown/R&B is on tap at Chicago Bar with Jacques Taylor and the Real Deal... A poem by Edgar Allan Poe about the inevitability of death? No. How about a dose of occult/psychedelic/desert doom with Conqueror Worm, Noise Field and Escape Goat at Brodie's Tavern... Explore the ephemeral with MOONTRAX, Black Medicine and Grand Voodoo Band at Sky Bar...
Saturday, Nov. 10
"Today, man has become a wolf. There is still time for us to realize that we must give love to everything around us. Your fight should be your love," says Ibrahim Touré. African roots reggae artist General Tchefary preaches the gospel of love at Sea of Glass Center for The Arts... The Southern Arizona Blues Heritage Society presents Canadian guitarist JW-Jones Blues Band at House of Bards... The Fall Concert Series continues on the plaza at Hotel Congress with local legend P.D. Ronstadt & The Company in a family-friendly event... While psychedelic rockers Sugar Candy Mountain offer a "space-age blast of psych-pop and Tropicalia that sounds like it could have reverberated right out of Phil Spector's echo chamber." Indoors at Club Congress with chanteuse Louise Le Hir and Droll... This singer-songwriter's sophomore release, Akasha, holds the human ability to communicate verbally as sacred gift. Leigh Lesho is in the listening room at Exo Roast Co... Downtowners, gird your loins. Armory Park is the site for this year's Dusk Music Festival. Featuring Dillon Francis, Phantogram, Cold War Kids, A-Trak, Big Gigantic, Jai Wolf, SuperDuperKyle y mucho mas. The fest continues on Sunday, Nov 11. See www.duskmusicfestival.com for details... Singer-songwriter, multi-instrumentalist Matt Venuti's music has been described as "medicinal," "transcendent" and "akin to the Aurora Borealis for your ears." At the Galactic Center... Radness abounds when the Freezing Hands, the Exbats and TWGS rock and chew bubblegum simultaneously at The District Tavern... Live art and beat sets? Why, it's Pushing Buttons: A Monthly Producer Getdown happening at Cans Venue & Lounge... "Just Like Weeds," Mute Swan continue to flourish at Che's Lounge...
Sunday, Nov. 11
Combining psychedelic rock, cumbia and a dash of Los Tigres Del Norte. La nueva onda de East Los Angeles Tropa Magica cross genres at Club Congress. With Santa Pachita... Intergalactic time traveler Bob Log III teleports his blues-laden garage rock onto the stage at Cans Venue & Lounge...
Tuesday, Nov. 13
A Wizard, a True Star. Over the course of a storied career conceptualist Todd Rundgren has lived up to the ambitious titled of his 1973 progressive pop album. A truly Unpredictable Evening awaits at The Rialto Theater... Grinding traditional Japanese music with rock into an apothecary mixing bowl, guitar hero Sparky Quano unleashes his histrionics for all to behold at Owls Club...
Wednesday, Nov. 14
Comprised of four Millennial Parisian string players, the Modigliani Quartet perform experimental works by Mozart, Stravinsky and a Brahms masterpiece featuring Fabio Bidini, recognized as one of the foremost pianists to emerge from Italy since Michelangeli. At Leo Rich Theater... Fingerprints is brimming with the same heart-on-fire brand of modern country that propelled their previous four albums into the BIllboard Country Top 5. Eli Young Band bring their hard-driven romanticism to The Rialto Theater, "Even If It Breaks Your Heart." With Jake Rose... Not for the faint of heart. Rife with fury, Tucson grindcore legends Languish mark the release of Unworthy. They will "exterminate the world" at Club Congress with support from Fister, Aseethe and Earacher... All are welcome. Enter The Realm: A Celebration of Music, Healing and Dance with Serene Gabriel and Dr. Richard Grossman. At the Galactic Center... Harmony-laden '60s pop and psychedelic rock is in store with The Strawberry Moons at Cans Venue & Lounge. With Tropical Beach and Black Medicine... Texas poet laureate Dean Young calls Austin's Name Sayers "a soundtrack for the meteor shower." At R Bar with Marshal Man and Cobra Family Picnic...
Thursday, Nov. 15
Immediately after making their Carnegie Hall debut, prodigious classical guitarists Meng Su & Yameng Wang were signed by impresario Bill Capone launching their international career. Beijing Guitar Duo perform at UA Crowder Hall... Tucson's own Calexico will perform on the closing night of the Loft Film Fest following a screening of The Guardians, a film they soundtracked... Shred your worries and bounce along to the sad punk and emo of Mom Jeans as they spread Puppy Love at 191 Toole. With Just Friends, Awakebutstilinbed and Retirement Party... NYC garage punkers Acid Dad cause erosion at Owls Club. With Droll... Lord of Bass, Yookie drops a megaton detonation of dubstep on the dancefloor at Gentle Ben's... And posterboys for ne'er-do-well alienation who single-handedly invented pop-punk, SoCal's Descendents "Ride The Wild" at The Rialto Theater. Openers Radkey and the Hagfish will "Rock Your Lame Ass..."
Shout Out...
Jacob Acosta Band premieres "In The Canyon" music video from Desert Sounds on Sunday, Nov. 11, at Borderlands Brewing Company. All proceeds donated to Arizona-Sonora Desert Museum.
On The Horizon...
"Mama's got a squeeze box/Daddy never sleeps at night." Friday, Nov. 16 sees iconic Tex-Mex and conjunto artists unite in an all-star accordion summit par excellence. Featuring Sunny Sauceda, Santiago Jimenez Jr., Ram Herrera, David Farias, grupo Dezigual, Gilberto Jr. Y Los Dos Gilbertos, J.R. Gomez and La Tropa F. Squeezebox Arizona: Super Dance Fest happens at the Desert Diamond Center... And finally, what started humbly soon turned into a viral sensation amassing over 1 billion YouTube views since 2011 and has morphed into a worldwide touring sensation. Scott Bradlee's rotating musical collective, Postmodern Jukebox, turns modern pop hits into vintage sounds of yesteryear on Wednesday, Nov. 21 at The Rialto Theater...
Until next week, XOXO...