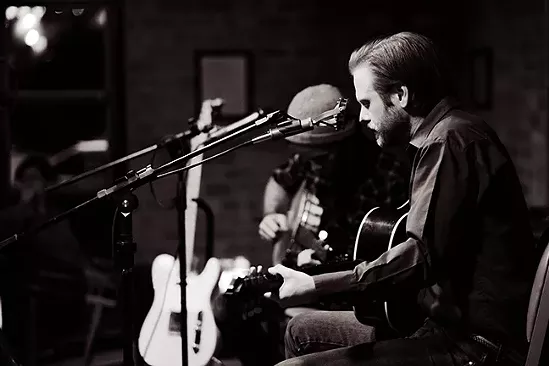 Thursday, Sept. 13
Rich in Spirit, Kaia Chesney searches for "Deeper Water" at Tap + Bottle Downtown... From the canons of G.P. Telemann to the Romanian folk dances of Béla Bartók, Laura Tagawa and Sam Bounkeua perform classical violin duets at Agustin Kitchen... Like reggae? Fayuca, Of Good Nature and Black Bottom Lighters skank at Cans Deli... Known for his commanding voice and nimble fingerpicking, Adam Faucett has drawn comparisons to Townes Van Zandt and Tim Buckley. At Club Congress with Carlos Arzate and Freddy Parish...
Friday, Sept. 14
Four decades strong, The Seldom Scene bring their signature bluegrass sound to 191 Toole... Upholding the traditions of Sufi mystics of old, Fanna-Fi-Allah celebrate the divine through devotional music, poetry and hypnotic tabla rhythms. At The Rialto Theater... With a message of hope and justice, Phoenix Afrobeat Orchestra "Blossom" at Club Congress. DJQ hosts... Led by Robert "Kool" Bell's sinisterly wicked bass riffs, their brass-laden sound has summoned legions to the dancefloor. Get schooled. Old skool with Kool and the Gang at Desert Diamond Center... Powerful and soul-tinged, Miss Olivia and the Interlopers explore shades of blue in the tasting room at Sand-Reckoner... Tiki Boots serenade at Westbound... In Arizona, "one person dies by suicide every seven hours." Join Blue Collar Criminals, Cash Lansky, Douuble You and Waysted Youth help raise awareness and funds at Thrash Therapy: AFSP Suicide Prevention Show at House of Bards...
Saturday, Sept. 15
Putting petty sibling bickering aside, staving off "World War III in the studio," the Reid brothers release Damage and Joy, their first album in 19 years. The fizzy single "Always Sad" is an intramuscular injection of bubblegum pop. Catch The Jesus and Mary Chain at The Rialto Theater... Sin and debauchery. You in? Then this fundraiser is for you. The Satanic Temple Presents: Equality Gone Too Far featuring Taco Sauce, Hell Follows, Darkest Desires and Saalythic. At The Rock... Longtime host of KXCI's Arizona Trails, Eb Eberlein, hosts Camp Cookin' with musical guests at Saint Charles Tavern... Celebrating the release of Black Heart 3, hip-hop/R&B artist EZ Goin' is hosting a fundraising event to benefit GAP Ministries: Black Heart Charity Show featuring Vinney Mendez, Jaca Zulu, Kings Over Squares, Street Blues Family, Y Not/Funk Row and Tommy Will at 191 Toole... They're all about "keeping the dancefloor full." Little House of Funk at Monterey Court... Seven years deep, The Annual Tucson Hip-Hop Unity BBQ & Car Show—with performances by Séamus Hennessy, Vinney Mendez, Benny Loc, Chachi, Teknik and more—happens at Reid Park ramada #10... An intimate evening of storytelling awaits with Katie Haverly & Ben Nisbet in the listening room at Exo Roast Co... "It's gonna be fire." Flam Chen launches its 2018 Fall season with Cannibal Cabaret. DJ Capt. Stranj spins beats from around the world. At Mercado San Agustin Annex... Downtown Radio KTDT 99.1 FM celebrates its third anniversary with an afterhours bash and fundraiser. Downtown Radio DJs spin at Rocco's Little Chicago Pizzeria...
Sunday, Sept. 16
Melissa Etheridge will be at The Fox Theatre fêteing the 25th anniversary of Yes I Am, her critically acclaimed fourth album... Hear the sounds of Motown at Monterey Court with Jacques Taylor & The Real Deal featuring Meka Love... "We're just three dudes trying to make you laugh, cry, and maybe even throw up a lil'." From the great white north, uh, Flagstaff, Egg Princess, Cereal Milk and Tiny Bird along with Tucson's TWGS rock at Cans Deli... In 1988, when glam and metal came careening into each other hard and fast, L.A.'s BulletBoys scored a hit with "Smooth Up In Ya." At House of Bards with hair metal mavens Enuff Z' Nuff and Pump5...
Monday, Sept. 17
Inspired by the mathematical constructions of artist M.C. Escher, Phoenix progressive jazz collective House of Stairs celebrate the release of Autopilot. With the lo-fi/chillhop/study beats of Mesquite. At Club Congress...
Tuesday, Sept. 18
Only The Xclusives. Shoreline Mafia get "Heavy" at The Rock... "Shadows" finds guest Debbie Harry and Samuel T. Herring drawing an analogy of their faltering relationship and the creeping shadows on the wall. Electro-popsters Future Islands perform The Far Field at The Rialto Theater. With Ed Schrader's Music Beat... In the mid-'90s, these alt-rockers registered megaquakes on the Richter scale with "Kryptonite" and "Shine," respectively. 3 Doors Down and Collective Soul at AVA Amphitheater... Divy, Demonyms and Quaker Folk bring noise to Cans Deli... Slam poet, sex-educator and co-creator of Speak Like a Girl Olivia Gatwood breaks down barriers at 191 Toole. With R&B/soul singer Joaquina Mertz...
Wednesday, Sept. 19
After wading deep in Americana with Band of Joy, rock icon Robert Plant and the Sensational Space Shifters turns to blues and world music at Centennial Hall... Mr. Free & The Satellite Freakout (70's krautrock sans impulse control), Shooda Shook It (avant funk/no-wave), Whispering Wires ("slob rock"/punk) and Tight Fright (punk/metal with a Flavor Flav twist) cut loose at Cans Deli... Febbo, Fuentes & McCammond entertain at Tap + Bottle North...
Thursday, Sept. 20
Owing a debt to the sludge of Black Sabbath and the stoner rock of Queens of the Stone Age, Wolfmother reign Victorious at The Rialto Theater. With Denver blues metalists Love Gang... Down for all-ages mayhem? Indianapolis pop punks Amuse like to "party, play fast and sing like your little sister." With Annie Jump Cannon, Cement Shoes and In Lessons at Spark Project Collective... Their piano driven oeuvre touches on soul, Americana, jazz, blues, western. Jillian and the Giants are at Tap + Bottle Downtown... On tour supporting Homestead, Seattle's Witch Ripper (heavy prog-metal), Wrought (death metal), Napalm Strike (thrash) and Kryge (experimental doom) bridge hell and Earth at Cans Deli... With note-for-note perfection, The Australian Pink Floyd Show presents Time: 30 Years of Celebrating Pink Floyd at The Fox Theatre... The Jacob Acosta Band are featured in the songwriter showcase at Monterey Court... Sacramento indie rockers Honyock are out in support of El Castillo, their debut EP. With The Elegant Rabies and Juju Fontaine at Sky Bar... Born in the Netherlands, based in Spain, international dubstep artist Mischa Reining (aka Spag Heddy) says, "I'm crazy excited about touring America." Gentle Ben's is the site for Goldrush Expeditions: Spag Heddy. With support by Mr Andrsn, Housekneckt and CRISHXN... Whether it's conveyed in his dark spun reggae, horn infused ska or punk-tinged rock. Mike Pinto tells "Truthful Lies" at 191 Toole. With Rilen Out!...
Shout Out...
On the heels of his move to Los Angeles, Lando Chill releases "Dah Vapor." Chill's latest single from his upcoming third album, Black Ego, set to drop Oct 12. Take a puff: soundcloud.com/lando_chill
Hot Wax
With a doe-like spirit and a keen eye set on self-examination, from New York City to the backroads of America, chronicling stories of both deep loss and contentment, June West's self-titled debut album is a reflecting pool of her life.
"The release of this album is a big milestone for me as a human trying to find my purpose," West says. "The greatest lesson has been about how people across communities are generously willing to step up and help me realize my ideas because they believe in what I do." Which serves as fuel for West to persist through the challenges of being an artist.
Drawing influence equally from the present day (artists like Natalie Prass and Angel Olsen) and the past (godmothers Joni Mitchell and Rickie Lee Jones who helped pave the way), West is a practitioner in flux. "The newer songs have been more deliberately evocative of soul and R&B, which has always resonated with me."
Upon entrance, delicate and dreamlike, partially hidden from view, June West is an album that reveals its secret gardens with each listen. Here are a few highlights.
On the opening track, "Island of Women," West questions what it means to be a woman in America. "This is what it feels like to be a woman in a man's world. It's like being on a pristine beach. And getting your heartbroken by a sunset. It's like Donald Trump becoming president. It's like exploitation of the Earth. It's like being on the Island of Women."
Drenched in R&B, thick and unhurried treacle, "The Comedown" is delivered like balm. Julian Neel's Wurlitzer electric piano runs interweave magically with West's sweet supplications and Lori LeChien's backing vocals. But its Grant Beyschau's saxophone lines that leave an unexpected waft of David Bowie's solo on "Sweet Thing" lingering in the air.
On "Game To Claim" West earns the dub "Sonoran Seoul Queen." Her smoky voice marries at the crossroads with Adan Martinez-Kee's restrained backbeat, with a funky rhythm guitar track from Connor Gallaher that intersects country, rock and soul. A sound reminiscent of the hybridization that brought Muscle Shoals renown. Google "Game To Claim" on YouTube.
Lush and dreamy, with Gallaher's lilting pedal steel slides and West's piano flourishes, "Green World" is an ode to Mother Earth. "When we say the word 'love,' the highest expression, as defined by German social psychologist Erich Fromm, takes the shape of 'motherly love,'" West says. "There is something about touching the beauty of nature that evokes the profound glory of what it means to be alive."
As for the future, West says, "I've been learning how to make beats and expanding my dance and movement practice. I want to continue collaborating with artists who inspire me. I have a lot more music to share with the world."
June West celebrates the release of her self-titled debut at Exo Roast Co., on Thursday, Sept. 13.