Thursday, Aug. 23
Desert rocker
Rich Hopkins
and the Luminarios
are at Tap + Bottle Downtown...
Friday, Aug. 24
A Jazz Trio: Amor, Lund & Rodriguez are in the listening room at Exo Roast Co... "The truth is, the world is on fire/And I can do nothing to keep us safe/The most that I can offer/Is to burn by your side." Rival Shapes (indie/chill) spontaneously combust with Broken Girls From Affluent Backgrounds (Phoenix, alt/indie) at Club Congress... On "Washed (An Interlude to My Sanity)," Andy Chaves faces addiction, "Now I'm gone, I don't know when to stop/I'm so lost, I'm just feeling washed.../I wanna feel good but I just feel fake." Tempe's Katastro "Flow" at 191 Toole. With Tyrone's Jacket and Aloha Radio... Natasha Noir presents Stay The Night Burlesque. Featuring: Stormy Leigh, Bunny Boom Boom, Pisa Cake, Nikki Riot, Dahlia de la Nuit, Lela Rose, Divina Moorephina, Natasha Noir, Luna Lovebutton, Peppermint Schnapps y mas. At Cans Deli... Jacob Acosta Band is at Harbottle Brewing Co... During the mid 1980s, this singer scored five No. 1 singles on the Billboard Hot Country Songs charts, including: "I'll Never Stop Loving You," Leave Me Lonely" and "Baby Bye Bye." Gary Morris croons at The Rialto Theater. With Lisa Morales from the painted desert skies of Tucson...

Saturday, Aug. 25
Since leaving Mexico City in 1999 for Ireland, classical guitar virtuosos Rodrigo y Gabriela have established themselves as a preeminent acoustic/instrumental act worldwide. At The Rialto Theater on Saturday, Aug 25, with country singer-songwriter Robert Ellis... Folding together Americana, country, folk and blues, this singer-songwriter creates music made for singing on porches. Lisa O'Neill accompanied by Lana Rebel and Kevin Mayfield are at Exo Roast Co... Poetry? Yes. Poets Raquel Salas Rivera and Sophia Terazawa read at The Royal Room. DJQ spins... Joyce Luna with guests Wally Lawder, Anne English and I Hear Voices perform "Songs of Resistance, Protest, Hope & Community" at Congregation Chaverim... Years in the making, cow punkers the Hickoids return to Club Congress with homies the Pork Torta. Wear a safety helmet... 3113 Art Collective is the site for Project Atlas. EDM artist Jace Mek tops the bill. With DJs Jentle, Cat Child, Carlos LeCoq, Kami, H.R. Guerin... Borderlands Brewing hosts Tucson Kitchen Musicians Annual Membership Kick Off. TKMA musicians will perform... "Wiz In A Hat?" From San Pedro, folk punk Jason Paul with Tucson's Jeff Lownsbury and Lenguas Largas play sets at Saint Charles Tavern... These Celtic rockers songs—"Caroline" and "(I Don't Think I'll) Love Anymore"—have been featured on biker noir series Sons of Anarchy. Sinners and Saints, the Young Dubliners wrestle with moral dualism at 191 Toole. With Leigh Lesho, who'll perform material from her sophomore album Akasha...

Sunday, Aug. 26
"Naughty Farmer" Flynt Flossy & Turquoise Jeep "Drop It Low Like a Discount" at 191 Toole. With Yung Davon... The slightest vibrations released into the air as waves that reach our ears set the margin that separates music from noise. Experience musicality and dissonance crashing gloriously together with Zachary Reid (ambient/drone), Ijustsawyoudie (noise/industrial), Black Cube Angel (ambient/noise) and Quaker Folk (folk/noise) at Cans Deli... Miss Olivia and the Interlopers perform under the full moon at The Metal Arts Village. Oh, and there's beer (Tucson Hop Shop is adjacent)... Comedians Steve Martin and Martin Short cut up at the Tucson Convention Center. Joining Martin is Grammy-winning bluegrass band Steep Canyon Rangers...
Monday, Aug. 27

From Gadsden, Alabama, Michael Wayne Atha adds a little Southern drawl to his hip-hop. Yelawolf with Waylon & Willie at The Rialto Theater...
Tuesday, Aug. 28

In 1989, before being signed to a record label, this German guitarist's debut album, Marita: Shadows and Storms, was recorded in a shack beside a gravel pit on old analog equipment for under $3,000. It grew to be the best-selling instrumental acoustic guitar album of all time. An Evening with Ottmar Liebert & Luna Negra brings Nouveau Flamenco to The Rialto Theater... Bonding atoms together. Carbon Canyon (experimental/instrumental/post-rock), Bandeye and The Tortilla Factory at Cans Deli...
Wednesday, Aug. 29

"A Juvenile Product of the Working Class," Swingin' Utters bring their "Windspitting Punk" to 191 Toole. With The Endless Pursuit, Border Town Devils and Lost In Society... Like a dream: Natalie Pohanic (folk songstress) charms at Public Brewhouse... Country bluesman Christopher T. Stevens wails at Tap + Bottle North... Their sound lies somewhere between Foals and Grizzly Bear. This band was touted by someone other than me as "Being on the verge of greatness." Decide for yourself when Los Angeles' "Whiskey Kings" Mammoth Indigo plant "Flowers in the Basement" at Monterey Court. With Feverfew... A Tucson institution, Bad News Blues Band get way down low at Chicago Bar... As shifting winds bring moist air from the Gulf of Mexico and the frenetic mating call of cicadas resounds during the monsoon, it can signify only one thing. It's time for HoCo Fest. This annual boutique festival in the heart of downtown (kicking off tonight and running through Sunday, Sept. 2) is a celebration of everything that makes life in the borderlands unique. This year's lineup reflects the vanguard of music today: Andrew W.K., Lil B, Dean Blunt, Bad Girl, Topaz Jones, Destruction Unit, Mexican Institute of Sound, Spirit Adrift, Orkesta Mendoza, Black Marble, Robyn Hitchcock, Boy Harsher, The Dream Syndicate, Giant Sand, S.H.I.T. y un chingo mas. See www.hocofest.com for all the details...
Thursday, Aug. 30


His distinctive production style has led to remixes for Diplo and Skrillex. From the South of France, Habstrakt drops dubstep at Gentle Ben's. With support from Sirenz, Chochos, HVRLY and DJ Ramrod... If noirish folk and glittering glam—presented with a theatricality that on occasion includes the protagonist donning a vampire cape, pale makeup and silky white gloves—holds intrigue. Scott Yoder After Party will introduce you to the "Ways of Love" at Owls Club... Something for everyone. All-ages punk show at Spark Project Collective. Fuck yeah. Featuring: Skull Drug (Phoenix), Terminally Ill (California), Noogy (Texas), Pigmy Death Ray and Sucker for the Sour... At The Coronet, Kyklo (acoustic/world) entertain on the patio... An extravaganza awaits. YOU. (Detroit, post-punk/synth), New Men (L.A., post-punk/frightmare), Charmaine's Names (L.A., noise), The Frecks (surf punk/garage), Texas Trash & The Trainwrecks (trailer park punk/rock), Hiroshima DeFx (punk), Snackbirdy (dance/lo-fi electronic) with DJs Cruelchi + Chachi At Cans Deli... Chill. Wooden Tooth DJs spin vinyl at Che's Lounge...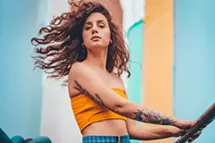 On The Horizon
Olivia Gatwood | slam poet, sex educator and former member and co-creator of interactive poetry show Speak Like a Girl's Olivia Gatwood will break down barriers at 191 Toole on Tuesday, Sept. 18. XOXO caught up with Gatwood for a brief Q&A.
What projects have you excited?
I'm currently working on my biggest project to date—a full-length collection of poems (the title of which is in the process of changing) with The Dial Press/Random House, .which will be out next fall. I've also got an audio book coming out of my chapbook, New American Best Friend, with Button Poetry. We collaborated with a team of musicians to back my poems.
Your poetry pulls no punches. What is the source of your inspiration?
My answer for this question always used to be "rage." I don't really write from that place anymore and I've had trouble articulating why. But I recently heard the poet Safia Elhillo talk about her inspiration. Essentially she said that writing from a place of sadness (or rage in my case) isn't sustainable. Now, I write with the desire to figure out a poem, to crack the code. I want to ask questions and answer them. I want to have fun.
Do you feel hopeful or pessimistic about the direction America is taking?
I don't know that I feel either. But I'm sure someone reading this will most readily say I'm pessimistic. I guess I don't really feel like America is moving in a different direction, I think America is living into its known history and values in a way that is maybe more explicit to some people now under this administration. This country was founded on genocide, built on violent exploitation and forced labor, and has continued to be upheld by white supremacy since then. Trump and his supporters are not a subculture. They vocalize a lot of what America, as an entity, already stands for. That being said, I do feel hopeful and inspired by the many organizers, artists, teachers, etc. who are working tirelessly around the clock to resist oppressive structures. I am hopeful for poetry and literature. I'm hopeful that myself and the people I love can try to build a small world in which the kids we eventually have will feel safe, and learn to contribute to their communities with compassion and empathy.
What can we expect to see at your performance on 9/18?
We've got Joaquina Mertz opening up the show. Her voice is like honey bourbon in human form. I'll be doing some poems that people might know from the internet, as well as new work from my upcoming book. And maybe Joaquina and I will collaborate.
Until next week, XOXO...