Thursday, July 26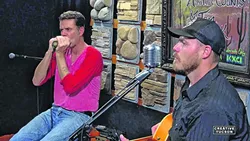 Like a pair of ice cold beer bottles clacking together in a cooler on a scorching summer day, the blues music of
Austin Counts
and
Tom Walbank
exists in a state of suspended harmony. At Tap + Bottle Downtown... The
Sugar Stains
daisy chain with
DJ B-Rad
and
Tucson Libertine League
burlesque troupe. What else could possibly be hotter on a late July night? With performances by
Les Femmes Merveilleuses
,
Hi Polish Floor Show
,
Kitty Catatonic
,
Rambo Rose
,
Lacy O'Cean
,
Fiametta Mink
,
Ms. Midnight
,
Jaime J. Soto
and
Lola Torch
. At Cans Deli... Singer-songwriter
Joe Peña
is in the bar at Agustin Kitchen... Wooden Tooth Records' last Thursday of the month residency continues. With guest
DJ Spice Melange
(aka Dimitri Manos) spinning vinyl at Che's Lounge... This indie rock/psych/EDM duo's new single, "American Kids," was produced by Sylvia Massy (Tool, Red Hot Chili Peppers, Johnny Cash). Known for their passionate live performances, catch
War Twins
at Sky Bar. With
The Time Being
...
Friday, July 27

Featuring headliners Boombox Cartel and special guests Barely Alive, YehMe2 and Bailo, it's TRAPFEST. At The Rialto Theater... Resident DJs spin bass and house for Starsmangled Bangerz & Mash at Zen Rock... Timeless rockabilly, country and rock 'n' roll with Al Foul Trio in the courtyard at Mercado San Agustin... Proffering "A Conscious End to Suffering," Phoenix's Sons of Providence (gothic/prog metal) return to Surly Wench Pub. With locals Dead Man Dom (industrial/rock) and Fire By Rank (rock/metal)... Country rocker Caiden Brewer shimmies and sways at The Wreck... Amo "Chip" Dabney has a penchant for dabbling in an enormity of musical genres. The AmoSphere at Monterey Court...
Eric Schaffer & The Other Troublemakers (folk rock) behave badly at The Parish... The Occult Collective presents a night of future forward bass music culture. Moon Bass at Sky Bar... The inimitable snap of an upright bass. The shuffle of a deft trapsman skipping a brush across a snare drum. And, the mellifluous guitar chording and comping that comprise the melody. Naim Amor, Thøger Lund and Kai Felix play jazz classics at Exo Roast Co... Hip-hop. The roast of Sui Blue, Yours Truly and Bakarie at Cans Deli... DJ Butta Fly spins '70s soft rock classics. Yacht Rock at La Cocina. Be sure to wear your Gilligan's Island skipper's hat and Tommy Bahama shirt...
Saturday, July 28
The otherwise tranquil listening room at Exo Roast Co. will transmute into a salón de baile when Pedro y Los Liricos descargen una carga de cumbia, ranchera, norteño y musica romántica. "Tables will be removed for dancing. Sawdust optional. Mezcal mandatory..." After a hiatus, chanteuse Louise Le Hir ("French psych pop influenced Americana") is back. With The Rifle (creamy, dreamy indie rock), Crystal Radio (haunted western soundtrack) and Brittany Dawn (from Katterwaul). At Cans Deli... Heavy metal has a pleasurably sordid affair with mariachi music? Lots of tequila was surely involved. Covering metal classics, Metalachi ride the "Crazy Train" into Club Congress... Bring your holy water aspergillum... Led by Nina DiGiorgio, this modern violin quartet transform the music of Metallica, Led Zeppelin, AC-DC, The Beatles and more into something uniquely their own. Femmes Of Rock dazzle at The Fox Theatre... Natty & The Sunset play dreamy indie folk and nostalgic covers at Mercado San Agustin... Experience pan-African sounds with Key Ingredients of African Soul at Monterey Court. Proceeds to benefit Veterans for Peace scholarship fund to send local youth on internships aboard the sailing ship, Golden Rule... Newgrass. Is that legal? The Dust Devils create original bluegrass music at Borderlands Brewing Company... The Stories We Tell Ourselves (Eleven-Seven Music, 2017) received a Grammy nomination for Best Rock Album, and its single "Go to War" topped the Billboard charts and, also, was nominated for Best Rock Performance and Best Rock Song. Few other bands have received such distinction. Singer Jonny Hawkins told his bandmates, "We're standing on the shoulders of giants." Nothing More. At The Rialto Theater with Bad Wolves and Eyes Set To Kill... Dance: 3113 Art Collective is the site for Project Atlas: Summer Sessions. DJs spinning: Chris Miranda, Jacob Ladder, Muskrat, Kami, H.R. Guerin and Justin Silva...
Sunday, July 29
Breakfast Clubbers! There is a thread that binds. Here are the clues. "Heaven is a Place on Earth." "Poison Arrow." "I'll Melt With You." "All The Love In The World." "Too Shy." "I Want Candy." This '80s mega-tour features Belinda Carlisle, ABC, Modern English, Tony Lewis (The Outfield), Kajagoogoo's Limahl and Bow Wow Wow's Annabella. Catch the Retro Futura Tour at AVA Amphitheater... Travel through the mythic forests and dark moors with Suicide Forest (black metal), Shadows of Algol and Swarm of Serpents. At Cans Deli...
Monday, July 30
Garage/surf rockers The Shivas (Portland), The Elegant Rabies (dreamy, dark psychedelic), Dirt Friends (indie/garage) and Feverfew ("fuzzy guitars, monotone vocals") worship and spread infectious disease at Cans Deli...
Wednesday, Aug 1
This Chicago quintet tosses cumbia, Latin jazz, cabaret and punk rock into a blender with a couple scoops of ice. Chill with Dos Santos. And, DJ Dirtyverbs spins at Cans Deli... Pop songstress Belinda Esquer is at Tap + Bottle North... Sweetly sophisticated jazz swirling with R&B and hip-hop. Continuing their Wednesday night residency, Street Blues Family is at Club Congress... Nihilism personified; On "Sick Shit" singer/guitarist William Keegan confesses, "My heart is lost/These things mean nothing to me/My dick is soft/These things mean nothing to me." SoCal garage punks, known for their brash, booze addled shows, Together Pangea at 191 Toole...
Thursday, Aug 2
By remaining a duo, Victoria Legrand (vocalist/keyboardist) and guitarist Alex Scally continue to challenge themselves. "This has been such a fulfilling experience...with two people, it's so much easier to achieve things that feel exciting and new," Legrand says. These dream popper's sound is velvety, ethereal and blurred with indistinction. Like on "Dark Spring," off of 7. "Dark red light years/Brought near/Cold gone glowing/Night sing/Star death ringing/Brought fear." Beach House will "Bloom" at The Rialto Theater. With genre bending Ed Schrader's Music Beat... Spektrum is DJ Plastic Disease and a rotating cast of resident DJs spinning music from the modern, dark, underground at R Bar... Bringing "Sunlight" to the back of your head, Phoenix's Emby Alexander (baroque pop), Adara Rae & The Homewreckers (bluesy pop rock), Hannah Yeun (witchy tunes with a '60s vibe) are at Cans Deli...
IN THE FLESH...
The Psychedelic Furs
At The Rialto Theater
Tuesday, July 17
The Psychedelic Furs emerged onto the London scene in 1977, far too melodic to be punk. Produced by Steve Lillywhite (U2, Peter Gabriel), their debut, The Psychedelic Furs (19800, was awash with dissonant guitars, brash outbursts of saxophone and Richard Butler's snide growl. The LP became a top 20 hit in the UK. Then, with the advent of MTV in 1981, a more poetic second album Talk Talk Talk (Columbia), lush videos directed by Tim Pope, The Furs trajectory was set.
The Psychedelic Furs played to a rabid audience of approximately 700 at The Rialto Theater on Tuesday, July 17. Here are some highlights.
After long minutes of soundchecks and roadies tweaking gadgetry, keyboardist Amanda Kramer fingered the stately intro to "Dumb Waiters" as the band came to life. Enter Richard Butler wearing shades. Sounding somewhat like Johnny Lydon, Butler sang, "Gimme all your paper, mah/So I can get a gun/She has got it in for me/Yeah, I mean it honestly."
Next, Paul Garisto, a session drummer since the age of 17, pistoned the beat like a locomotive on "Into You Like A Train." Racing, the band hit full stride. Ever charismatic, Butler worked the stage like a Shakespearean thespian who has played the same role countless times—hands on hips, crouching down catlike, arms outstretched grasping for something unseen. His signature moves still strike a chord with the audience.
The show culminated with "Heaven," the first single from Mirror Moves (1984). "There's too many kings/Want to hold you down/And a world at the window/Gone underground/There's a hole in the sky/Where the sun don't shine/And a clock on the wall/And it counts my time." Entering the coda, Good soloed tastefully as Butler blew two-handed kisses into the audience, receiving a few back, before exiting the stage.
Feeling goodwill in the air, The Psychedelic Furs returned for three encores: "India," "Forever Now" and "Pretty in Pink." Originally released in 1981, "Pretty in Pink" inspired John Hughes' 1986 film of the same name and became a pop anthem for outsider teenagers everywhere, despite Richard Butler's intent. "John Hughes' was such a horrible take on that story," he says. "So Hollywood. I liked that it could mean someone could be pretty when she was naked, or it could mean something else." Nonetheless, the crowd roared. A familiar joy spread. Enthusiasts danced. Even this nostalgic writer was not insusceptible to the candy-coated melody, despite Butler's razor throated delivery, and bopped to the end.
And, so it was.
ON THE HORIZON...
A cross between Mississippi Fred McDowell and the Staple Singers, master of Mississippi hill country blues Reed Turchi & His Kudzu Choir search for "Just A Little More Faith" at Monterey Court , on Sunday, Aug. 5... Also, on Sunday, Aug. 5, this cocksure R&B singer assures the object of his desire, "Who can do it like me?/Nobody baby." Keith Sweat delivers on promises at AVA Amphitheater. With the "Funky Divas" En Vogue. Things could get hot... On "Loco," this Oakland quartet search for hope, of wanting to be "a father, not a hooligan." Singer/emcee Deuce Eclipse spits, "Zombies in the street walkin' like they soulless.../It's enough to drive a motherfucker loco." Bang Data with local badasses, activist DJ collective Ojalá Systems and Sonido El Tambo at Club Congress on Tuesday, Aug. 7... On Saturday, Aug. 11, Rock 102.1 KFMA promises a colossal pool party, without the sand between your toes. Sundown: Featuring Roger Clyne & The Peacemakers, The Black Moods, The Pistoleros and Sand Rubies. At Casino del Sol. With acoustic "hangover" sets, by the same acts, the following afternoon on Sunday, Aug. 12 in the Paradiso Lounge...
Until next week, XOXO...