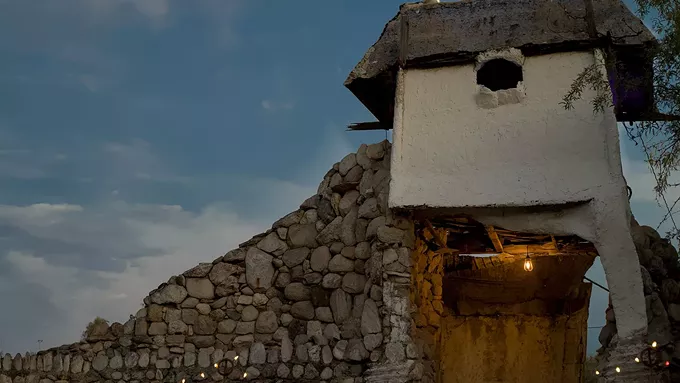 Valley of the Moon is a historical fairyland garden park in Tucson that promotes ideals such as kindness and imagination. This year, it is celebrating its 100th anniversary with a special show dedicated to its creator, George Phar Legler.
Its show, "Legler's Legacy," will run from Friday, Oct. 6, to Monday, Oct. 30. Performances are held Fridays to Sundays, except for Oct. 30.
During the production, a forgotten chest from Legler is discovered, and audiences are taken on a journey to find out what he left behind.
The history of Valley of the Moon is shared through magical creatures such as witches and fairies that exist in the garden.
Director Travis Deyoe said Valley of the Moon offers an immersive experience where there is no "fourth wall," and viewers have a chance to get up close to the characters.
"You walk in. You sit at the front benches, and then a character of some sort — we call them tour guides — comes up, and you generally start your story there at the front benches," Deyoe said.
"Then, you get up and walk with them through Valley of the Moon. Each scene is in a different location in the historical park. You get to travel through all of these amazing pieces of construction that were made by George Phar Legler 100 years ago."
The production will showcase different areas of the park, including the caves.
"Each scene is in a different location. Toward the back of Valley of the Moon, everything is closer and windier," Deyoe said.
"There is some verticality as well, even a cave system. You can get really turned around and get lost within the story."
Multiple casts portray the characters.
"If you come multiple times, you will get the same story but different renditions of it," Deyoe said.
Deyoe started with Valley of the Moon in 2006 as a 14-year-old actor volunteer. He had been to the space with his mother when he was younger.
He said many volunteers start working with the organization at young ages.
"We certainly have volunteers and actors who have been with Valley of the Moon almost since birth, and their parents were part of Valley of the Moon beforehand," Deyoe said.
The volunteers' experience varies.
"I myself had never done theater before, and now I can say I've been doing it for over a decade, but it's only pretty much been at Valley," Deyoe said.
"That's been my escape. When you go to a normal theater as an actor, you go to a casting call. You do an audition, and you hope to hear back that you've gotten a part. At Valley of the Moon, anyone who comes and wants to participate is given a role within the show."
Volunteers range in age from 5 to 70. Deyoe said for many actors it is a place where they can escape and be themselves.
Performers often have a chance to play a wide variety of roles. Over the years, Deyoe has portrayed characters such as a kooky wizard, an insane doctor, a fortune teller, a pirate and a potion seller.
In the Valley of the Moon universe, there are canonical characters that appear, including Zogog the Wizard, Queen Astara and Dr. Hacknchop.
"At least in my head, I like knowing that what happened in a show five years ago, that was a real thing that happened to these characters at Valley of the Moon. It's part of their history, kind of like a backstory for a 'D&D' character," Deyoe said.
During past shows, attendees have dressed up in Power Rangers, Iron Man, witch and fairy costumes.
Deyoe said guests are encouraged to dress up and may even have special interactions with cast members.
"If you're dressed as a fairy or a gnome, we have those in the story. There might be an interaction. As you are walking out of a scene, Astara says, 'Fly swiftly, young fairy,'" Deyoe said.
At Valley of the Moon, volunteers can be involved in different ways, including acting in shows, helping with restoration projects and helping behind the scenes with lights and sound.
The organization offers a place where volunteers with similar interests come together and form a community.
"People fall in love with not only being part of the shows but the community that surrounds them," Deyoe said.
Although the space has changed over the years, the overall values and mission have remained the same.
Valley of the Moon was established as a nonprofit in 1945. Legler's goal was to foster religious tolerance and offer a place where people from various backgrounds could come together.
"As far as I understand from his history, he was always a performer. He always wanted to entertain, to spark people's wonder, especially children. If you spark a child's wonder, that will continue on through the rest of their life. He constructed Valley of the Moon to be a place he could spark that wonder," Deyoe said.
Legler, who had also worked as a railroad man and postal clerk, built the fairyland from 1923 to 1932.
He often performed in shows and developed his own character known as the Mountain Gnome.
Volunteers have worked on upkeep and restoration of the garden, especially original areas created by Legler. There have also been additional elements added over the years.
Along with productions, Valley of the Moon is open to the public during the first Saturday of each month and the third Sunday for docent-led tours.
The organization often puts on original productions or its take on classical fairytales or other stories, such as "The Princess Bride," "Sleepy Hollow," "Young Frankenstein" or "Peter Pan."
"They are generally original shows. We're not just copying and pasting something from somewhere else. Even our shows like 'Peter Pan' are written by people at Valley of the Moon for the uniqueness of how Valley of the Moon does our shows," Deyoe said.
Valley of the Moon's Production of "Legler's Legacy"
WHEN: Various times Fridays to Sundays, Oct. 6 to Oct. 29, with an additional night on Monday, Oct. 30. ASL night Oct. 15
WHERE: Valley of the Moon, 2544 E. Allen Road, Tucson
COST: $10 for adults, $5 for youth, members and children 7 and younger free
INFO: 520-323-1331,
tucsonvalleyofthemoon.com