We have the space! We have the gumption! And now we have the glorious dining auditorium and market we've been hungry for!
When word got out that a multiple-choice mess hall was opening in the south side, many a food junkie local perked up and exclaimed "Finally!" The American Eat Co. has been a long time coming, but it is only the first in a string of food-court/market concepts that are popping up in various neighborhoods across Tucson. Backed by the Common Group and overseen by contractors Jesus Bonillas and Guillermo Gallegos, the converted 8,000-square-foot space that used to be the American Meat Co. (which shut down in 2015) is now an awesome haven of head-spinning culinary varieties.
If you haven't been there yet, let me take you on a play-by-play tour from the few times that I have visited. Just know this: It is usually, if not always, busy and packed with customers. In fact, the management and vendors had to take a short break after the opening weekend mania. Some criticized the brief closure but, in their defense, no one imagined such an enthusiastic immediate response. So big numbers had to be accounted for and some initial expectations had to be recalibrated.
As you walk in, you're immediately bombarded with a flutter of faces all swirling among the neon banners. There's a clash of cooking smells. Tables are jammed with patrons enjoying a cross-section of cultures on plates. There's something for everyone here. The enduring popularity of poke is carried on by the kookily named Dumb Fish; for $9, you get a generous bowl of salmon, avocado, crispy jalapeño strips and red bell peppers finished with a habañero lemon cream sauce. They also serve tuna poke tacos ($9.50 for 3) and lobster puffs ($6) with cream cheese and green onions, wrapped in wonton skins and then deep fried.
Next door is a taqueria of sorts called Avenues, which reminds me of taco stands found in East L.A. They fill their hand-made tortillas with a variety of proteins and fresh ingredient. Try the nachos ($6 each) because both options are totally vegetarian and piled high with Chicano hood goodness.
Meat lovers will want to sample AZ Rib House, serving up sticky and spicy racks of southern-inspired barbeque along with wings and a really addictive mac 'n' cheese. Please order the elote lollipop ($3). For those that don't know what elote is (you live in Tucson—how could you not?), it is grilled corn on the cob that's slathered in a spicy mayo sauce and doused with crumbly cheese. Might sound odd, but it is sort of life changing.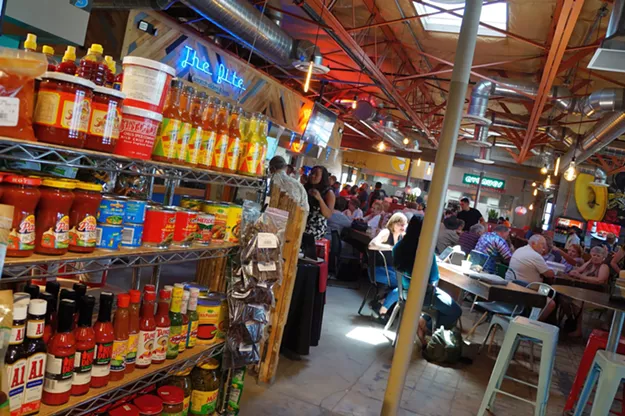 Opa shut down its Campbell Avenue restaurant recently but has relocated to a spot in American Eat Co. The salads, the gyros and the Greek platters have remained intact, so if you've been missing them, now you know where to find them. Another Campbell Avenue staple, Upper Crust Pizza, has a smaller sister station to the right of Opa and, yes, they still have that kite-sized slice of pizza lunch special happening. Easily one of the best deals in town.
One of the better new kids on the burger block, The Bite, offer up freshly ground beef sliders that serve as a juicy snack for those who are about to hit the food wall. To keep you going, there is a full bar with locally sourced beers on tap and craft cocktails that don't mess around.
If the beer and booze hit a little too hard, you can grab a coffee or espresso drink at Cafe Con Leche before siding up to their neighbor, Isabella's Ice Cream. You can finish off the whole American Eat Co. experience with one of Isabella's house-made creations, such as lavender vanilla, salted caramel and spicy chocolate in either cup, sundae or sandwich form.
Before you leave, be sure to take home some locally sourced meat from the mini carneceria, which is also stocked with dry goods, spices and specialty snacks.
It's a lot to take in, but all we can say is: Welcome, American Eat Co! And thank you for being a friend.