At the age of 28, married and nine months pregnant, Charity Woodrum followed her passion and return to school to study physics.
Woodrum was thriving at the University of Oregon. By her junior year, she had completed a NASA internship, her family was happy, life seemed perfect.
On Jan. 15, 2017 —what she calls "The Worst Day" — her life changed. As Woodrum, her husband Jayson Thomas, 37, and son Woody Thomas, 3, walked in the sunshine at Boice-Cope State Beach in Oregon, they were hit by a sneaker wave. Charity was the sole survivor.
A new independent documentary, "Space, Hope and Charity," shares her story.
Directed by award-winning journalist Sandy Cummings, the film pieces together Woodrum's journey of resilience and hope, with the help from mentors, friends and strangers. The two were introduced through a mutual friend.
"I think this is a story of hope," Cummings said. "I think hearing Charity's journey is incredibly inspiring and hope that it gives people hope to follow their own dreams and just to be kinder to each other."
For Woodrum, there's deeper meaning.
"It's a way for me to honor my son and husband and to make sure the world never forgets about them," she said.
The film was accepted into and will premiere at the Phoenix Film Festival, which is set for Thursday, March 23, to Sunday, April 2.
"We're doing the festival circuit first and then we hope that broader distribution will come from that," Cummings said. "We don't know exactly yet, but it'll land somewhere. The film will have three screenings during the last weekend including Q&A sessions with Cummings, Woodrum and her mentor from UO and Diana Jenkins, editor of the documentary.
Inspiring story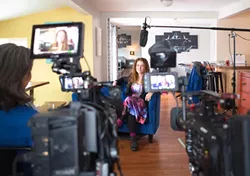 Woodrum had already beaten the odds. She grew up in poverty in Canyonville, Oregon, and was the first in her family to graduate high school.
After a brief stint as a nurse, she returned to school to study space.
In 2018, Woodrum was accepted in the UA's astronomy and astrophysics program. It's a top 10 program worldwide.
"When I lost them, I felt like one way I could continue to honor them was to keep pursuing the dreams that made them proud," Woodrum said. One of her dreams had always been to somehow work with the James Webb Space Telescope.
Woodrum is a doctoral candidate, National Science Foundation graduate research fellow at the Steward Observatory at the UA, and member of NASA's James Webb Space Telescope Near-IR Camera science team and JADES collaboration.
"When I found out she had been accepted to grad school and had moved to Tucson, that just made her story even more inspiring and I felt like it was something that a lot of people would feel a connection to," Cummings said.
They met for tacos in Tucson and started filming in January 2020, before facing pandemic, funding and Oregon wildfire challenges.
"When you're doing an independent project like this, you basically almost have to go out and sell cookies to get your film made," Cummings said.
Those who were involved with the film were committed to the story, though.
"In the end, we were able to get grant funding that gave us a full budget," she said. It allowed them to hire a composer to write original music, too.
There was a positive side to the pandemic.
"I feel like it gave us a chance to get to know each other even better," Cummings said.
"Initially, she was pretty much a stranger to me," Woodrum said. "It would require me to put a lot of trust in her."
Woodrum said she now considers Cummings as one of her best friends after traveling closely together during the past four to five years for filming. They went to the scene of the tragedy and to her hometown.
"I was nervous in front of the camera and realized, it's just Sandy and Tom (Tanquary) back there, and they were my friends," she said. Tanquary was the film's director of photography.
For Woodrum, the idea of returning to the Oregon Coast seemed impossible. After the tragedy, looking at photographs of the ocean sparked panic attacks.
"Eventually I had to face this — my biggest fear — and walk on an Oregon beach again," Woodrum said. "I felt like if I confronted the ocean, I could do anything else."
Woodrum called filming the documentary cathartic and therapeutic. Through the film, with help from the Roundhouse Foundation, she founded Woody's Stars, a fund of the Oregon Community Foundation.
"As a bereaved parent, you're always looking for ways to honor your child in big ways," Woodrum said. "This allows me to do that."
"Space, Hope and Charity"
spacehopecharityfilm.com

Woody's Stars
woodysstars.org

Phoenix Film Festival
phoenixfilmfestival.com