Offering a flavorful variety of Ethiopian cuisine at Zemam's, the Gebremariam family opened the restaurant's doors in 1993.
At first only housing five tables, the restaurant soon aligned with the vision of founder Amanuel. The restaurateur is now set to open a third concept in August.
Named Z Street, the international marketplace will offer an enhanced gastronomic experience, with a soccer-pub, coffeehouse, food vendor stalls and a communal kitchen. The concept is preparing to expand its footprint in the Sunshine Mile Overlay district in partnership with the Regional Transportation Authority and Rio Nuevo tax increment district.
"We're trying to give people opportunities to share their really good food and bring it to the public with the hope that they ultimately outgrow us," said Lucas Gebremariam, co-owner, manager of Zemam's too! location on Speedway. He's also Amanuel's son.
Lucas and his brother, Noah who co-owns and manages the original Zemam's on Broadway, said that there was a lack of a gathering space that wasn't in the overly saturated Downtown Tucson, Fourth Avenue Area.
When they heard of an opportunity between the city of Tucson and Rio Nuevo, they contacted Fletcher McCusker, chairman of the Rio Nuevo Board of Directors and others.
"We just started getting approval from the city on different permits," Lucas said. While the original Broadway Zemam's is temporarily closed for construction, they are working on local partnerships for the international square. Looking forward to phase two of the Z Street concept, the coffee house will feature a traditional, Ethiopian coffee ceremony.
"They roast the beans right in front of you and take it around to let everybody smell it," Lucas said. Similar to a Turkish coffee, served small and strong, Ethiopian style is complemented with a side of popcorn.
With the intention of a "Mediterranean, Middle Eastern market vibe," as Lucas described it, Z Street seeks to be an inclusive space made by and for the community.
While the story of Zemam's Ethiopian Cuisine began long before the original opening, it has earned its place as a long-time staple in the Tucson gastronomic sphere.
A refugee from Eritrea, Amanuel fled his homeland over 40 years ago with nothing in his pockets. Prior to settling in Tucson, he met his wife, Cindy, through the International Rescue Committee (IRC) in Sudan.
They eventually joined the Peace Corps after moving back and forth between the United States and West Africa, after Favin, Lucas and Noah came along. The family headed southwest from Washington, D.C., living for a time in Sells, and moving into the Sam Hughes neighborhood.
"I remember picking him up (from work) one day, I was in first or second grade and he was like, 'I quit my job today, I'm going to open an Ethiopian restaurant and everybody's going to love it,'" Lucas said. "The city really embraced us."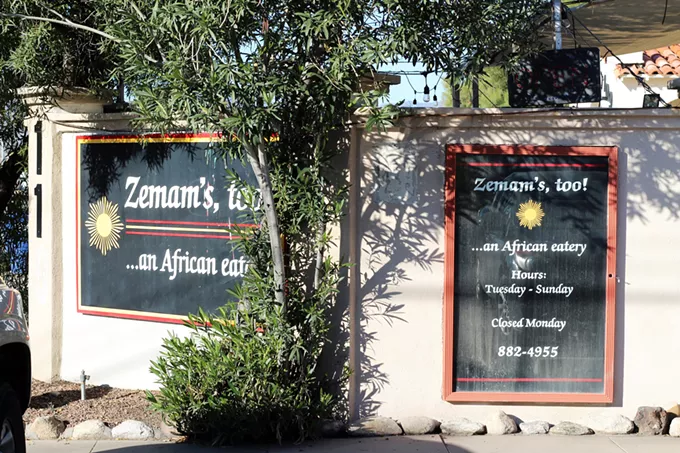 The family owned and operated, small and local business on Speedway, Zemam's, Too! remains in full operation 11 a.m. to 8 p.m. Tuesday to Sunday, and 11 a.m. to 9 p.m. Friday and Saturday. The restaurant is run by a staff of refugees.
The Gebremariams continue to evolve their legacy throughout Tucson. Coupled with seasonally decorated injeras, Zemam's teams with local DJ Herm for their monthly Passport Global Music Dance Party nights, playing a variety of afro soul, funk, reggae and dancehall.
"I wanted to do like an afro funk night, it was something I always talked about," Lucas said. "(DJ Herm) was deadpan like, 'I would do that for you,' so we started it and we've gotten a lot of regulars and people committed to dancing."
Zemam's continues to transcend the local palate.
The vegetarian-friendly menu boasts a variety of dishes, including a sampler platter that has veggie and meat options, starting at $11.75. Other featured favorites are yemisir kay wat — red lentils, sauteed onions and a spicy berbere sauce ($9.25) — and the gomen alicha, with carrots, cabbage and potatoes simmered in a mild turmeric-based sauce ($9.25).
"I tell people there's something wrong with (their) tastebuds if they don't like the red lentils," Lucas said.
DJ Herm presents Passport. A Global Music Dance Party
WHEN: 8 to 11 p.m. once a month, including Thursdays Jan. 19, Feb. 16 and March 23; late-night menu until 10 p.m.
WHERE: Zemam's, Too! 119 E. Speedway Boulevard, Tucson
COST: Free admission
INFO: 520-882-4955, zemamsrestaurants.com