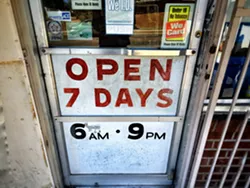 They swing open the glass door and step inside, sometimes in groups, or sometimes solo, and sometimes an hour passes and no one shows at all. There are stoner skateboarders and soon-to-be career drunks procuring St. Ides in the can and ex-cons with teardrop tats holding diapered babies. There are blue-collars pulling up in tool-stuffed pickups, the occasional white-collar driving a hybrid, and sweet-faced elderly folk. There are single moms with perpetual stoops who look older than their years with kids of varying sizes hopping up and down in tow. Over a few hours there are whites, Latinos, blacks, Native Americans, purchasing canned soup, or mac and cheese, or beer, smokes, soda, lottery tickets. Some have spouses, jobs, mortgages or school while others exist on government support. It's an unusual spectacle of classes, cultural diversity that's precise for this part of Tucson, on the eastern edge of the Oak Flower neighborhood at Columbus Boulevard and Flower Street.

Observe long enough and an uncommon sort of social interaction unfolds like in some antiquated neighborhood tavern. The Patels, the Asian-Indian family who run this market could be the open-eared bartenders, greeting these folks by their first names, dispensing humor or listening to personal problems of their patrons with empathetic ears. You'll hear a one middle-aged woman give an update on her long illness and how she's "out of the woods," or a lovely young mother offer a detailed response to a query about her newborn. This isn't exactly the discourse you'll find at, say, a Circle K, or Walmart or on a public bus. It's as if many of these folks visit the Patels for dinner.

One gray-headed woman, Sue Downey, purchasing a Pepsi on her way to a protest of Arizona's fave demagogue, Doug Ducey, has been hitting the Catalina Market for a decade. "It's the community," she says in a way that sounds like PR spin for the neighborhood. But her comment resonates; it's got nothing to do with any religion or ethnicity and everything to do with what it means to be a neighbor in a place where you give a shit about the area you happen to call home.
"I barely know these people," Downey adds, as she's stepping out the door, "but they're family."

Okay, the little Catalina Market, in all its hazy, ramshackle hominess—the hand-scrawled pricetags and faint scent of cooked potatoes and fresh pipe tobacco—is so wonderfully backdated that the glorious Lucky Lager neon sign that still hangs above the tiny parking lot out front doesn't feel out of place, and corporate homogony is only visible on product labels that fill the three coolers or line the store's half-dozen aisles. The market's an anachronism in a world that revolves around shut-in online commerce and impersonal superstore marketing schemes. Ninety-eight percent of their customers, the shopkeepers say, are regulars.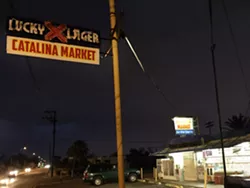 And these shopkeeps, 68-year-old proprietor Jaynti "Jay" Patel, who lives with his wife in the shop's living quarters in the back, and his 46-year-old son Dharnesh "Danny" Patel, converse with each other in a piquant mix of their native Guajarati and English.

Time can tick by sluggishly too, as delivery trucks and customers come and go. But there's no sense of that particular kind of wariness that's shared by many minorities, which is surprising considering the Patels suffer yahoo racists sometimes. That and Jay's brother was murdered here in 2010.

* * * *

Jay's the family patriarch. He was working as a supervisor for the electric company back in his home city of Ahmedabad, the capital of Gujarat, an Indian state on the Arabian Sea, when he left his wife and three kids in 1985 for greener pastures in the United States. Some friends had done the same. Jay's other son, Saimi, says it was tough on his family and his mother when dad left India. "Of course," he says. "But somebody had to do something."

Now the actual "Patel" surname informs Jay's life. It has a long history in Gujarat, where there are roughly 12 million Patels, about 20 percent of the state's population. The name originates from a complex caste structure in which a person's profession and social status was often decided by birth. Over generations, families became known by that status. In short, an early translation of "patel" is record keeper or village chief or landowner. In the mid-'60s (in part thanks to the Immigration and Nationality Act) many Patels left Gujarat and gravitated to motel ownership (and other professions such as health and medicine) in the United States because they were pretty easily for families to operate, and housing was included. The AAHOA (Asian American Hotel Owners Association) reports that Asian-Indians, a high percentage of which are Patels, now own more than 40 percent of all hotels in America.

Jay says he didn't reject his homeland; he wanted something better for his family. He landed stateside with little money and very slight grasp of the English language, first working at a motel in Atlanta, then as a security guard in Los Angeles and later as a partner in a Dunkin Donuts in New York City. He wound up in Tucson in 1996 and soon purchased the Sunland Motel on the fading Miracle Mile, and then the Tiki with one of his two brothers. It took nearly 10 years before his wife could join him. "It was hard work," he says. "That's what it takes."

There's a deep reliance on the family system which includes, Jay says, "no-interest loans" available to Gujarat Patels from a large network of relatives, in-laws and friends. "There's no paper work. There are no contracts. Just verbal agreements, and no one cheats."

Jay says he quickly repaid the $100,000 loaned to him from the network to buy the Sunland Motel. After a few years he sold the motels and purchased the Catalina Market in 1998, and the family soon opened the Catalina Market 2 on Country Club Road. They own both properties free and clear.

Danny, who'd followed dad's footsteps, arrived in the states in '91, worked various jobs, and eventually came to Tucson to help run the market. Seven years ago, Danny purchased Charlie's Drive-In Liquors at Pima Street and Craycroft Road. He now has two teen sons attending the private Gregory School. His eldest is 17, and being courted by several Ivy League schools.
Common Hindu traditions (the Patels are devout followers of a modern sect of Hinduism called Swaminarayan) have survived the family's cultural transitions too. The women do all the cooking, for example—dinners for 12 or more are prepared nightly in the kitchen behind this market—and there are expectations for all of Jay's grandchildren to enter into arranged marriages, just as their parents and grandparents did.

* * * *

Yellowy newspaper obits taped to the walk-in beer cooler show how the Catalina Market has survived a lot more than the opening of a nearby Walmart and Fry's Food Store. Among tributes to deceased customers and a previous shop owner, there's the obit to Jay's brother.

Mahesh "Mark" Patel was behind the register when 25-year-old parolee, Bobby Francisco Lopez, stepped into the market and shot him in the heart. Lopez then took the cash register and ran out. He was tracked down two years later in Mexico, sent back to Arizona and sentenced to life in prison without parole.

"We got the cash register back but not my uncle," Danny says, shaking his head.
David Stewart, a gregarious construction man who specializes in green, sustainable designs, befriended the Patels as a customer here a decade ago. He has accompanied them to their local Hindu temple and has spent time at their dinner table eating home-cooked Indian fare, which is strictly vegetarian. ("I'd be a vegetarian if I ate their food everyday").

Stewart remembers the neighborhood outpouring in the days and weeks after the murder, which shook the neighborhood, and the Patel family, to its core. "The love was everywhere in the neighborhood, and there was an outdoor memorial," he says pointing out across the parking lot.
"It's probably why they didn't just close up the shop and move on."

The shop did close for 10 days after the murder.

"Feeling is in the heart," Jay says, gently touching his chest. "I know my customers. The killer was not from here."

Then there's the racism, which was especially hard after the September 11 attacks, even for a Hindu family from India. Danny says it never really amounts to much more than name-calling.

"I'm not afraid of anything," Jay says, adding that Indian conflicts between Hindu and Islam religions taught him a kind of fearlessness. "I grew up in India. I had a side business in an all-Muslim neighborhood. We don't scare."

Twenty minutes later a woman of about 35 steps up the register. Her eyes are puffy, hair's unkempt, an ugly mood surrounds her. Before any words are spoken, Jay slides a pack of Camel Crush regulars out of it slot from behind the register and places it on the counter. He knows her brand, and he rings it up. He knows a lot about this woman.

"Why are you crying?" Jay asks.

"I'm not really crying," the woman says, not making eye contact.

"No? Is your boyfriend crying?"

"No, he's not crying."

Jay nods his head.

She hands cash over for smokes and Jay pretends to slide the pack into his pocket while doing a subtle two-step dance in place. A big fat grin on his face and he holds her with his gaze.

The woman begins to shake her head. She stands there, and then slowly, reluctantly, after several seconds, a smile finally cracks her mood.