Just another story from America.

The five shirtless boys rushing around the yard in the trailer park, the squirt guns and turtles in a plastic pond, Tonka trucks and gap-toothed grins. The bikes, dust and head-dunking bucket. Tumbling and breathless, it's a sound and feel and appearance of innocence and joy.
Their dad stands off in the shade and considers his odds, forever fixed on making it all work. This dad is 30, looks slightly older, but maybe not as old as he should look. He'll tell you he's no saint, but his streak of honesty runs long as the day. His very presence makes him hard to ignore. He comes off vital somehow; coarse yet shrouded in benevolence. Trusting in how he invites others into his life, he's curious of them—like some Dead fan, if you will, but with short hair and an unyielding air of parental responsibility. It's the latter that makes him unignorable.
I first meet him at a Circle K. A hot day, and he's with two of his boys. He places fountain drinks down on the counter and shakes my hand firmly, with direct eye contact. We have no reason to meet but that I bumped into him by accident. He is Mykel Ashmore.


---
Just another story from America.
Mykel was 7 years old when his dad finally went to prison. A 20-year stretch for molesting Mykel and some others. Much of Mykel's childhood is blotted from his mind because "some of it was too terrifying." Mykel's dad was (and is) repentant. "He'd call me every year from prison and sing me happy birthday."
He also doesn't remember the time when dad was lured to the Four Corners and jumped by mom's then-boyfriend. Mykel was 3 years old and mom kidnapped him to sell him for drugs. She was living down in Texas and it took state cops to extract young Mykel from his mother and put him back with dad.
He finally reunited with his biological mom when he was 19 via social media. He traveled to the Midwest to meet her. It didn't go so well and he landed right back in Phoenix where he'd been living. Where the meth could've sucked his head inside out.

But fuck meth. He's going to be considered and counted when it comes down to it. He's been clean, aside from medicinal weed, since his first-born son, and falling in love with Taya, his wife. That was nearly six years ago. The weed's for the PTSD and ADHD. Any speed, or booze, or pills would not have worked in this context. Not with the boys, not with the wife. Besides, Taya would never stand for it, and she's never done speed or even drugs, and Mykel's grateful for that fact. Think of the West Phoenix trash heap where so many drug casualties are piled high. (Or any such trash heap in America; the entire country now piles them higher than ever.) The West Phoenix trash heap never got Mykel, but almost took the mother of his first born. Someone had to step up for that son Leland. And someone had to stop the bloodletting in his biological family line.
Mykel learned hard what not to do, and so he's one tough mother. He ain't never going back to jail. Those hot tents over in Florence, Arizona. The three and a half years he spent down that particular hole, after getting popped trafficking stolen goods while still a teen.
He's nowhere near crazy with the price of life. He smokes too many cigarettes is all. He knows that, and a lot more.


---
The Ashmore yard abuts the neighboring trailer. The five boys continue to rage. The kid-clamor lifts into the early evening and the unseen neighbor never complains. Each voice melting into the other, a sonic helter skelter.
Suddenly, dad's voice, deep and rich, booms, like some drill sergeant:
"Alright guys! Enough!
The boys' volume cuts to a third. Just like that.
Sitting outside in the shade, there's a calm about Mykel and his 24-year-old wife Taya. Together they get under the skin in that way people do who are fighting into existence the bare essentials, and fighting for an existence that will mean something bigger than what it means right now. It's about moving up, about a better world for their five young boys. In this case such a fight takes courage. Like last month when the work dried up for days and the Ashmores ran out of all money including change and the truck was down to fumes. Mykel tore some cardboard, grabbed one of his kids' red markers and made a sign on their living room floor that said: "No catchy saying, just can't catch a break. Anything will help." Said goodbye to his wife and kids and went to stand on the corner to fly the sign, in the rain.
Anyone who says there's any joy in begging for money, or that it's easier than working a job, is full of shit.
"I'm standing there and the wind is kicking up. A big storm is coming, and I felt like a fool," Mykel says. "But I had to humble myself. I needed the humility."
Two hours later he had a little cash in hand. Seven mouths to feed (and three cats and turtles) afford certain truths. The truth works maybe if you let it in. Mykel agrees. And folks can be kind to others in the rain, he adds.
"I don't want my children to go without," Mykel says, as the boys shoot water-gun jet streams at each other, their voices rising in volume again, but only slightly this time. The littlest, 16-month-old Kden, is with mom on the patio table.
"At the same time, I don't want to raise a bunch of entitled brats," he continues. "And these boys will learn eventually that I am not going to repeat myself."
Taya, raised by her truck-driver dad, says as a teen she had the car, the phone, the new clothes, the manicured nails. Biggest house on the best block.
"I was entitled," she says.
Mykel laughs. "Yeah, I took that silver spoon out of her mouth real quick. Put in a wooden one."
She nods at Mykel. "I've learned a lot being with him. I felt entitled. I felt like I took my parents for granted." She stops, tugs on Kden's pants to keep him from falling over. Says, "I married poor!"
She laughs, and softens.
"But he fights for his kids. I learned the value of love from him. The overall experience to being poor has opened my eyes to how real life is. We have a roof over our heads. It may not be pretty, but it's a roof. My kids have food in their mouths."
Mykel "My wife is a pendulum; a silver spoon to this?"
His story about how he had to buy a gift certificate at a nail salon for her birthday so she wouldn't take that $50 and spend it "on me, or the kids, or the house. The only way I could do something for her."
"You have to help yourself," she adds. "I wouldn't change anything."


---
Behind the calmness of culture fortifications and the elite folks who run them exist new entrepreneurs hogging attention, and their financing and community support. Mykel would never get any of that. No trust funds here, no credit or bank loans, no cashflow from Hey Dad Productions, no eliteness. His March-launched landscaping business (called Light Landscaping, found on Facebook) moves in fits and starts. New clients Gina and Alan Fischer, friends of this writer, say his landscape work is highly recommendable.
Mykel decided there was no life to be had working for someone else. Such work was hardly dependable anyway. It's an "entrepreneurial idea started when I was 16, buying and selling bikes at a swap meet, and it took to March of this year to remember it," Mykel laughs.
Sometimes Taya works alongside hubby, lifting, digging, building, leveling. No employee to pay that way. He'll landscape, plant things, even design a yard. "I'll build you a retaining wall," he says. "I'll lay you a sidewalk. I'll paint your house. I'll put in your floors. I love to paint and the smell of wood." Taya does all the marketing, social-media mostly. Taya is 24, and bright. She's in school, Pima Community College, to be a paralegal, and, one day, she hopes, a lawyer. Financial aid makes school possible. She attends class a few nights a week after Mykel gets home.
They work hard to keep afloat. The state helps with the kids' daycare and healthcare, otherwise forget it. It costs the family a grand a month for food. Five boys, no rest. (No sugary kid-food for the boys, mom says. "Any kid food is for dad.") No babysitters. (Mykel: "We don't know anyone we could trust here to watch them.") Not even a date night for the parents. Once in a while they all pile into the truck and go bowling. There is no other life for them. Not in their wildest dreams.
When they hooked up in 2013, each had one son. Taya birthed Alec when she was a junior in high school. She quit school but rejoined her senior year, and still graduated on time. And Leland, Mykel's five-year-old from his previous union, has been seeing doctors about mental issues. "We've seen psychologists, neurologists ... It's all three of us in therapy." There was the fight for the custodianship of Leland too, and Mykel had to pass drug tests and psych evals to win custody.
The next three boys arrived quickly. The family moved from Phoenix to Tucson in 2017 "to grow a backbone," to get away from the convenience of bumming "gas money" from a nearby relative. And to get the hell out of Phoenix.
---
Just another story from America.
Mykel places coal into the outdoor grill and coats it in lighter fluid. His keys jangle from his belt as he lights it. He's grilling chicken for the seven mouths. Mom changes Kden's diaper and talks turtles and tortoises and animal rescue. The yard's pond is filled with dark water where turtles hide. There's a trench around it where a fence will go in, to house a mini turtle habitat. Baby tortoises move around in a box inside the trailer too. The boys handle with care.
Dad talks of the title loan on the truck. A lean week means the title gets hocked. How it is. He talks his extended family, an array of cousins and half-sibs. He calls his dad's sister Mom. She's the one who alerted authorities to her brother for the molestation. She raised him. Mykel's fluent in American Sign Language, his cousin (who he calls his "brother") had spinal meningitis at 6 years old, lost his hearing. Mykel studies self-evaluation and self-awareness texts and videos, which he says has helped him tremendously, and his self-improvement is a constant active idea. Keeps depression at bay. "I got my GED in prison," he adds.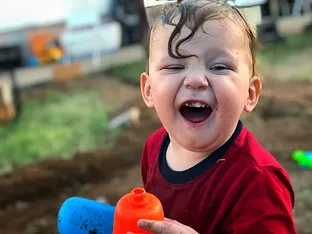 Later the boys will shower and go to bed in shifts, according to their ages. They're well behaved and will do their chores. Some in Mykel's family were military and so he keeps the boys in line as such. They quiet down when he instructs them to. But they're kids, and they run and they scream and they prod and they test. But they respect mom and dad. Alec just turned 7, Leland is 5. The Irish twins, Mykel Jr. is 4 and Noah 3. Kden is 16 months. They sleep in the main bedroom (of two) and it's organized and clean and the boys have their own beds, a hierarchy, Alec's in the sturdy top bunk, Kden the crib. Keeping five in one bedroom, in five separate beds, keeping all in a line, cannot be easy. Taya wants to have more. Eight total, she says. The woman is so busy now, working, mothering, school.
Mom and dad sleep on a mattress on the floor in their small bedroom. They hope to add a couple bedrooms onto the trailer. A tour of the place, in its dense air, reveals a fragrant blend of ingenuity and the prideful qualities of ownership, and mostly of parents loving children. There's nothing else in life for Mykel and Taya but this family. It's a life that cradles them, a zone of safety forged from sweat and the idea that it's possible to overcome seeming indefeasible odds.
Mykel points to a portion of the floor whose water damage has been repaired and floored over. "Taya fell through the floor there," he says. They installed new flooring and reconfigured the living room and kitchen. In fact, the place was condemnable when they purchased it in March this year. It's been rescued, just like their pets.
They got the trailer cheap, a down-payment on a rent-to-own from the same tax return that purchased their truck and trailer back in March. Good timing on the truck, too, because their other one died. Timing is everything.
"It all works out," Mykel says.
What if it doesn't?
"It just does. There is no other way. Sometimes I just get in the truck and go. Sometimes it takes me where I need to be to find work. To say, 'You need me to work for you.'"