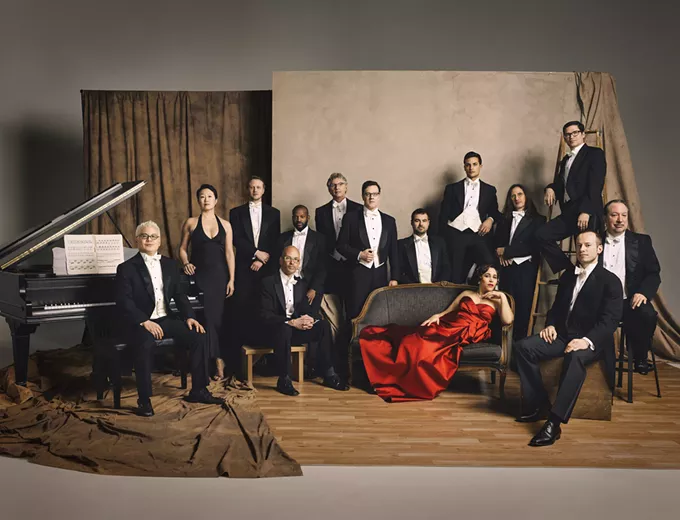 Pink Martini co-lead singer China Forbes says diversity and inclusivity set her band apart from the rest — aside from the 12 to 13 others with whom she shares the stage.
This "little orchestra," as they call it, blends genres like classical and jazz in languages ranging from Spanish to Farsi.
"The music is incredibly full," Forbes said. "You don't normally see that many musicians on stage playing real instruments. It's visually really exciting. It's aurally really exciting."
This year, Pink Martini is celebrating its 29th year of performing and is planning to release new music later this year. Meanwhile, Forbes and bandmate/founder Thomas Lauderdale have solo projects coming out soon.
In the meantime, they're focused on their Pink Martini gigs. The band will perform at Tucson Music Hall on Saturday, January 14, and Sunday, January 15, as part of the Tucson Jazz Festival. Getting to play shows like this is important to Forbes, whose band has remained "under the radar."
"We've never been nominated for a Grammy or been part of that at all," Forbes said. "It's like we operate outside of the major music business. But we have had this incredibly stable and long career and so it's weird. It's like we haven't achieved those kinds of successes, but we've had this miraculous longevity and stability."
While not having the peaks of other musicians, Pink Martini has avoided the valleys. She is glad the band has a sense of comfort.
"I mean, we've played in so many incredible venues and alongside artists that I hugely admire, it's weird to be in the same venues as them," she said.
While classical and jazz music have been losing popularity with younger people, Forbes said popular music of today is easier to digest than jazz and classical.
"It's complex," Forbes said. "Jazz and classical music is complex. A lot of pop music that appeals to young people is formulaic. It's familiar. Whereas classical music and jazz is much more work in a way to appreciate and understand, so I think that it's sort of like the path of least resistance. I think it's definitely sad. It's kind of scary, that these art forms would fade away. I feel like it's our duty to keep them alive and relevant."
They do so by subtly adding complexity to the more digestible popular music, she said.
"We kind of weave in classical music and jazz into popular music, so that you get sort of hints throughout, but it's not just one thing all the time," Forbes said.
Pink Martini
WHEN: 7:30 p.m. Saturday, Jan. 14, and 2 p.m. Sunday, Jan. 15
WHERE: Tucson Music Hall, 260 S. Church Avenue, Tucson
COST: Tickets start at $25
INFO: tucsonjazzfestival.org