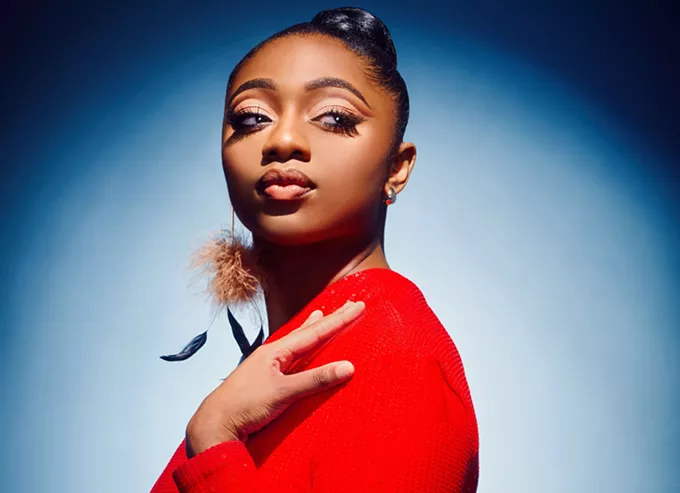 Samara Joy calls her music career an "amazing journey."
She didn't listen to jazz growing up, instead immersing herself in Lalah Hathaway, Stevie Wonder, Luther Vandross and Motown.
It wasn't until college that she discovered the genre that would garner her two Grammy nominations. The winners are revealed Sunday, Feb. 5.
She'll perform as part of the Tucson Jazz Festival on Thursday, Jan. 19, at the Rialto Theatre.
Music is in her blood. Her grandparents, Elder Goldwire and Ruth McLendon, led the well-known Philadelphia-based gospel group, The Savettes, and her father toured with the renowned Andrae Crouch.
Although she has relished the process of digging through music history since early childhood, it wasn't until she was asked to sit in with her high school jazz band that she discovered her love of the genre.
"The turning point was when I heard both Sarah Vaughan's version of 'Lover Man' and Tadd Dameron's recordings featuring trumpeter Fats Navarro. I was hooked," she said.
From this point, she began to pursue her jazz studies with an intense passion, eventually being named the Ella Fitzgerald Scholar and entering and winning the Sarah Vaughan International Jazz Vocal Competition in 2019.
Although having only recently celebrated her 21st birthday, Joy has already performed in many of the great jazz venues in NYC, including Dizzy's Club Coca Cola, The Blue Note, and Mezzrow, in addition to working with genre greats such as Christian McBride, Pasquale Grasso, Kirk Lightsey, Cyrus Chestnut, and NEA Jazz Master Dr. Barry Harris.
While she is influenced by the greats like Fitzgerald and Carmen McRae, Joy takes a contemporary approach to her art and performance as evidenced by her massive TikTok following.
Her Verve Records debut album "Linger Awhile" is a 10-song collection of beloved tunes, updated for a new generation. Recorded at Sear Sound in New York City by Chris Allen and produced by Matt Pierson, "Linger Awhile" features Pasquale Grasso (guitar), Ben Paterson (piano), David Wong (double bass), and Kenny Washington (drums).
She recorded "Linger Awhile" in two days. Joy recalled when she heard about her Grammy nominations.
"I was on the train coming back from a gig in the Kennedy Center in Washington, D.C.," she said.
"It was 30 minutes before the train arrived in Penn Station when I found out. I wasn't watching the nominations. I wasn't going to look until I got home."
If she wins, she will keep her award at her parents' house.
"They're music lovers," she said.
She'll spend 2023 on tour, and that's a concept she's struggling to grasp.
"Even as I'm saying it, it's unbelievable. I'm grateful that I can do this and not really compromise what I want artistically. I still love to sing and grow as a musician."
Samara Joy
WHEN: 7:30 p.m. Thursday, Jan. 19
WHERE: Rialto Theatre, 318 E. Congress, Tucson

COST: Tickets start at $35