Your
Weekly
guide to keeping busy in the Old Pueblo.
Magic
Michael Carbonaro at the Diamond Center
. You might know this guy best from his hidden camera prank TV show, The Carbonaro Effect, which combines comedy with the kind of magic tricks that have you saying, "But wait, seriously, how did he do that? I need to know how he did that." (Or maybe that's just us?) Anyway, he's so busy with his TV show that he doesn't have much time for theatrical appearances, which makes this show even more exciting. Abraca-grab ya tickets now! Doors open at 7 p.m., show starts at 8 p.m. Saturday, June 16. Desert Diamond Casinos and Entertainment Sahuarita, 1100 W. Pima Mine Road. $15 to $47.50.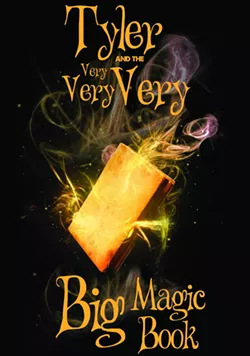 Tyler and the Very Very Very Big Magic Book
. At the end of a theater show, the actors take their bows, and sometimes they give flowers to the director, thank the stagehands and the live band, and even thank the audience. But you never seem to hear them thanking the janitor. Live Theatre Workshop has a new janitor named Tyler, who, in lieu of thanks, has just discovered a book full of magical stories that lets him be a character in classics like Jack & the Beanstalk, King Arthur and The Princess and the Frog. This show mixes physical comedy, mime, sound effects and projections for a show that will have you laughing out loud and remembering to thank your janitor. 2 p.m. on Saturday, June 16 and 12:30 p.m. on Sunday, June 17. Live Theatre Workshop, 5317 E. Speedway Blvd. $7 to $10.
Free Magic Show for Kids
. Local illusionist Michael Howell is putting on this free show at Mildred and Dildred, purely to bring little kids joy. If you aren't already thinking, "This guy sounds so wholesome," then note that he's a teacher, an instructor at a Christian youth theater, and a private magic instructor. He also rescues animals and founded a nonprofit called Rose Ranch Animal Rescue to help them. Sometimes he uses animals in his performances, and the proceeds go to toward the cost of their care. Go for the magic, certainly. But also go for the small chance that maybe some of this guy's pure goodness will rub off on you. 10 a.m. Saturday, June 16. Mildred & Dildred, 2905 E. Skyline Drive, suite 186.
Art
The UA Art Museum
. The UA's art museum has several exhibitions up right now, including one on the evolution of women printmakers, one filled with art created by local high schoolers, an exploration of light and photography by multidisciplinary artist Richard Slechta and
The Altarpiece of Ciudad Rodrigo
, one of the most important works to come out of 15th-century Spain. Check them all out, by do try to see the exhibit "X, Y, Z: Art in Three Dimensions," which features art that's been formed, molded, carved, cast or otherwise arranged. As you take in the art, you can reflect on what it means to take up space, cast a shadow and have texture. "X, Y, Z" is on display through Sunday, June 24. Museum is open 9a.m. to 4p.m. Tuesday through Friday, 9 a.m. to 5 p.m. Saturday, noon to 5 p.m. Sunday and closed Monday. UA Museum of Art, 1031 N. Olive Road. $8 GA, $6.50 seniors and groups of 10 or more. Free for members, students with ID, faculty, staff, military personnel, AAM members, visitors with a SNAP card or tribal ID and children.