Hot Air
County wins another round in court against Goldwater Institute over the World View deal
Pima County has won another round in court against the Goldwater Institute, which sued the county over the deal that county officials cut with World View Enterprises, the high-altitude balloon company that is launching—and on one notable occasion, blowing up—balloons at a county-built spaceport.
Goldwater's lawsuit accused the county of violating statutes related to competitive bidding and the Arizona Constitution's gift clause, which prohibits Arizona governments from giving away public assets to private enterprises.
The question of the gift clause violation remains unresolved, but earlier this month, Pima County Superior Court Judge Catherine Woods ruled that the county did not violate any statutes regarding the bidding process. Goldwater could still appeal the decision, but it's kind of moot, in that the spaceport is built and World View is already launching balloons.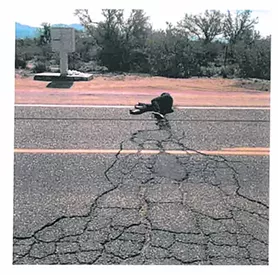 Goldwater doesn't lose very many cases, but attorneys with the Libertarian-leaning organization made a big mistake on this one: They teamed up with Pima County Supervisor Ally Miller, which is akin to giving to a scorpion a ride across the river. If you're not familiar with the fable, just know that nothing good comes of that. (We should note that Miller lied, as she often does, about her involvement in the whole affair.)
Miller still has her loyal base, but she continues to alienate most sectors of the community. She now employs her biggest cheerleader in the local mediasphere, blogger Lori Hunnicutt of the Arizona Daily Independent, so she can count on good press there. And morning talk jock Chris DeSimone will remain in her corner forever. But the business community is fed up with her after she pushed Goldwater into the World View lawsuit. Her ongoing efforts to torpedo the county's efforts to retain Raytheon aptly demonstrated her lousy judgment (although after years of complaining about a road realignment that led to the recent Raytheon expansion, she was there to celebrate the groundbreaking of the new facility). Auto dealer Jim Click provided her slate of county candidates with financial support in the 2016 election, but that's not likely to happen again now that she ended up on his radar screen following her efforts to derail Rio Nuevo legislation in the last session. In short: Ally's temperamental instability has left her with few allies.
She continues to rage against #fakenews and the corrupt county government, but when she claims that the entire community is part of a conspiracy, she really starts to sound like Captain Queeg demanding to know who stole her strawberries.
It all reminds us of a lesson that fictional U.S. Marshal Raylan Givens once shared in an episode of Justified as he was taking in a fugitive: "You ever heard the story, 'You run into an asshole in the morning, you've run into an asshole. You run into assholes all day, you're the asshole.'"
---
Absentee Voter
Turns out that Democrat Catherine Ripley has a lousy voting record
The Weekly has recently chastised Democrat Domingo DeGrazia, a candidate for the Arizona House of Representatives who had a pretty spotty voting record.
But DeGrazia isn't the only one in the LD 10 House race with a lousy voting record. Democrat Catherine Ripley, who is one of the four Democrats seeking two House seats, only began voting in Pima County in 2016 (although she registered in 2009).
Ripley says since she spent her whole adult life in the military, she voted with absentee ballots while she was registered in Montana.
"They either made it there or not," she said. "Living in Africa or Southeast Asia, we just sent them in and didn't think twice.... I assure you, I did always vote."
Ripley left the military in 2008 and took a local job at Raytheon. She doesn't have much of an explanation as to why she didn't vote here after registering in 2009. She says she was always on the road with work, so she would have had to send in absentee ballots. She thought she voted in the 2012 presidential election by absentee ballot, but says she may have forgotten to mail it in. She retired in 2015.
Danyelle Khmara contributed to this column.
The televised edition of Zona Politics with Jim Nintzel airs 6:30 p.m. Fridays on the Creative Tucson network, Cox Channel 20 and Comcast Channel 74. The TV show repeats Sunday mornings at 9 a.m. and Thursdays at 6:30 p.m. The radio edition of Zona Politics airs at 5 p.m. Sundays on community radio KXCI, 91.3 FM.