In one year, I've been to some great restaurants and eaten some fantastic things. Although the following list expressly points to the restaurants I've reviewed and the dishes that stood out there, you can look to our next "100 Essential Dishes" issue in March 2016 for a bigger look at Tucson restaurants, and the dishes that make the Old Pueblo truly special.
Water Boiled Fish
1800 E. Ft. Lowell Road
795-0888
It's the best of both worlds: an intensely spicy, chili-flecked broth to perk up your senses with a hefty serving of buttery, tender fish. It's bright and bold, it's comforting, and the folks at China Szechwan know how to make water boiled fish ($9.95) right. Other than the topping of cilantro to help cool the dish out, it relies entirely on the strengths of a flavorful broth and perfectly cooked fish. It's that level of simplicity that really shows the prowess of this dish. The name might not make it sound like much, but you'll be sold after your first bite.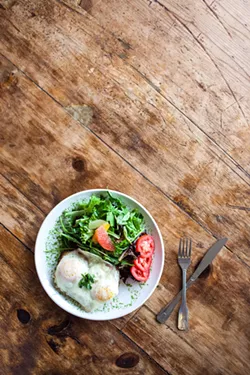 Breakfast Toast
765 S. Stone Ave.
623-3888
If 5 Points Market isn't already firmly cemented in your breakfast and lunch consciousness, you probably weren't paying attention this year when the New York Times gave the spot a shout out. Not to toot the Weekly's horn or anything, but there's a reason we put their dish on the cover of our 2015 "100 Essential Dishes" before the NYT knew what was up. That dish is the breakfast toast ($9), and the reason is its light, yet filling, smart composition. The rundown is a thick slice of heritage Fife grain toast is topped with herby pesto chevre and over medium egg with a drizzle of sweet, lightly vinegary Chianti jelly. Served with a salad on the side, this dish will help you start the day in a way that makes you feel good about yourself—sorry, biscuits and gravy.
Green Chile Frybread
1118 W. St. Mary's Road
344-7725
Piping hot discs of fried dough fly out of the Manna From Heaven kitchen and make it to your table in time for you to enjoy the lightly crispy, bubbly, golden outside and soft center. On that bread base, you have your choice of toppings. You can go taco style with ground beef, lettuce and tomato or you can choose something a little sweeter with honey or cinnamon sugar. My favorite is the green chile ($7.50), which offers a bright, lightly spicy sauce and chunks of tender meat slathered all over that frybread base.
Lamb Kebsa
3954 E. Speedway Blvd.
232-3700
I have a confession to make. After eating at Babylon Market a few times, I decided to rip them off in my own kitchen. It's one dish in particular that uses a mix of components so intentionally that the result is as flavorful as it is just plain clever. The lamb kebsa ($10.99) offers a fatty, bone-in lamb shank embellished by a host of spices like cinnamon and cardamom. When combined with the pickled turnip, olives and saffron rice, studded with golden raisins and blanched almonds, you get a complete picture. No element is an afterthought—it all plays together to create a spectacular dish.
Goat Soup
1070 W. Swan Road
331-7161
In my most recent review, I explored the cuisine of Benin at Alafia. Although the West African barbecue—which includes half chicken, whole tilapia and lamb and goat—satisfies, the goat soup ($9.99) is a delightful, aromatic and comforting dish that hinges on an expertly spiced, rich broth and tender goat meat to express a picture of what the cuisine has to offer.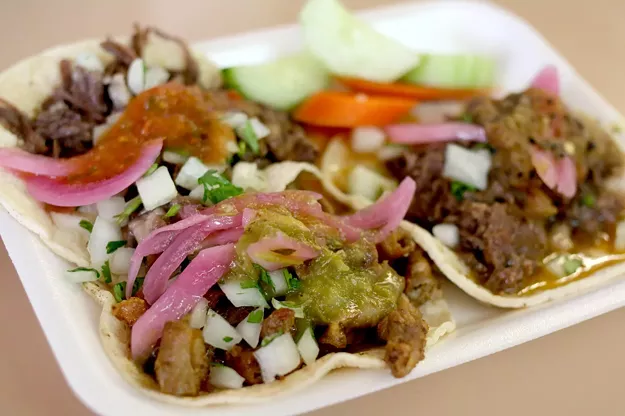 Lengua Taco
3501 S. 12th Ave.
670-1248
There are plenty of reasons to love South Tucson's Tacos Apson, but, maybe the biggest one is that the folks who man the taco stand's well-seasoned grill have a real knack for offal. Crispy tripas and tender cabeza are available, but the juicy lengua ($2.50) will win you over. Really, though, you could (and should) try all three for under $10 with tip. Tacos Apson also offers a little salsa bar, but, chances are, you won't even need it.
Chili Roasted Duck
300 E. Congress St.
396-3357
I am a big fan of Proper chef Kris Vrolijk's handmade pasta and sausage, but that's not all this downtown eatery has to offer. Case in point: the chili roasted duck. There's nothing quite like a piece of duck that's pink in the middle with a visibly crispy skin, but, on top of that, this dish uses a raspberry balsamic syrup to enhance the duck's flavor. Served with celery root puree and fried Brussels sprouts, you're sure to get your $23 worth.
Samoon
Za'atar Mediterranean Restaurant and Bakery
2825 N. Country Club Road
323-4073
I've been to a decent number of Tucson's Middle Eastern spots, but none offers a bread program quite like Za'atar. There are a few options here, but the fluffy, oval samoon is a unique look at Iraqi cuisine. Plus it's sold at the insanely cheap two for $1 price.
Pork Kalbi
4030 E. Speedway Blvd.
505-5325
It's not that Korea House is my favorite Korean restaurant in Tucson, but, with 30 years in business, you have to give them props—they're certainly doing something right. One of those somethings is the house pork kalbi ($17.50), which offers a bone-in pork rib topped with a smoky, sultry, sweet and spicy rub that will have you licking your fingers clean and digging in for more. It's rustic and unpretentious in all the right ways.
Pernil Arepa
Various Locations, Food Truck
Tucson certainly is a food truck town and last New Year's saw the debut of Ricuras de Venezuela. I can't tell you how many arepas—a pita-like fried masa pocket—I've eaten since then, but, trust me, it's a lot. While I've never met one I didn't like, including the black bean domino and the jamon y queso, my favorite is the pernil ($6), which is filled with a hefty serving of moist, slow-cooked pork.