Tacos get a lot of love in Tucson and understandably so. There are many great taquerias in town serving up everything from simple street tacos to more embellished options piled high with toppings. While Taqueria El Pueblito is indeed a taqueria, should there be any confusion with the name, it's not the tacos I'm talking about here.
You may remember Taqueria El Pueblito from its former incarnation inside Mercado San Agustin—the location that now houses Seis Kitchen and Catering. I could spend time here comparing the two restaurants, but, really, there's room for plenty of Mexican food joints in Tucson so let's move on.
Taqueria El Pueblito is now located on a stretch of Campbell Avenue that's peppered with both local and chain restaurants, nestled between Falafel King and a Baggins location. The interior itself seems to be in flux—with earlier visits yielding barren walls and then suddenly the walls were covered with large pieces of art. Maybe the restaurant is finally settling in after a brief period of location insecurity. It's a good sign for fans of the restaurant in any case.
In general, the restaurant serves solid Sonoran Mexican fare with some clear American influence. Breakfast is a big deal at Taqueria El Pueblito with a handful of inexpensive, options good to take away or eat in. Omelets ($7.49) with beans and toast, breakfast burritos ($4.59) and chilaquiles ($5.99) are served all day, though, so you don't necessarily have to rush in. On the weekends, you can get menudo as well.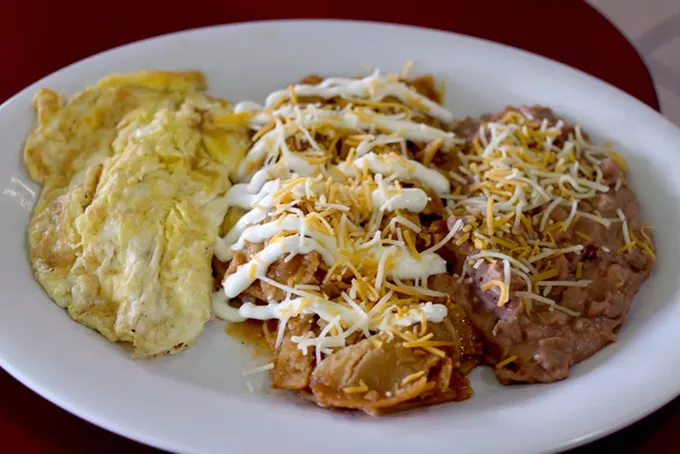 The chilaquiles in particular, served with crema and your choice of chile slathered on tortilla chips and paired with beans and scrambled eggs on the side, is a good, hearty way to start the day. My friend commented that it was perfect hangover food, and she wasn't wrong. Spicy, filling and comforting, the deconstructed dish is everything you'd need to repair yourself from a night of questionable decision making.
However, that's just a small portion of this taqueria's offerings. In terms of Mexican fare, pretty much anything you're craving is on the menu here. Enchiladas, tamales, tacos, burritos, quesadillas, flautas, tostadas and more all come customizable, each their own unique vehicle for your choice of tasty protein or roasted veggies. And those American influences I mentioned earlier? You'll find indulgent Pueblito Super Fries—a French fry based response to the nacho supreme on the menu and, generally, the kind of thing you'd order if you needed to eat your feelings for whatever reason. Hey, I'm not judging.
But, I feel at this point I've teased the main event long enough. The tortas are the big reason to stop into the taqueria. Sure, fatty chicharron, smoky rajas con crema and bright, spiced al pastor tacos ($2-$3) are all satisfying in their own right, but finding a truly exquisite torta isn't something you stumble upon every day.
What's Taqueria El Pueblito's secret? It starts with a griddle-toasted bun—just crunchy enough to stand up to tender meat fillings that drip with jus. Along with a generous portion of guacamole, sliced tomato and onions, you can get your choice of barbacoa (which is moist, flavorful and my favorite), carne asada, al pastor and more. It's a simple, straightforward take on a torta, executed with precision, for just $5.89
However, if you want to jazz up your torta, head to the impressive salsa bar. Mild green salsa, pico de gallo, hot red salsa, spicy and smooth avocado salsa, limes, radishes and pickled onions, carrots and peppers are all available at your discretion. The avocado salsa in particular is fantastic, with just enough heat to make it an addicting addition to every bite you take.
The salsa bar, like the rest of the restaurant is immaculately clean—constantly looked after and wiped down by someone on the modest two-person staff. With friendly counter service and quick turn-over time in the kitchen, there's little issue to find with Taqueria El Pueblito. Out of anything, the solitary point of contention I had with this place came when I ordered chicken enchiladas, which I saw get a warm up in the microwave. Certainly not my preferred cooking method, but even still, the enchiladas were good enough to overlook it.
Finishing up, you'll want to try the homemade jericalla ($2), which is Jalisco's cross between flan and crème brulee, complete with a light syrup and a scorched top. The custard has more texture than its French counterpart, making it stand apart and shine in its own right.
While I know you probably already have at least five different Mexican food joints that are your go-tos for different reasons, consider adding Taqueria El Pueblito in the mix for its tortas, chilaquiles, salsas and that jericalla. I know I have.