The Reid Park Zoo is putting its heaviest foot forward this Friday evening in the form of African elephants and southern white rhinos for another installment of its weekly Summer Safari Nights program. Called "Large & In Charge" this week, the demonstrations and educational opportunities will features the zoo's five resident elephants and two rhinos.
Reid Park received its elephant herd from the San Diego Safari Park five years ago in the form of Mabu (who returned to San Diego in 2016); mature females Semba and Lungile, adolescent males Punga and Sundzu. The zoo's most famous elephant, the 3-year-old Nandi, joined the family in 2014.
These aren't circus elephants jumping through hoops or performing tricks, said zookeeper Savannah Lohse, and they require quite a bit of care and attention to make sure they remain both happy and healthy.
"We just need them to be elephants, and help us take better care of them," she said.
Whether performing preventative maintenance on feet, checking spines for irregularities or taking a look inside a giant ear, the zookeepers at Reid Park operate under tight interaction guidelines which allow them to train the elephants to aid in their own health checks. By calling out on small whistles and conducting positive reinforcement exercises, trainers and the herd form a close and trusting bond.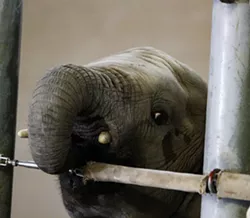 "These guys are never, ever told no," Lohse added. "If we ask them for a behavior and he doesn't give us the behavior that we want we simply take a three-second time out and that communicates to him that it wasn't exactly what I wanted, but let's go ahead and try again. We never hit or punish them, but by keeping neutral it tells them we can try it again. It's all positive, and because we keep it positive they actively want to work with us."
When not working with trainers, the elephants have access to more than four acres of open space where they may roam freely, play with trees, swim in a 90,000-gallon pool, cool off in two mud pits and enjoy other features. Carefully designed to reflect a natural habitat, the exhibit allows the herd to explore and exercise at the same time.
Not far from Lungile, Nandi and the others are two heavyweights of the animal kingdom, Yebonga and Fireball, the Southern White Rhinos.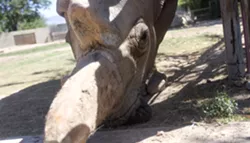 A little past her prime at 44 years old, Yebonga is a bit slower than she once was, though has been known to reach speeds of nearly 35 miles an hour in her brief windows of excitement. Born only 14 years ago, Fireball has already fathered six rhinos while he lived at the private, non-profit safari park and conservation center, The Wilds in Cumberland, Ohio.
Aside from the animal attractions, this week's iteration of Summer Safari Nights will also feature live entertainment from Americana dance band Michael P. & the Gullywashers and storytelling by essayist Gene Twaronite of Dragon Daily News. Vendors will include LuLaRoe, Mary Kay, MetroPCS, New York Life Insurance, Texas Roadhouse, Tucson Medical Center and Tucson Pops and the zoo cafe will feature food specials on a green chili burger and fries.
Tickets for Summer Safari Nights run $9 for adults, $7 for seniors and $5 for children between two and 14-years-old. Members receive a $2 discount on all rates, and a member's pass is available to cover entrance each week. Passes cost $25 for adults and $15 for children. Tickets can be purchased online, and more information on the summer-long event is available online .