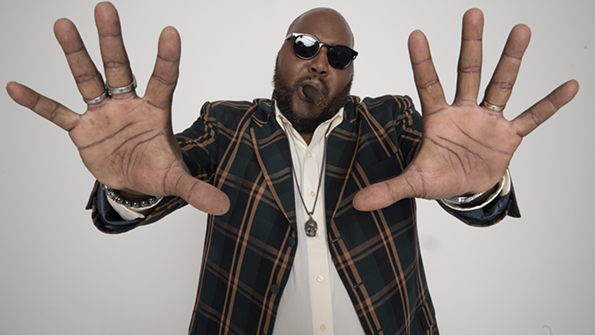 Blues artist Sugaray Rayford admits he doesn't play "concerts," per se.
"Concerts have their place, but I always bring the party," he said with a hearty laugh.
"For me, it's always a party. I like people to get up, dance, move around and have a good time. The way I write the music, I may talk about something serious, but I wrap it up in really, really good music. You have to take vitamins. I give them to you in gummy form."
Rayford will perform from 4 to 5:30 p.m. at the Blues Heritage Festival on Saturday, Oct. 21, at the school courtyard next to Sacred Heart Church. It benefits St. Francis Shelter & Food Pantry.
The complete lineup is: 11 to 11:30 a.m. Gridley Middle School; 11:45 a.m. to 12:45 p.m. Missy Andersen and Her One-Man Band; 1 to 2 p.m. Whose Blues; 2 to 2:15 p.m. Arizona Blues Hall of Fame Induction; 2:15 to 3:15 p.m. Bad News Blues Band; 3:15 to 3:45 p.m. Arizona Blues Hall of Fame All-Star Jam; 4 to 5:30 p.m. Sugaray Rayford Band and 5:45 to 6:45 p.m. Black Cat Bones.
The concert is thrown by the Southern Arizona Blues Heritage Foundation. The organization has also hosted concerts weekly on Sundays at Hotel Congress.
"The foundation is a small group," said Rita Flattley for the Southern Arizona Blues Heritage Foundation.
"We have a board with a maximum of 13 people. We have 12 right now. We're all volunteers."
At the gig, Rayford will perform a cross-section of his hits, including tracks from "In Too Deep," the follow up to his 2020 Grammy-nominated "Somebody Save Me." The latter also earned Rayford two major blues music awards for B.B. King Entertainer and Soul Blues Male Artist of the Year (two straight years).
Recorded with producer Eric Corne (John Mayall), "In Too Deep" combines classic soul melodies with funky R&B grooves and raw blues power, mashed up with modern sensibilities. The album takes on issues, such as PTSD, civil rights and social justice.
Flattley said blues isn't necessarily making a comeback, it's just in the forefront.
"We never left in the first place," she said. "We went down the back alley, strummed a little bit and came back. Willie Dixon, one of the best Chicago songwriters ever, said the blues is the roots and the rest of the music is the fruits.
"The blues is deeply imbued in all American music. We just slip out one door and back in another periodically. The Rolling Stones loved American blues, so they gave some of our own music back to us. Then people said, 'Oh, the Stones like the blues? Eric Clapton likes the blues? Let's listen.'"
For Rayford's part, the Maricopa resident is thrilled to play at home after a whirlwind international tour. Not only is he performing in front of friends and family, "I can go home and sleep in my own bed."
"It's the little things when you travel a lot," he said. "When I first moved here, I loved being in the country. I love people, but it's nice sometimes to be able to get away. Playing at home is so comfortable, but you can't oversaturate yourself at home.
"I am playing more in Arizona but I'm trying to make sure it's more strategic. If you have lemon meringue pie, you don't want to eat the whole pie. You want to take a few bites and then put it back in the fridge for later."
Blues Heritage Festival
WHEN: 11 a.m. to 7 p.m. Saturday, Oct. 21
WHERE: Sacred Heart Church, school courtyard, 601 E. Fort Lowell Road, Tucson
COST: $30 in advance at azblues.org; $35 at the door
INFO: azblues.org