A gem show booth must display something new. Whether you're selling silver, dolomite or muonionalusta, the latest quirk or knick-knack will catch the wandering eye and give you an advantage. If you're simply selling crates of loose gems, you might just have a mineral mogul approach and buy your whole stock for a few thousand dollars.
The Tucson Gem and Mineral Show is an annual gathering of thousands of rock sellers. With more than half a century of history, the show has developed its own culture and climate, a unique group of specialists and fanatics many Tucsonans only scratch the surface of during their strolls through the swarming stalls.
Geoff Notkin, meteorite specialist known as the host of the TV show Meteorite Men and founder of Aerolite Meteorites, has sold stones from space at the Tucson Gem Show for a decade, but has attended the convention for much longer. Notkin first attended the gem show in 1998 as a simple rock enthusiast visiting from New York City.
"I was so taken in with the experience of the city and the gem show," Notkin said. "As a kid, I would implore my parents to stop at roadside rock shops. Coming here for the first time, it was like a whole city of rock shops. Since then, I haven't missed a show in 22 years."
Notkin moved his business from New York to Tucson 15 years ago, just to be closer to the gem show and the wild rock culture surrounding it.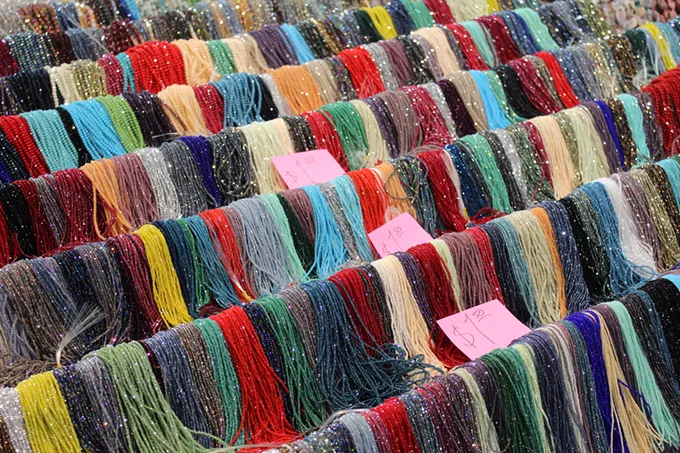 The Tucson Gem and Mineral Show celebrates its 65th anniversary this year, growing from a single-day showcase at Helen Keeling Elementary School in 1955, to a three-week, 48-venue titan many professionals consider to be the largest gem show in all of North America.
Three of the most varied shows during Tucson's gem season are the Hotel Tucson City Center show, the Kino Sports Complex Gem Show and the 22nd Street Gem show.
The Hotel Tucson City Center show is a true seller's show. Unconcerned with pageantry, the vendors host their booths directly out of their hotel rooms. A walk through the hotel's central plaza provides views of rental rooms overflowing with precious gems, fossils and meteorites. At the City Center show, it is quite common to purchase minerals directly from those who dug them from the earth, all the while hearing the gem's "find story."
"Most of the people here are the direct source," Notkin said. "There's no middleman, so the prices are quite appealing. But more importantly is the direct connection with the finder."
One Moroccan meteorite seller recounts a tale of how nomads in North Africa spotted a fireball arcing across the Saharan sky. They searched and found the meteorite, loaded the rock onto the back of their camel, and it finally wound up for sale in Tucson.
"If I was a buyer, I wouldn't even know where to begin, there are just billions of minerals here," said vendor Bob Carroll. "You definitely have to carve out your own niche."
Carroll's booth sells unique fossils: petrified tortoise shell, fossilized jawbones, petrified wood and ancient oysters with calcite blooming from within. The niche he carved may have worked too well, as he sold out of his own stock within the first week, and was relegated to selling others' products on commission.
At the Kino Sports Complex Gem Show, you'll find a true swap meet experience. Yes, the geodes and polished stones are present, but so are the kettle corn stands, handmade crafts, performers and jewelry of every value. Notkin even once had a man usher him into a small tent, and try to sell him colorful pieces of metal which he insisted were from a UFO.
The Kino show is perfect for the innovative and unconventional, whether it be entire thrones made of smoothed stones, ashtrays made from trilobites, mortars and pestles, meteorite pendants, or wall hangings of thin, glowing slabs of internally-lit translucent rocks.
"You just never know what you'll find here," Notkin said. "There's a real element of rocks as art at the Kino show. Every year I'm amazed at people's creativity."
But this isn't to detract from the literal tons of crates, where rocks are sold by the pound and palette, not by the piece. Sales can reach the hundreds of thousands when sellers buy the entire stock of other sellers.
"If you ran a rock shop and needed to get a thousand crystals for your store, this is where you'd go," Notkin said.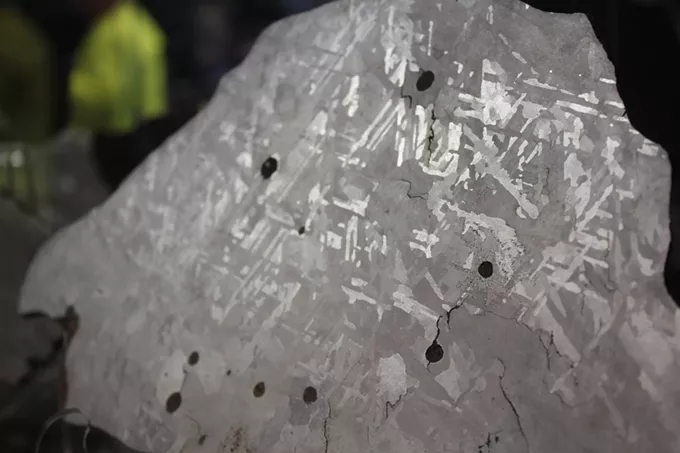 Tom Caggiano, with the Association of Applied Paleontological Sciences, digs up dinosaurs in multiple states across the country, selling them at various shows. But the Tucson gem show is the only show he attends in order to purchase stock.
"Some scientists might view us as the devil because we're selling fossils," Caggiano said. "But us devils help kindle so much interest in the field, and many of the world's best fossils have been dug up by commercial paleontologists like us."
The 22nd Street Show, which boasts itself as Tucson's most attended show, is where visitors can find all manner of gemstones, even individual pieces ranging into the tens of thousands of dollars in the "showcase building." A vendor like The Arkenstone, which sells one-of-a-kind gems all cased behind glass, can justify their entire trip to Tucson with a single sale.
Notkin's own business, Aerolite Meteorites, is housed in the 22nd Street Show during the gem show. While Aerolite sells meteorites throughout the year, the Tucson show is always on their mind. Preparations begin six weeks prior, deciding what stock and presentations their exhibit will host. While selling and buying are implied for the gem show, Aerolite also ventures into education, live streaming and adorning their exhibit with posters describing the history and science behind their wares.
Many vendors use the gem show as a chance to spread their name, as well. Rather than only selling, the gathering of thousands of like-minded professionals allows the for gem show to be a kind of conference.
Take John Bennitt, who sells Paleobond, an adhesive for fossils and minerals. Bennitt sells smaller objects throughout the Tucson weeks, but his largest sales come from personal meetings with connections he made at the show.
"For me, it's all about being seen. If I didn't show up to this show, it would be as if I dropped off the planet." Bennitt said. "For 15 years, I've been coming here and in all that time, I've never sold a dinosaur skeleton during the actual show. Most of the customers I have during the show are other vendors."
Even during his busy role as a vendor, Notkin still takes time every year to put on a pair of headphones and sunglasses, and stroll incognito through the jeweled pavilions. Aside from his successes in both television and business, he's still just a man interested in rocks.
"The gem show is the great leveler," Notkin said. "People from wildly different belief systems and lifestyles all sit down and look at rocks together. There's a lack of barriers between the people... So many of the products we buy for daily use are mass produced, and I feel our culture is losing some of its originality in chain stores and strip malls. But the gem show is the exact opposite of that. They're the products of the slow and majestic march of nature."
Geoff Notkin and the Aerolite Meteorites exhibit are in the showcase building at the 22nd Street Show, daily from 10 a.m. to 6 p.m. through Sunday, Feb. 17. Admission is free. Parking is $3 and $5 on weekends, with proceeds going to the City of Tucson.