Guest choreographer Darrell Grand Moultrie is the star of Spring Collection UA Dance concert. A sought-after dancemaker who has choreographed for Dance Theatre of Harlem, Ailey II and even Beyoncé, Moultrie sets his 2009 piece "Boiling Point" of the UA dancers. Works by faculty Elizabeth George-Fesch, Sam Watson and others round out the program. April 20-29, Stevie Eller.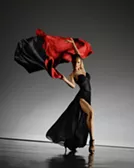 The UA Dance students show off their own choreography, as well as their dance moves, in the season's final show, At the Edge: Student Spotlight. April 19-28, Stevie Eller.
Following up on its fall production of Judith, Artifact Dance Project returns with another full-length narrative dance about an extraordinary woman. Frida, based on the life of revered painter Frida Kahlo, explores her art, inspired both by Mexican folk art and her personal history, and her tumultuous life. Danced to live original music composed by Lane Harmon and Roger King, the work stars co-artistic director Claire Hancock as Frida and actor David Alexander Johnston as Diego Rivera, the famed muralist and Kahlo's off-again, on-again husband. A large cast of dancers round out the tale. March 22 to 25, Stevie Eller. artifactdanceproject.org.
At an intimate concert in Artifact's troupe's downtown warehouse studio, three young choreographers, Allie Knuth, Samuel Kraus and Nate Myer, showcase new works in New Moves. Artistic Director Ashley Bowman directs the program, danced by company members. May 3-6, Artifact Dance Project Studios, 17 E. Toole Ave.
Fresh from its opera-infused Bernstein & Ballet concert, Ballet Tucson returns with its always-popular Dance & Dessert. The annual concert features not only real desserts donated by local pastry chefs; it provides a menu of short and varied dances. This year's highlight may well be the brand-new cowboy ballet Saddle Up! choreographed by Mark Schneider and its accompanying music: the excellent Bill Ganz Western Band, whose past collaborations include the Tucson Symphony Orchestra, will sing western songs. Company ballet master Daniel Precup brings back Carmen, based on the beloved opera by Bizet. March 16-18, Stevie Eller.
The young dancers in the company's Ballet Arts School will show off their skills in BT2, a showcase that features the challenging Swan Lake, Act II; "Bits & Pieces"; and the new work "Back to Bach." May 20, Stevie Eller.
ZUZI Dance Company sponsors works-in-progress from multiple choreographers in its regular No Frills Dance Happenin' showcases. This spring's edition features artists from Arts for All, Leaps for Lives, Dancesequence, Lexy Heart and, of course, the ZUZI Community Dancers. March 3, Historic YWCA.
Guest artists Mirela Roza and dancers, and Karenne Koo and her Dancesequence dancers, will steer the ZUZI Summer Solstice Concert, June 16 and 17, Historic YWCA.
Tucson Regional Ballet turns to fairy tales in its Spring Spectacular. The up-and-coming ballet dancers in the company school will tackle the classic 19th-century Paquita, choreographed by Marius Petipa, and the winsome Thumbelina, based on the story by Hans Christian Andersen. April 21 and 22, Leo Rich Theatre. Tucsonregionalballet.org.