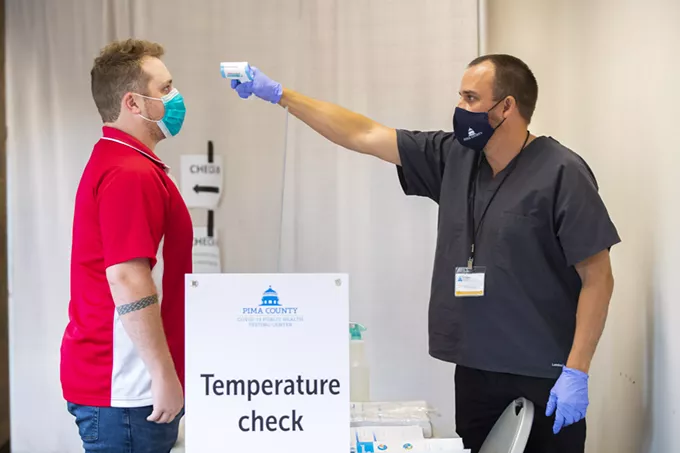 It's been six months since March 9, when local officials including Tucson Mayor Regina Romero held a press conference, warning that the virus had arrived and residents of Pima County should prepare for a bad flu season and frequently wash their hands.
Within days, Romero had a much more urgent message: Something very bad was in the air. She said the City Council would no longer meet in person and advised people to limit their gatherings. More would follow days later, when Romero ordered the shutdown of bars, gyms and other places where more than 10 people congregate. Restaurants were limited to take out and delivery.
With authors concerned about traveling, the Tucson Festival of Books was canceled, starting an avalanche of announcements: concerts, festivals, plays, performances—everything went dark.
By the end of March, following Romero's lead, Gov. Doug Ducey shut down "non-essential" businesses and told Arizonans to stay home unless they had urgent business. Schools were closed, with teachers scrambling to adapt their lessons to the internet. College students finished the remainder of the University of Arizona's spring semester online.
The statewide stay-at-home order kept the virus from spreading too quickly and overwhelming the health care system. But in mid-May, Ducey lifted the order, telling Arizonans at a press conference that "we are clearly on the other side of this pandemic."
Ducey couldn't have been more wrong. Just as public-health experts feared, many Arizonans threw big Memorial Day parties, filled up nightclubs, headed down the Salt River on tubing adventures and otherwise returned to their pre-pandemic lifestyles.
By mid-June, Arizona emerged as a global hotspot as labs began reporting thousands of new cases daily and COVID patients overwhelmed emergency rooms, hospital beds and ICUs.
In late June, Ducey shuttered nightclubs, movie theaters, gyms, water parks and tubing operations. While he didn't enact a statewide mask mandate, he gave local authorities the power to do so. Metro areas such as Pima and Maricopa counties and many other jurisdictions across the state did so almost immediately.
In the weeks that followed, Arizona's numbers began to decline. Here's where we stand now.
THINGS ARE BETTER, BUT A SECOND WAVE REMAINS A DANGER. This is a message that Ducey has repeated as case counts have come down, saying that while the situation in Arizona is improving, this is no time for "victory laps." He now frequently urges Arizonans to avoid large gatherings, wash their hands and mask up.
The number of new cases has sharply dropped from the peak of mid-July. In recent weeks, the state has hit health benchmarks that are allowing many of the shuttered businesses to reopen, with limited capacity, strict cleaning standards and other mitigation measures.
Dr. Joe Gerald, an epidemiologist with the Mel and Enid Zuckerman School of Public Health who has been closely tracking the virus since it first hit, says community spread has dropped low enough to try to reopen businesses and schools, mainly thanks to face masks.
"I think we are in a better place to try to reopen things today than we were in May, mainly because I think there's a lot more policy and community support for wearing a face mask," says Gerald. "I think they are going to turn out to be a very important component of our public health response, along with testing and contact tracing, that will allow us to return to some sense of normalcy without returning to a huge explosion of cases that we saw in June and July."
But Gerald says it's important to consider mitigation measures that limit contact between people and reduce the opportunities for the virus to spread. He points to pictures of a crowded Georgia high school as the wrong approach. "If that's what we mean by going back to school, that's a bad idea."
Health officials are closely watching what's happening at UA, where President Robert C. Robbins has put together a testing program so comprehensive that a potential outbreak in a dorm was nipped in the bud when COVID was detected in the sewage.
Another big concern: Flu season is right around the corner and it's possible that a second wave of COVID could coincide with the usual flu that fills hospital beds.
To head that off, Ducey last week announced a new program providing free flu shots. Gerald said that if Pima County residents continue to mask up, avoid crowds and practice physical distancing, COVID may be held at bay and the flu season might even be less infectious than normal.
"It's really dependent on what we do as individuals and how we adhere to the recommendations that have been laid out," Gerald said. "We just don't know."
THE STATS: As of Labor Day, a total of 205,964 people in Arizona have tested positive for COVID-19, including 22,000 people in Pima County. A total of 5,219 Arizonans had died after contracting the virus, including 596 in Pima County.
Zooming in on Pima County: On a week-by-week basis, the number of positive COVID tests peaked the week ending July 4 with 2,398 cases, according to a Sept. 4 report from the Pima County Health Department. While a vocal minority continues to insist that masks do no good, the spread of the virus began to decline within weeks of Pima County's mask mandate as more people began wearing them in public. For the week ending Aug. 22, the number of new cases dropped to 495 and for the week ending Aug. 29, 455 new cases were reported. Deaths in Pima County are down from a peak of 54 in the week ending July 4 to 20 for the week ending Aug. 15 and 13 for the week ending Aug. 22. (Note that these numbers are subject to revision as recent cases and deaths may not have been reported.)
Here's a look at Pima County's COVID demographics as of Sept. 4:
The disease has spread the most among working-age residents, with 62 percent of those infected between the ages of 20 and 54. Here's how the numbers break down: Nearly half of those who tested positive, or 47 percent, were between the ages of 20-44; 15 percent were between the ages of 45-54; 12 percent were between the ages of ages 55-64; 13 percent were 65 and older; and about 12 percent were younger than 20.
Females were slightly more likely to test positive, with women accounting for 52 percent of cases.
Race was unknown in 31 percent of cases but among those for whom race was known, 35 percent were Hispanic, 23 percent were non-Hispanic white, 3 percent were Native American, 3 percent were Black and 1 percent were Asian/Pacific Islander. Many of those cases were asymptomatic or mild. But among the 2,024 serious cases that required hospitalization, about 39 percent of those hospitalized were 65 and older. Just under one in four—24 percent—of those hospitalized were between 20-44 years old; 19 percent were between 55-64; 14 percent were between the ages of 45-54; and just 3 percent were younger than 20.
The death toll hit seniors harder than anyone, with those 65 and older accounting for 77 percent of deaths. Nearly 15 percent of those who died were 55 to 64 years old; roughly 5 percent of those who died were 45 to 54; and 3 percent were 20 to 44.
TESTING IS FREE AND EASY. In addition to testing at private labs through pharmacy chains such as Walgreens and CVS, Pima County has three free testing centers with easy-to-schedule appointments, often with same-day availability and next-day results. You'll have a nasal swab test at the Kino Event Center, 2805 E. Ajo Way, and the Udall Center, 7200 E. Tanque Verde Road. The center at the northside Ellie Towne Flowing Wells Community Center, 1660 W. Ruthrauff Road, involves a saliva test designed by Arizona State University. Schedule an appointment at pima.gov/covid19testing.
The centers are also tied into Pima County's developing contact tracing operation, which aims to be able to identify potential clusters and warn people if they have been in contact with someone who is COVID-positive. While Pima County has developed a tracing team, they are only getting about 40 percent of the people they call to participate, according to county spokesperson Mark Evans. The low response rate makes tracking hotspots and identifying asymptomatic carriers challenging.
If you're interested in a test to determine if you've already had COVID-19, the UA has expanded a free COVID-19 antibody testing program to anyone in the state. More information and registration for the test is available at covid19antibodytesting.arizona.edu.
THE PRESSURE IS OFF HOSPITALS. At the peak of the crisis, Pima County's hospitals were so jammed that COVID patients were being transferred to Phoenix or neighboring states. Hospitalization peaked the week ending July 18 with 247 COVID patients admitted to Pima County hospitals. For the week ending Aug. 29, that number was down by roughly 88 percent, with just 30 COVID patients admitted to Pima County hospitals.
SCHOOLS MAY REOPEN SOON. When schools let out for spring break back in March, few people imagined that in-person instruction would be on hold through Labor Day. But that's where we stand as public health officials and educators strive to find a balance between keeping the community safe and providing a quality education to students.
Pima County's school districts have pivoted to distance learning via online platforms and instruction over Zoom. Districts have limited the number of students on campus to those who absolutely need the service.
Last week, Pima County met the health benchmarks to indicate "moderate" community spread of COVID and allow for a hybrid learning model of mixed in-person and online instruction. (The benchmarks include a decrease in the number of COVID-19 cases per 100,000 people in the region, a decrease in the percentage of positive COVID-19 tests and a decrease in the percentage of hospital visits for COVID-like symptoms.)
Pima County School Superintendent Dustin Williams said Arizona's decreasing trends in COVID-19 data are promising, but schools cannot let their guard down yet. He warned against the process of closing and reopening schools repeatedly, but said there are small opportunities for supplementing online learning with in-person interaction.
"What I think you might be able to see is some small cohorts of groups that follow the social distancing rules, you might see it in your younger grades to start with, and then you'll have a blend of also remote learners that are still going to school in that fashion," Williams said. "But for full-blown opening, at this time it's still too high of a risk."
Williams noted that public school districts, charter schools and private schools all have full autonomy over whether to bring students back to campus. As of last week, Pima County public school districts were holding off on traditional in-person classroom learning, but expect those conversations to develop in upcoming weeks.
Since opening their campuses as learning centers, the Tucson Unified School District has already temporarily closed two schools and another school's classrooms since the beginning of the school year due to COVID-19 exposure. In addition, a Rincon High School staff
member working in two special education classrooms tested positive for COVID-19. The district decided to shut down those classrooms but did not close down the rest of the school, with students moving to remote learning.
The Arizona Department of Health Services is requiring schools, child care centers and shelters to report outbreaks of COVID-19 to their county health departments. State health officials say this measure provides schools, child care providers and shelters with a format for reporting COVID-19 cases within 24 hours of identification.
A LOT OF PEOPLE REMAIN OUT OF WORK AND THE PANDEMIC UNEMPLOYMENT PAYMENT BOOST IS NEARLY OVER. Arizona's job losses during the pandemic have been massive. The state has lost an estimated 135,000 non-farm jobs from the February 2020 peak of 2,968,000, according to the Arizona Office of Economic Opportunity; as of July, that number of jobs had dropped to 2,833,000, or about where Arizona's job numbers were in winter 2018. Still, the state has recovered 141,000 jobs from April 2020, when the total number of jobs dropped to 2,692,000 during Ducey's initial stay-at-home order.
Arizona's unemployment numbers in July were at 10.6 percent, more than double what they were in March.
To make matters worse, many out-of-work Arizonans will be trying to scrape by on just $240 per week once a federal program aimed at helping those who don't qualify for unemployment benefits runs out of money unless Congress can break a stalemate on new relief measures.
State officials are unclear on when the Lost Wage Assistance program—which adds an extra $300 of federal money to the state's unemployment maximum—will end. They anticipate it will be soon.
Arizona Department of Economic Security Director Michael Wisehart was unable to give an exact date on when LWA would be exhausted during a recent Zoom meeting with reporters. The director could only confirm DES would have little notice when it happens and the program will end "abruptly."
Wisehart was able to give advice to those potentially affected by the program's commencement.
"Getting the word out that individuals need to continue to plan, need to continue to work with their congressional delegation to express the need that is going to continue to exist in Arizona as we move forward," Wisehart said.
LWA is funded through an emergency FEMA grant President Trump approved after the White House and congressional Democrats were unable to make a deal on a new coronavirus relief package to extend the previous $600 given as a part of CARES Act's Pandemic Unemployment Assistance program, which ended on July 31. Essentially, LWA funding allows the PUA program to continue and those funds are distributed by DES.
Federal officials expected LWA funds to be depleted in five weeks, depending on how many states took advantage of the program. Arizona was the first state to use the supplemental unemployment funds in early August. Now, nearly every state is using the $44 billion program and the funding is retroactive to Aug.1.
A sixth week of funding was approved to cover Arizonans who lost wages between the week of Aug. 30 and Sept. 5, however Wisehart said he thinks it would be a "challenge" for the state to continue receiving funds moving forward.
Once the extra $300 in LWA benefits run dry, Arizona's unemployed will be left to survive on the state's unemployment maximum payment—$240 a week or less and that is if you qualify.
Those who are self-employed, gig workers or underemployed typically don't qualify for the state's unemployment insurance program, said Grand Canyon Institute Research Director Dave Wells. PUA has been a life-saver for many Arizonans, said Wells.
"The key thing to remember about Arizona is unemployment benefits are inadequate," Wells said. "A lot of people in Arizona would not be able to survive without that $600 supplement that ended in July. Pandemic assistance filled a big-time gap in the state."
The researcher tells an anecdotal story of a substitute teacher he knows to illustrate how detrimental PUA has been for a considerable amount of Arizona's workforce. Since the teacher is a substitute, he is currently unemployed after many school districts moved to online schooling due to the pandemic, said Wells.
"The teacher fell $600 over the amount needed to qualify for unemployment benefits, but he got Pandemic Unemployment Assistance," Wells said. "(PUA) allows people with sporadic work histories, gig workers and the self-employed who don't usually receive unemployment the extra help they need."
If you are able to receive unemployment in the Grand Canyon state, don't expect too much. While the state comes in as the second-lowest in offering unemployment benefits to its constituents, Arizona's benefits are actually the lowest in the country when adjusted for cost of living, according to Wells.
Wells said he expects the president will allocate additional funding to LWA on a week-to-week basis until the federal—or state—government takes action.
On a state level, benefit disbursement is being slowed down by a wave of suspected fraudulent PUA claims, leaving scores of Arizonans waiting on relief. More than 90,000 PUA claims were put on hold until they were able to be verified and then paid out the first week of September.
"A lot of people have gone weeks waiting to get benefits. Even though you might get a big check, somehow a person is expected to survive that time without income," Wells said. "I'm sure it's not a pleasant mental or financial experience."
BARS AND RESTAURANTS HAVE BEEN HIT HARD, BUT THE OVERALL ECONOMY HAS REMAINED RESILIENT. Despite the job losses, people are spending money. Compared to July 2019, retail sales were up 13.4 percent, according to the most recent monthly report from the Joint Legislative Budget Committee. A lot of the increase was in car sales (15.3 percent growth); building material and gardening supplies (23.8 percent growth at home improvement stores); and food and liquor sales, including takeout food (27.7 percent growth). In addition, contracting sales taxes were up 25 percent over July 2019. The report notes the boost came from both residential construction and commercial construction, as well as road construction.
The sector that remains the hardest hit: Restaurants and bars, where collections in July were down 11.1 percent compared to last year. Still, that's an improvement over the low point of April of this year, where the year-to-year decline was 42 percent.
BARS, GYMS, THEATERS ARE REOPENING. Gyms, movie theaters, water parks and bars that serve food were allowed to reopen two weeks ago in Pima, Maricopa and six other counties after those regions hit certain benchmarks that indicated "moderate" COVID-19 transmission last week. Businesses were required to fill out a form indicating they would abide by state regulations, which include enhanced cleaning requirements, masks for patrons and staff and symptom screening.
Gyms are limited to 25 percent capacity and indoor theaters, water parks, tubing operations and bars and nightclubs that provide dine-in service are limited to 50 percent capacity. Bars and nightclubs that do not offer food service still must remain closed.
In Tucson, two theaters in the Arizona-based Harkins Theater chain reopened. The Loft Cinema remains available for private rental to parties of 10 or fewer and has begun showing outdoor movies on the side of the theater with limited seating.
UA HAS PAUSED REOPENING PLANS. As of this week, the University of Arizona paused its phased reopening of the campus. UA President Dr. Robert Robbins said the university is monitoring public health conditions and will continue to make adjustments to the plans as necessary.
Robbins' plan has had blowback from some university faculty, staff and students, who worry bringing so many students back will result in widespread COVID transmission.
Just one day after reopening the campus, the UA administration announced the delay of the staged reopening plan. In an Aug. 25 email to faculty, students and staff, UA Provost Liesl Folks said the administration decided to continue Stage 1 of the reopening (essential in-person classes only) during the second week of instruction. That has been extended into this week.
Stage 2 was originally set to begin on Aug. 31 and would have allowed small classes to resume in person, bringing another 9,000 people to campus.
Ahead of Labor Day weekend, Robbins announced the university would be partnering with the Tucson Police Department to crack down on big parties and other COVID-19 safety violations occurring off-campus.
In partnership with the city and county, the police will be responding to residential complaints in neighborhoods surrounding the university. Businesses in the University Boulevard/Fourth Avenue corridor have also been asked to reinforce public health directives.
"We encourage everyone: Please do not have large gatherings," Robbins said at the press conference. "We know that it's ripe for transmission of this deadly virus."
As of Sept. 3, the UA has tested 15,695 people in the university community and found 480 positive cases of COVID-19. On Sept. 3, 79 people tested positive.
NURSING HOME VISITATIONS CAN RESUME. One of the most heartbreaking aspects of the virus has been how it has hammered nursing homes where it was able to spread. Out of caution, the state shut down visitation in most nursing homes and kept patients isolated in their rooms, with communal areas closed. But the state has now hit benchmarks that will allow outdoor visitation to resume, provided all parties wear face masks and maintain a physical distance of six feet. Indoor visitation is still off limits.
EVICTIONS REMAIN ON HOLD. Last week, the CDC announced it would put evictions across the country on hold through the end of the year.
The federal action comes on top of Ducey's executive orders putting a stop to evictions through Oct. 31 if a tenant can prove a COVID-related hardship.
The governor's executive action directed courts and county constables to temporarily delay eviction orders if a tenant is required to quarantine because they or someone living in their home are diagnosed with COVID-19; they have a health condition that puts them at greater risk of COVID-19; and/or they have suffered a substantial loss of income due to COVID-19 for reasons such as job loss or closure, reduction in pay, having to stay home to care for children, or "other pertinent circumstances."
If a tenant falls into one of these categories, they are required to notify their landlord or property owner in writing with any supporting documents.
Since the COVID-19 pandemic began, tenants, public officials and nonprofit organizations have pointed out that the process of applying for rental assistance from the state is complicated, time-consuming and isn't meeting the needs of tenants across Arizona.
On Aug. 31, the Arizona Department of Housing reported that only 12,621 of 23,876 total submitted rental assistance applications have been processed and about $3 million has been dispersed.
Last month, housing agencies indicated they are lacking staff to process the high volume of applications and tenants are facing difficulties providing the specific paperwork to meet the state's eligibility requirements.
Others who work with tenants on a daily basis agree that DHS needs to simplify its application process. Pima County Constable Kristen Randall of Precinct 8 called the process "dreadful," and even after a tenant is approved for financial assistance, the time it takes for them to actually receive the money to put toward rent is lengthy.
"You can give us the time, but if we don't have the money, then the time is just slapping a Band-Aid on it," she said. "If you give us the time and the money, but there's still all that red tape, it just doesn't work. So we need all three."
On Aug. 17, the Pima County Board of Supervisors approved a new partnership with the Community Investment Corporation to distribute more than $3.6 million to local residents facing evictions.
Financial assistance will go toward unpaid rent from as far back as March 1, 2020—if landlords agree to waive late fees, withdraw the eviction and enter into a payment plan with their tenant. Legal and court fees incurred since March are also eligible for reimbursement through this program, according to a county press release.
Pima County has hired additional workers to expedite rental assistance applications, which can be accessed through the Arizona Department of Housing's website. The county constables will also be integral for working with tenants and landlords to generate direct referrals for the program and distribute the funds quickly to those most in need, the release states.