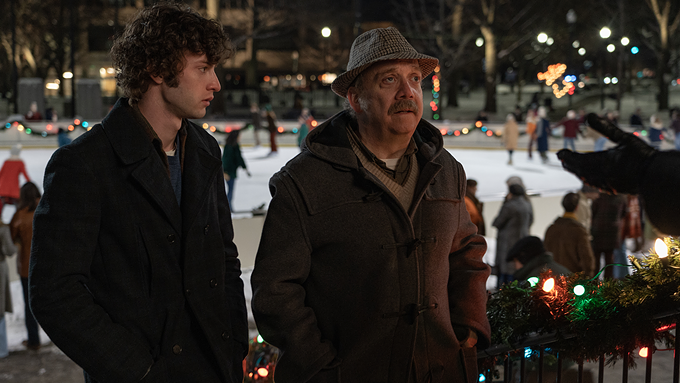 From the crackles and pops of its retro opening title cards, "The Holdovers" quietly announces itself as a throwback to a bygone era of filmmaking. Countering the sentiment that "they don't make them like they used to," director Alexander Payne's latest is a straightforward, nostalgic type of coming-of-age story about a group of students and administrators left behind to spend the holidays at their New England boarding school.

Paul Giamatti plays crotchety Barton Academy teacher Paul Hunham. A sort of prep school Scrooge who grades tough, cuts through conversations with historical facts, and smells like fish, he's disliked both by his students and peers. But when the 1970-71 winter break comes around and the majority of the school personnel and attendees are homebound to spend the holidays with their loved ones, Hunham finds himself stuck with the task of taking care of the several students who, for various reasons, were left behind by their families.
Chief among them is Angus Tully (played by Dominic Sessa), a noted troublemaker — he's been expelled from three prior schools, with Barton as the last chance standing between him and military school — whose mother, with his biological father out of the picture, has remarried and plans to spend the holidays on a much-delayed honeymoon with her wealthy new suitor. When several of the other students find an out at the last minute, Tully and Hunham are left to spar.
Though witty and frequently laugh-out-loud funny, it's equally heartfelt in its handling of the winter blues. One of only a couple films directed but not written by Payne, screenwriter David Hemingson's script perfectly pits its two leads against each other as the teacher tries to maintain discipline through the school hiatus. There's more than meets the eye to these two, however, as they gradually begin to crack at each other's tough exteriors and come to an understanding.
Giamatti is pitch perfect as Hunham, but perhaps the biggest revelation is newcomer Sessa, who more than adequately foils Giamatti's grumpy instructor despite no previous film credits to his name. Joining the small ensemble are Da'Vine Joy Randolph as lonely cook Mary Lamb, who's grieving the loss of her own son in Vietnam, and Naheem Garcia as custodian Danny. Although Garcia's role is a small one, Randolph brings her own sense of gravitas to her role, while managing to be both sharp-tongued but caring.
Set in and around a snowy Boston, Payne's film exudes a cozy winter atmosphere, while harkening back to the filmmaking of the time period in which the film takes place without feeling contrived. It has been likened to the works of Hal Ashby, a comparison that's not without merit, as from the moment the finger-plucked acoustic guitar of singer-songwriter Damien Jurado's "Silver Joy" first echoes through the production, it reminds of the melancholic but playful tone of Ashby's "Harold and Maude" — a connection that seems even more apparent when "The Wind" by that 1971 film's composer Yusuf, formerly Cat Stevens, appears toward the back half.
Content in its throwback simplicity, "The Holdovers" by no means reinvents the wheel, but it's a welcome addition to the holiday canon and is bound to be the next feel-good film for the season.
"The Holdovers" opens in theaters on Friday, Nov. 10.