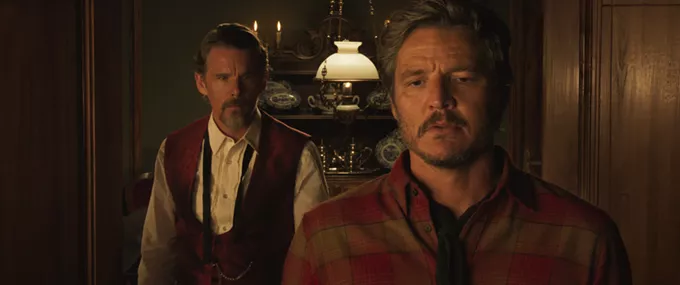 With his new short "Strange Way of Life," Pedro Almódovar is finally taking a shot at the Western genre. Though the transgressive Spanish filmmaker hadn't made the jump to English-language filmmaking until 2020 with the 30-minute Jean Cocteau adaptation "The Human Voice," starring Tilda Swinton, years earlier he had passed on an offer to direct 2005's "Brokeback Mountain," which ultimately made its way to director Ang Lee and subsequently garnered eight Academy Award nominations including three wins. While "Brokeback Mountain," adapted from the story by Annie Proulx, has long been credited as having broken barriers for LGBTQ+ representation in mainstream Hollywood and is notable for bucking Western stereotypes of masculinity, Almodóvar has said he doesn't ultimately count the romantic drama as one because its protagonists are shepherds.

"Strange Way of Life," which clocks in at a brisk 31 minutes, sees Almodóvar writing and directing a more traditionalist Western while still giving voice to those not usually represented in the genre, having described its protagonists in production notes as "two middle-aged, queer men." It stars Ethan Hawke and Pedro Pascal as former hired gunmen who reunite after 25 years apart. And Almodóvar manages to create a surprising amount of interest in these characters and their circumstances given the work's length — though that brevity holds it back from being a wholly satisfying experience.
The film opens with cowboy Silva (Pascal), horsebound for the town of Bitter Creek. Upon arrival, he and Sheriff Jake (Hawke) share a smiling moment of recognition, a memory of the fleeting time they had together. Picking up where they left off in Mexico, the two spend the night together. But in the morning, feelings are laid bare. A longing Silva reiterates his old wishes for the two to become ranchers together, while Jake coldly reminds him why they can't. He also knows the real intentions for Silva's visit — not to meet up with an old friend, nor to see the town doctor for a bad back as he had claimed. Truth is there's been a murder, and Silva's son Joe is the accused. The victim is Jake's late brother's wife, who had a violent relationship with Joe. Silva wants Jake to let bygones be bygones, but Jake is the law of the land. After a heated argument, Silva sets out on horseback to warn his son — with Jake in tow.
The conflict that arises from the pair's tryst unfolds by way of soapy melodrama. Admittedly heavy on exposition as Hawke and Pascal's characters fire off past recollections, the campy "Strange Way of Life" has a comic intensity that nevertheless makes it captivating (including a flashback in which Hawke and Pascal are humorously replaced by well-manicured, younger stand-ins). Though its sparse desert and dusty town — which Almodóvar mentions in production notes were used in legendary spaghetti western filmmaker Sergio Leone's Dollars trilogy — lend less to the vivid primary colors typical of his works, the Saint Laurent production features set dressing as well as an Anthony Vaccarello wardrobe that, even if neither aspect immediately jumps out, the filmmaker has detailed as carefully considering both the era and classic Westerns, respectively. A sweeping, old-fashioned score by Alberto Iglesias heightens its exaggerated quality. While it's easy to see a situation in which this stylish artificiality wears thin had the story played out longer, its abrupt ending does leave more to be desired. It may not be one of Almodóvar's most essential works, but it's a worthwhile showing of his continued interest in filmmaking beyond his native Spain.
"Strange Way of Life" opens in theaters paired with "The Human Voice" on Friday, Oct. 6.