Call Her Ganda. DOCSCAPES, a collaboration between UA's Hanson Film Institute and the UA's Center for Documentary, is screening Call Her Ganda, a documentary about a Filipina trans woman murdered by a U.S. Marine, and the three women intimately invested in the case. The film came out earlier this year with a 100 percent rating on Rotten Tomatoes. A Q&A with director PJ Raval will take place following the screening. 6 p.m. Friday, Nov. 2. Free. 1030 N. Olive Road.
Flor de Muertos. Meaning Flower of the Dead, this documentary focuses on "cross-cultural collisions regarding death along the U.S. and Mexico border" against the backdrop of Tucson's All Souls Procession and a Calexico concert. The Screening Room is showing this movie just in time for this year's All Souls Procession. 7 p.m. Saturday, Nov. 3. 127 E. Congress St.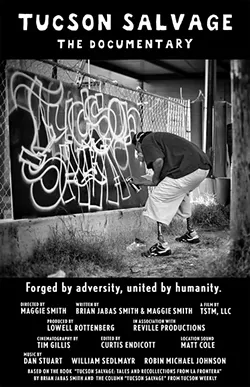 Tucson Salvage The Documentary. This documentary features five film vignettes of stories from the Tucson Weekly's own Tucson Salvage column. The foreboding Sonoran desert works as the perfect backdrop for these ramshackle characters. Although the documentary is only 30 minutes, the launch party will feature much more, including musical guest Lawrence Zubia and creative non-fiction authors Jesse Sensibar, Margaret Regan and Amy Silverman. Plus, you might just see some of the documentary subjects in the audience. 4 p.m. Saturday, Nov. 3. Free admission. 3233 E. Speedway Blvd.
In the Intense Now. Brazilian filmmaker João Moreira Salles' new film features both archival footage and recent shots to examine four events critical to social change: The French students' uprising, the Soviet invasion of Czechoslovakia, protests in Brazil and other countries in 1968 and scenes the director's mother filmed in China in 1966, at the beginning of the Cultural Revolution. Perfect for Election Day! The Loft Cinema invites you in on the discontent. 7 p.m. Tuesday, Nov. 6. Free admission. 3233 E. Speedway Blvd.
Lonesome Willcox. In a lonely town, a lonely man plays lonely music. The short documentary examines the single employee of Willcox, Arizona's country radio station, and how the community examines him. The documentary describes him as "a local pariah who lives in the studio, and has a difficult and complicated relationship with the music he plays every day." This documentary had its premiere at SXSW earlier this year, and was accepted to 16 other film festivals, including the recent Tucson Music & Arts Festival. Check out this local vignette, recently released online at vimeo.com/218891983.