Ovarian Psycos. The University of Arizona Women's Resource Center continues their Feminist Film Fridays series with a documentary on a Latina cycling crew in East L.A. It's an examination of sisterhood, hiding from violence and all the difficulties that come with both. Snacks are provided!
2 to 4 p.m. Friday, March 30. Student Union Memorial Center, suite 404.
Say Anything. Sure, the "stand under your girlfriend's window with a boombox playing Peter Gabriel in order to win her back" scene is about as iconic as it gets, but what about the rest of this movie? Casa Video is going to help you remember the rest of this '80s classic and finally answer the question: was John Cusack truly a heartthrob? (yes) 7 to 11:55 p.m. Saturday, March 31. 2905 E. Speedway Blvd.
Enemy of the Reich. Do you know who Britain's first Muslim war hero was? Did you even know Britain had a Muslim war hero? Enemy of the Reich: The Noor Inayat Khan Story details the life of a Muslim code talker in World World II who played a key role in the fight against the Nazis. 3 to 5 p.m., Saturday, March 31. Joel D. Valdez Main Library, 101 N. Stone Ave.
13th. The 13th amendment to the U.S. Constitution states, "Neither slavery nor involuntary servitude, except as a punishment for crime whereof the party shall have been duly convicted, shall exist." That inclusion of "except as a punishment for crime" is the topic of this documentary, and possibly a method for extending slavery into the modern day. Presented by Refuse Fascism Arizona. 4:30 to 6:30 p.m. Sunday, April 1. 1150 E. Eighth St.
The Loft Cinema
3233 E. Speedway Blvd.
Archeology Cafe. This event offers an open dialogue on Tucson's cultural history with J. Homer Thiel, senior project director and historical archaeologist at Desert Archaeology, Inc. Thiel will help attendees become better acquainted with Spanish Colonial and Mexican life in Tucson. Presented by Archaeology Southwest. 6 p.m., Tuesday, April 3. Free.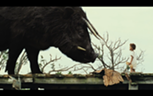 Beasts of the Southern Wild. A beautiful, difficult look at bayou life, this movie takes place in a small southern town cut off from the rest of the world by a levee and culture. Featuring the famous performance by nine-year-old Quvenzhané Wallis, the youngest person ever nominated for Best Actress in a Leading Role, as well as the first person born in the 21st century to be nominated for an Oscar. With a post-film Q&A with producer Dan Janvey. 7:30 p.m. Thursday, April 5. Regular admission prices.