Around Town
Tucson International Jewish Film Festival. The 27th annual Jewish Film Festival features 21 movies from independent and international filmmakers. Most films will be screened at The J Ballroom, although there are other locations involved as well. Many of the films are independent, although there are also some big-hitters like On the Waterfront. There's too much information to list here, so check out their website for more! Jan. 11-21. Single Showing $9. Season pass $118. tijff.org
Exhibition on Screen: The Artist's Garden. If you're as much of a sucker for natural colors and wide brushstrokes as I am, then you won't want to miss UA's screening of a documentary on American Impressionist paintings. The film details Impressionism and The Garden Movement which flourished in the United States between 1887–1920. Saturday, Jan. 13 at 2 p.m. 1030 N. Olive Road.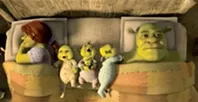 Shrek Outdoor Movie Event. Join the Southern Arizona Transportation Museum in their continued exploration into the storybook world of Shrek with a showing of Shrek 4. (There are four of them?!) Kids' activities start an hour before the film, train rides, arts and crafts, popcorn and soda. This is the last showing of their Shrek series; the grand finale, the coup de grace de ogre, so you better be there! Saturday, Jan. 13 from 5:45 to 7:30 p.m. 414 N. Toole Ave. Free.


The Loft Cinema
78/52: Hitchcock's Shower Scene. Can only three minutes of footage warrant a full-length documentary? When those three minutes are Psycho's famous shower-stabbing scene, then yes, most likely. 78 camera set-ups, 52 edits, 180 seconds, and the slasher genre was born. And a Q&A after the film with director Alexandre O. Philippe in person! Sunday, Jan. 14 at 2 p.m. $8.





Solaris. Continuing their monthly 'Films of Andrei Tarkovsky' series, the Loft moves onto the Soviet director's counter to 2001: A Space Odyssey. Solaris is a surreal, sci-fi mystery that is as philosophically deep as the heart of space. It is equal parts dense and ethereal, much like the alien atmosphere it takes place in. It might be favoritism that I included this film on this week's column, as it is greatest sci-fi movie I've ever seen, and indeed, one of my all-time favorites. Wednesday, Jan. 17 at 7:30 p.m. Regular admission prices.

The Loft Cinema is located at 3233 E. Speedway Blvd.